3 Ways To Retire Comfortably if You Work in America's Lowest Paid Job Sectors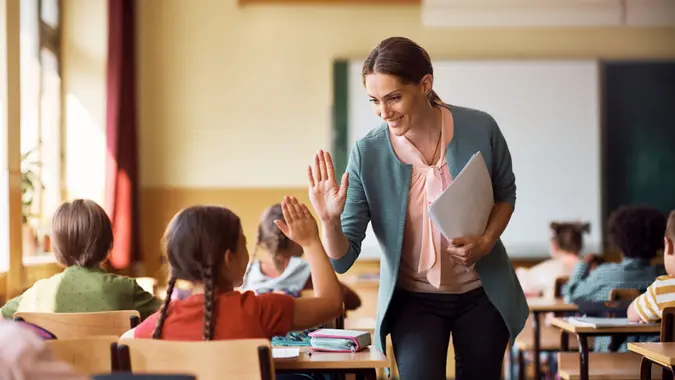 Drazen Zigic / iStock.com
If you're just choosing a college major or a career path, retirement may not be on your mind. But it should be.
You'll want to make sure that your career can fund your lifestyle now, but also leave enough room to retire comfortably. Fortunately, how much you'll need to retire comfortably is based, to some degree, on how much money you make when you work.
For instance, one method to determine how much you'll need to retire is to calculate 60% to 80% of your pre-retirement income and multiply that figure by how many years you reasonably expect to live after retirement.
In most cases, your expenses will go down in retirement, especially if your mortgage is paid off and your children (if you have any) are grown and self-sufficient. "Retirees typically pay lower taxes, are no longer paying a mortgage and do not have dependents to support, lowering their day-to-day expenses," Laura Sterling of Georgia's Own Credit Union previously told GOBankingRates.
Is It Feasible to Retire with a Low-Paying Job?
With this in mind, a comfortable retirement might seem more feasible, even if you work in one of the lowest-paying fields for college graduates. A new analysis of median earnings and bachelor's degrees from the U.S. Census Bureau revealed 10 fields that pay under $62,000 as a median annual salary.
Make Your Money Work Better for You
The lowest paying, for those with a degree in family & consumer sciences, pays just $52,850. A fine arts degree will net you a median annual income of $53,450, while a degree in elementary education offers a median salary of $54,900.
Of course, these are medians, which means there are equal numbers of people earning more or less than this amount. Amongst the lowest-paying college majors, degrees in liberal arts and physical fitness, parks, recreation & leisure earn the most, with median salaries of $61,380 and $61,580, respectively.
Don't let this deter you from getting a college education, however. If you have a bachelor's degree, you're likely to earn 75% more than someone with a high school diploma, according to a report from Georgetown University's Center on Education and the Workforce. Just make sure you don't put yourself in a hole of debt before you start earning money.
"Just as a rule of thumb, students shouldn't take on more debt than they expect to earn their first year after graduation," Robert Franek, The Princeton Review editor-in-chief, told CNBC Your Money.
Retirement Goals: Living Off the Interest on Your Investments
One of the goals for your retirement should be to live off the interest on the investments you made during your working life. Social Security can supplement other retirement income. But there are no guarantees how much Social Security will pay, if anything, by the time today's college students or young graduates are ready to retire.
So, the question is, how can you generate $42,000 to $50,000 annually in interest through your investments, especially if you're only making $52,000 to $61,000 now?
Make Your Money Work Better for You
How Much Do You Need to Save to Have $50,000 a Year in Retirement?
If you're aiming to save enough to generate just $50,000 in interest, annually, you'll want to accrue roughly $1.25 million before retirement, John Jones, an investment advisor representative at Heritage Financial in Newberry, Florida, told US News & World Report.
At a yield of 4%, either through fixed interest or dividends, that will give you $50,000 per year. How can you accomplish this?
Start Early
If you have an annual income of $55,000 and save 20% each month, you'd put aside $916 monthly.
We plugged this figure into a compound interest calculator and determined that if you saved that amount for 10 years, you'd have $151,780 if your investment grew at a rate of 6%.
After 30 years, you'd be approaching the one-million-dollar mark with $925,652.46 in an investment account, probably a 401(k) or similar.
By 35 years, you'd surpass your goal of $1.25 million with $1,312,475.81 in your account.
Remember, though, your starting salary out of college isn't likely to be $55,000. That's a median annual wage for people in lower-paying professions requiring college degrees.
You'll need to find a way to squeak roughly $900 out of your pay each month to contribute that amount to a retirement fund. But whatever you can afford to save, even if it's only a few hundred, you should do it.
If your employer offers a 401(k) with matching funds, investing in it is the smartest decision you can make as a young college graduate with your first job.
Make Your Money Work Better for You
Take on Side Gigs for Extra Money
Let's look at an elementary school teacher, whose salary falls close to the center of lower-paying jobs for college graduates with a median income of $54,900.
The average starting salary for teachers ranges from $35,510 to $45,800, according to BestColleges.com.
That's just $2,959 per month. Start counting student loan payments, rent, car payments and insurance, and other fixed expenses, and you may not have much left to save as a new teacher.
A side hustle can help you earn extra money to save. GOBankingRates has previously recommended gigs such as rideshare driver, online English teacher, wedding officiant or affiliate marketer as side jobs that can earn $1,000 a month or more.
Retire Somewhere with a Lower Cost of Living
If $1.25 million seems like a lot to save for retirement, or if it's already too late to get an early start, you might consider moving after retirement. GOBankingRates highlighted 41 places where you can retire for under $50,000 per year.
Fresno, California, for instance, requires just $48,776, and its cost of living is still 6.6% more than the U.S. average.
Topping the list is Detroit, Michigan, where you can live comfortably for just $33,356. With tons of walkable communities and spacious, woodsy suburbs, if you can tolerate cold winters, it's worth considering for retirement.
Alternatively, Memphis, Tennessee, with a more temperate climate, costs just $33,859 per year to live comfortably. You could retire on just over half your annual salary as a college graduate in a lower-paying field.
Make Your Money Work Better for You
More From GOBankingRates