Here's What Americans Are Investing In for Retirement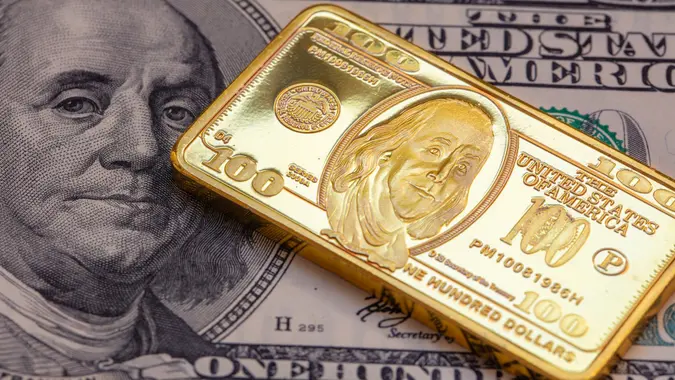 Ruslan Lytvyn / iStock.com
Just which strategies do you have for investing in your future retirement? Do you have a diverse portfolio, or is your money all in one pot?
To determine what Americans are investing in for retirement, GOBankingRates conducted a poll of 1,091 Americans ages 18 and older in August. The poll consisted of 20 questions about various financial topics, including one focused on the assets that respondents have in their retirement portfolios.
Multiple answers were allowed, depending on the portfolio components of each survey respondent. Results were analyzed through a variety of different filters, including age and sex. Respondents indicated they were invested across eight types of investments and/or accounts.
Here are the highlights of the survey, broken down by individual asset class or account type. And you might be surprised by the financial literacy and preparedness of the youngest survey respondents.
401(k)/IRA
By far the highest positive response in the survey was regarding ownership of a 401(k) or IRA, with 49% of respondents invested in at least one of those.
More than 40% of respondents in all but one age group indicated they had a 401(k) or IRA, with the exception being those ages 18 to 24, where positive answers registered a low of 31%. Far more women than men had a 401(k) or IRA, by a 54% to 43% margin. 
Stocks
In terms of asset classes, stocks were the most popular choice across all age groups, with 34% ownership in all. Between 29% and 44% of respondents by age indicated they owned stocks, with those extremes being those 45 to 54 and those older than 65, respectively. More men than women dabble in the stock market, 41% to 29%, based on the survey results.
Make Your Money Work Better for You
Real Estate
Almost 18% of survey respondents said they own real estate — 16% of them women, 20% of them men. What might be the most surprising statistic about real estate is that 22.47% of those ages 18 to 24 said they owned property. By a narrow margin, that is the highest percentage of any age group, ahead of the 21.61% in the 25-34 age group. A bit over 12% of those ages 35 to 44 responded that they owned real estate, the lowest percentage among any age group.
Bonds
Among the respondents, 16% reported they own bonds. Ownership between men and women was almost equal, with women owning 16% and men 15%. Since bonds are thought of as a conservative investment, it makes sense that the ownership rate is highest among people 65 and older, at 24%. It is surprising, however, that the group at No. 2 on the list was those between 18 and 24, at nearly 19%.
Crypto
Cryptocurrency makes many Americans nervous, given that it's not something you can hold in your hand or use like you would your debit card. With cryptocurrency in the news in a negative light over the past year — think the failure of crypto exchange FTX — it isn't surprising that the investment in it has dropped.
In 2022, 21% of survey respondents indicated that they owned crypto. That number fell to 14% in the 2023 survey. Women were more skeptical than men when it came to crypto, with only 10% of women owning it — half the number of men. Members of younger age groups were more likely to own crypto in the double digits. Only 6% of respondents between 55 and 64 had cryptocurrency in their portfolios, and the tally fell to 4% for those 65 and older. 
Make Your Money Work Better for You
Annuities
Annuities are generally owned more by older Americans, as withdrawals before age 59 ½ are subject to early withdrawal penalties. This reality is reflected in the survey results, as ownership rose from 5% among those 18 to 24 to 14% of those 55 to 64 to 24% of those 65 and older. Slightly more women than men own annuities, at 12% and 9%, respectively. In all, about 11% of respondents reporting having annuities. 
Index Funds and ETFs
For all the accolades heaped on index funds and ETFs, a surprisingly small percentage of survey respondents indicated ownership, at just 11% overall, with most age groups in the low double digits. However, significantly more men than women indicated ownership, by a 15% to 9% margin. 
Gold
Gold is often used by speculators or by those wishing to hedge the inflation risk in their portfolios, so it's not surprising that a relatively low number of survey respondents own it. Overall, just 7% claim gold in their portfolios; 10% of them are men, about double that of women. The largest percentage to own gold by age: The 18-24 group, at 13%.
John Csiszar contributed to the reporting for this article.
More From GOBankingRates