What Bank Does Cash App Use For Plaid?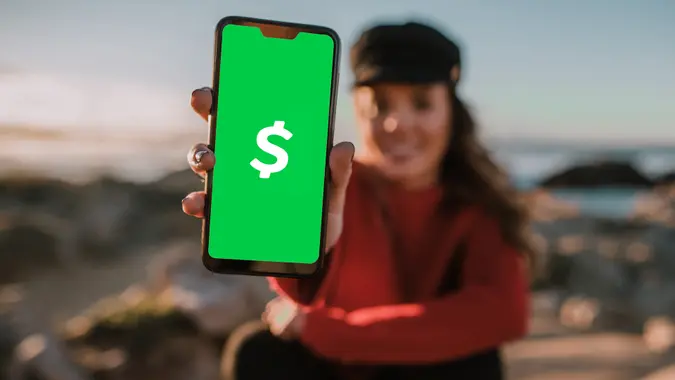 MarioGuti / Getty Images/iStockphoto
Plaid offers an opportunity to link your bank details to several financial apps securely. Cash App is one of those apps that Plaid works with to securely link your bank account information — but because Cash App is not a bank itself, it has to partner with a bank to work with Plaid.
Cash App uses Lincoln Savings Bank to connect with Plaid.
Does Plaid Support Cash App?
Yes, Plaid supports Cash App. Plaid is a service that offers a safer way for users to connect their financial accounts to an app.
With the help of Plaid, you can enjoy greater peace of mind about the protection of your banking details. Plaid doesn't just work with Cash App, the service is also used by other financial apps. A few of the other platforms that use Plaid include Venmo, Betterment, Chime, Acorns and Truebill.
According to Plaid, the platform is on a mission to help build the future of financial services. When using a wide variety of personal finance apps, your information might be protected through Plaid's service.
How Does Plaid Work?
The general goal of Plaid is to keep your banking information safe. Of course, you don't need to know the nitty-gritty coding details to use Plaid successfully. But understanding the basic process can give you more peace of mind.
When you sign up for a financial app that uses Plaid, you'll be asked to select your financial institution from a list. After selecting your institution, you are asked to enter your password and login information. Within a few seconds, Plaid will encrypt the data the app needs. For example, Plaid might facilitate sharing your account balance with the app without ever sharing your login or password details.
Make Your Money Work Better for You
The initial setup is as easy as logging into your bank account through a Plaid-powered app. After that, Plaid takes care of securely sharing information between your bank and your app of choice. Some of the security measures instituted by Plaid include end-to-end data encryption, cloud infrastructure, strong authentication, robust monitoring and third-party security reviews. Plus, Plaid will never share your information without permission.
Within your Plaid account, you have continuous control over your sharing preferences. If you want to stop sharing any of your bank information with a particular Plaid-powered app, you can do that within seconds.
Where Is Cash App on Plaid?
Cash App and Plaid can be used together. When logging into a Plaid-powered financial services app, you can use Plaid to add your Cash App account details.
For example, if you are using an app to tally up your net worth, then you might want to include the funds you have tucked away through Cash App. When you set up other Plaid-powered apps, you can use Plaid to add Cash App-related bank account details to the app. After you give Plaid appropriate access and permission, it will securely transmit necessary information to or from Cash App.
What Bank Is Cash App?
Cash App is partnered with two reputable banks to offer a range of financial services. These banks are Lincoln Savings and Sutton Bank. Through this collaboration, Cash App users gain access to a host of convenient features.
Cash App works with Lincoln Savings Bank to provide banking services to users. If you're interested in banking through Cash App, you'll have access to a checking style account, which comes with some extra perks. For example, you can create a customized debit card, get access to your paycheck up to two days early, score instant discounts while shopping at your favorite stores and invest your spare change through an automatic round-up savings program.
Make Your Money Work Better for You
When adding Cash App as a bank on other financial apps through Plaid, you will need to connect your banking information manually. You won't find Cash App listed in the financial institution options supported automatically by Plaid.
How Do You Link Your Plaid Account to Cash App?
There are two ways you might use Plaid with Cash App — you can link a bank account to Cash App to use for transfers, and you can link Cash App to other apps instead of a bank account.
Linking a Bank Account to Cash App
You can initiate transfers between your Cash App account and your bank account, and you can use Plaid to link your accounts to make this process easier.
Using Plaid To Link Your Bank Account to Cash App

In your Cash App account, navigate to your profile.
Select "Linked Banks," then "Link Bank."
Choose your bank and follow the prompts.
Log in to your bank account through Plaid.
You can use your Plaid portal to set up the connection between your Cash App-supported bank accounts and Plaid. When linking your Plaid account to your Cash App-related bank account, you'll be able to choose what kind of information is shared from the account. For example, you can choose to share your account balance details.
Within the Plaid portal, you can view all of your Plaid-connected accounts. If you don't want to work with Plaid anymore, you can disconnect your financial accounts from any Plaid-powered app. Plus, you can even delete all of your data from Plaid's systems.
Make Your Money Work Better for You
Linking Cash App to Another App
Some apps will request that you link a bank account to use for transactions, and many give you the option to verify that account through Plaid.
If you want to use the banking services provided through Cash App, you can connect your account details to Plaid. When attempting to link your Cash App banking information to your Plaid account, neither Cash App nor Lincoln Savings Bank — Cash App's partner bank — will show up in the list of financial institutions available through Plaid.
Unfortunately, you'll need to use the manual linking option to connect Plaid with your Cash App accounts.
Gather the necessary information: log into Cash App and navigate to the Banking tab to find your account and routing number.
On Plaid, enter your Cash App account details in the manual linking process.
If you have any difficulty, reach out to Cash App customer service.
Takeaway
Cash App works with partner banks. The partner banks provides all of the banking services you find available through the Cash App. When linking your Cash App-related bank accounts to Plaid, you'll need to look for Lincoln Savings Bank to finalize your connection process.
Editorial Note: This content is not provided by any entity covered in this article. Any opinions, analyses, reviews, ratings or recommendations expressed in this article are those of the author alone and have not been reviewed, approved or otherwise endorsed by any entity named in this article.
Information is accurate as of Dec. 29, 2022. 
The article above was refined via automated technology and then fine-tuned and verified for accuracy by a member of our editorial team.
Make Your Money Work Better for You