Tips To Avoid Spending Too Much Post-Pandemic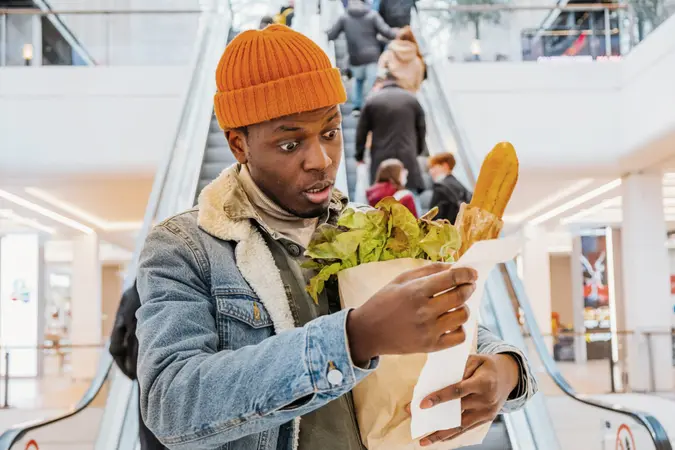 Elena Perova / Getty Images/iStockphoto
In March 2020, California became the first state to order a lockdown due to the coronavirus. Now, well over a year later, the U.S. is dealing with the Delta variant of COVID-19. Safety practices like wearing a mask, staying 6 feet apart and limiting capacity at stores and restaurants are still common across the country.
Read More: The Top Expenses To Cut From Your Budget in 2021
Find Out: 50 Terrible Ways To Try and Save Money
But many Americans have returned to some sense of pre-pandemic normalcy, with the push for mass vaccinations sparking hope and an urge to spend. According to a survey by LendingTree, 82% of people planned a celebratory splurge — like eating dinner in a fancy restaurant or finally taking that vacation they've been dreaming about — following their vaccination.
There's no question that Americans are primed and ready to get out there and spend. But under these conditions, there's a risk of overspending. Here's what you need to do to avoid it.
See: 101 Easy Ways To Save Money Daily
Evaluate Your Financial Habits
Joe Buhrmann, manager, planning services at COUNTRY Financial, offered this food for thought when evaluating your money habits.
"Were there things that resulted from the pandemic that had a positive effect on you, your family and your finances?" Buhrmann said. "Many gave up the health club for a home workout. Will you go back? Or will you continue working out from home? Pocket the savings.
"Did you discover a new room in your house – like the kitchen? Did you discover (or rediscover) a love for home-cooked meals? Will you go out to eat as much? Or will you pocket the savings?
Find Out: How To Save Money During COVID-19
"With typical gatherings shut down, like festivals, concerts and restaurants, did you escape to the great outdoors? Will you continue to do so? Will that save you money in the long run?
"If you plan to work from home, do you still think your family will need two vehicles? Will you go down to one? That could be a significant savings."
Create a Simple Budget
One of the best ways to keep from overspending after the pandemic is to create a simple budget, said Brittany and Kelan Kline, the co-owners behind the personal finance blog The Savvy Couple.
More: 50 Ways To Live the Big Life on a Small Budget
"A budget is simply a plan for your money," Kelan said. "It's giving yourself permission to spend your money on the things you need as well as the things you want. It gives you some guidelines to follow to make sure your hard-earned money is being used the way you want it to be. By having a budget you will greatly help yourself in not overspending as things return to normal."
To help get you started, Jason Gaughan, Bank of America credit cards executive, offered these suggestions for creating a food budget:
"At the beginning of each week, estimate your total cost for eating out," Gaughan said. "Do the same thing for groceries while cooking at home. Once you have both estimates, combine them to find your total food spend. Multiply this number by four to get an idea of your monthly food budget, and adjust as needed. Also keep in mind that in-person happy hours may also be resuming, so remember those costs, too."
Read: The 50/30/20 Rule: Is It the Best Budgeting Method?
Remember Your Emergency Fund
"Help yourself to avoid overspending post-pandemic by looking at your emergency fund," said Karen Condor, a finance expert with USInsuranceAgents.com. "The pandemic will not be the last crisis that could potentially impact you financially, so you should focus a portion of your finances away from spending and toward shoring up your savings."
Remove Temptation
Adam Garcia, the founder of The Stock Dork, noted that many people subscribed to various stores during the quarantine to fulfill their needs. He advised pressing the unsubscribe button. "Those stores will remind you always of their latest sales, unique offers and even will encourage you to visit their place," Garcia said. "Undoubtedly, you will respond and buy from them. They were the dearest friends in the previous year. So, to avoid all this chaos, unsubscribe to stop receiving their emails. This way you will be sure that you will buy what you need, not to buy what you see, and never let your emotions take the lead in spending."

See: 16 Effective Ways To Trick Yourself Into Saving Money
Allow Yourself To Indulge a Bit Now
Sandra Henderson, licensed professional financial counselor and founder of Lifehacks, warns against depriving yourself of simple luxuries you can still enjoy right now because it could cause your urges to increase, leading to unchecked spending in the future.
"Say, for instance, rewarding yourself with a fancy dinner or a bottle of wine every weekend is a good idea," Henderson said. "Or, perhaps, a nice purchase in the mall every time you receive your pay. This will help you at least experience a normal life and spending activity even during this pandemic. This will prevent your 'spending urges' from piling up."
Find Out: 16 Splurges That Save You Money in the Long Run
Set Up a Special Account
Michael Outar, owner of Savebly.com, believes in setting up a separate bank account to use for fun spending.
"What you do is deposit a set amount of money from your primary account to this fun account to use for things like eating out, shopping, experiences, vacations, etc," Outar said. "The amount you fund this account with depends entirely on you, but just make sure you are not overfunding this account. The reason having a fun account works to stop overspending is that you can only use the money that you have in the account and nothing more. So, you are essentially limiting yourself from overspending by having a separate account with only a set amount of money in it."
More: 25 Ways To Save 20% More of Your Paycheck Without Even Trying
Decide Your Spending Habits Ahead of Time
People should define in advance how they want to spend their money, said James Pollard, who runs The Advisor Coach, a business consultancy that works with financial advisors. "This avoids emotional decisions and impulse buying," Pollard said. "Many people know they want to return to restaurant eating on a regular basis, so I would encourage these people to put their plan in writing. Where do they want to eat? How often do they want to go to restaurants? Does their budget include alcohol? Dessert? Thinking through these things will allow them to put a hard dollar cost on what they plan to do."
Follow the 72-Hour Rule
"Resist the temptation to impulse buy when you're shopping by following the 72-hour rule and waiting to see if you still want the item," Condor said. If the temptation is too great, Condor also recommends considering the interest rate and the length of time you'll actually be paying for the purchase if you use credit and phoning a friend or a family member who will help talk you out of making the purchase.
Read: 25 Ways To Double Your Paycheck in 1 Month
Avoid Opening Store Credit Cards on Impulse
Michael Hamelburger, CEO of
The Bottom Line Group
, cautioned against store credit cards, which typically have lower credit standards and higher interest rates. "When you have poor personal financial habits, you'd definitely want to stay away from these cards," Hamelburger said. "More so, retailers often have hidden fees and surcharges, which will surprise you when you receive your bill. It's a common strategy for them, especially when agents approach you on your way out of the store. You'd be enticed with their offer, but they'll leave out important details in the contract."
Don't Fall Prey to G.O.A.T.
Feeling pent-up for months on end can result in splurging on a luxury trip that can put a strain on your budget — or even worse, wreck it.
See: Struggling With Your 2021 Money Resolutions? How To Stay On Track
"Many of us have lived with restrictions in dining-out and travel for nearly 12 months or more, so it's understandable that we are excited to G.O.A.T. — Get Out And Travel (e.g. vacations, cruises, etc.)," Buhrmann said. "Similar to someone on a diet who hasn't eaten in 12 hours — or a traveler who hasn't traveled in 12 months — don't boomerang and lose sight of your goals."
More From GOBankingRates
Last updated: Aug. 17, 2021