23% of Gen Z Is Seeking Out Professional Financial Advice — Why It's Never Too Early To Start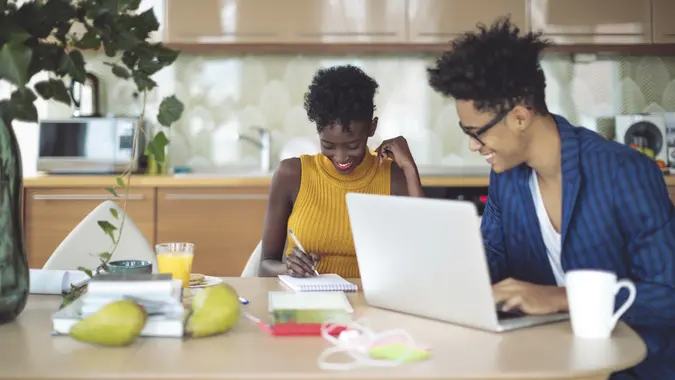 Eva-Katalin / iStock.com
Although Gen Z is just entering their moneymaking years, nearly a quarter are already seeking out professional guidance after living through an unprecedented year of financial uncertainty. A recent Northwestern Mutual survey found that 23% of Gen Z reports that they have or plan to work with a financial advisor.
Read: Gen Z Feels Financially Unprepared for Adulthood — But Has Hope for the Future
See: 5 Financial Steps Gen Z Should Be Taking Now
Why Gen Z Is Getting a Head Start on Professional Financial Planning
Gen Z has grown up during multiple periods of volatility, so it makes sense that they are seeking professional financial advice earlier than previous generations might have.
"These are young folks who have grown up in an uncertain world," said Tim Gerend, EVP and chief distribution officer at Northwestern Mutual. "Some of them remember 9/11, many of them remember the Great Recession of '08 and '09, and of course, now we're all living through [the COVID-19 pandemic]. I think the uncertainty [makes them feel that] there aren't really any guarantees in life."
See: What Gen Z Can Learn From Millennials' Money Mistakes
Find: How Will Teens and Gen Z Invest Their Money? Think Low-Risk, ESG and Roboadvisors
In addition to living through the pandemic and witnessing the financial upheaval that has caused, many members of Gen Z are well aware that Social Security may not be available in the same way that it is now when it comes their time to retire.
"The other thing that is apparent to this generation is they're largely going to be responsible for their own financial futures," Gerend said. "The availability of the social safety net from the government, I think there are some legitimate questions about that. This idea that you have a pension and Social Security that are going to take care of you in retirement, I think people know that they are responsible for their financial future. So as they think about that uncertainty, as they think about that responsibility, it makes sense for them to be doing planning now."
Gen Z may also be thinking about more complex financial issues earlier on in their lives than previous generations.
"This is a generation that is tech-savvy digital natives," Gerend said. "They grew up with cell phones and apps in ways that my generation certainly didn't. I think one of the things that you find is that having all of this information at your fingertips doesn't necessarily give you confidence about what to do. It's not like there's not investment advice online — you can find it; it's not like you can't trade stocks on your own — you can. But I think to have the confidence to know what's really the right thing, young professionals are willing to look for advice for [their] own personal situation."
See: 25 States That Are Trying to Add Personal Finance Education to High School Curriculums
Earlier Is Better When It Comes To Seeking Professional Financial Advice
Although the oldest members of Gen Z are only 24, Gerend believes it's useful for young professionals to meet with an advisor early on in their careers.
"It's a complicated and uncertain world and it helps to have professional help," he said. "It's really valuable, particularly for young people, [because] they have a long runway, and if they develop good habits early, if they make good decisions when they're young, that gives them a tremendous amount of flexibility and better options as they get down the road. If you're on the doorstep of retirement and you're trying to figure out what your retirement's going to look like, there are only so many things you can do. If you're 25, you literally have most of your working life in front of you. Having a professional who can help you understand your situation, understand what are the smart things to be doing where you are, can really position a person for success."
Find: These Are the 15 Best Cities for Gen Z to Live Well on a Budget
In addition to planning for the future, a financial advisor can help members of Gen Z make the most of their money in the present.
"We increasingly see people feeling the tension between saving for the future and enjoying today," Gerend said. "People are unsure: Am I spending too much? Am I saving too much? Am I saving the right way or the wrong way? If you have more confidence that you're doing the right things, it enables you to be less anxious and have more peace of mind, and to enjoy what you have now."
See: A Look at Gen Z's Financial Habits, From Spending to Saving and More
Gen Z Should Focus On Building Saving Habits and Debt Repayment
A financial advisor can help Gen Z navigate through all sorts of money questions, but at this phase of life, saving, income protection and debt repayment strategies should be the priority, Gerend said.
"Habit of savings is really important," he said. "How much money are you saving? Can you save?"
Read: 4 Industries Gen Z Might Save — and 4 It Might Destroy
In addition, a financial advisor can help young people navigate the different options they have to protect their income.
"One of their most valuable assets is their ability to generate an income," Gerend said. "Disability income insurance might not be the most exciting thing to talk about, but it's really important to think about as part of a financial plan that includes protection and growth opportunities."
Debt repayment is also an important topic for Gen Z to discuss with a financial advisor.
"Young people today [are] carrying more debt than prior generations — credit card debt, student loan debt, etc. — so having a plan for how you're paying down debt while building an emergency fund, those are high-level the kinds of things that you should expect to cover with an advisor," Gerend said.
More From GOBankingRates
Last updated: Sept. 10, 2021