30 Times You Should Have Asked for a Financial Advisor's Help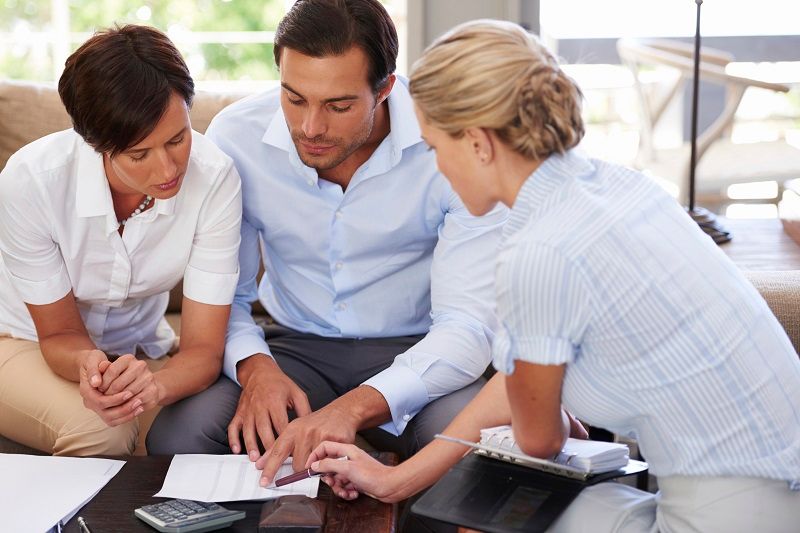 By Jeremy Shipp and Kyle Winkfield
Whether you read finance books, listen to the latest podcasts or discuss strategy at the water cooler, you should map out financial decisions far in advance. But sometimes, even with careful consideration, your financial plans can fall short of expectations. And sometimes, that's simply because you're not in the know about the best ways to manage your money.
In come financial advisors with their years' of experience in finance. A properly-trained advisor can help you weigh your options and advise you on smart money decisions, helping you avoid common financial woes. Here are 30 times you should have consulted a financial advisor.
See: Making the Most of Your Money — From Savings to Investments
1. When You Set Up Your Retirement Plan
When you signed up for your employer-sponsored retirement plan, you likely had a default minimum contribution set up and ready-made investment options to choose from. While saving for retirement is great no matter how much or little you contribute, a financial planner can help you be more aggressive in saving, or else help you better invest your money.
Check Out: Americans Are Flocking to This Unlikely Source for Finance Advice
2. When You Made a Large Down Payment on Your Mortgage
While a reasonable down payment helps you avoid private mortgage insurance, if you put down far more on your home than necessary, you might miss out on an opportunity to better grow your retirement savings. No matter how you choose to spend your money, always keep long-term financial goals in mind, and ask whether your money would be better off in an investment account.
3. When You Refinanced Your Mortgage
Refinancing your mortgage to a 15-year loan might save you on interest, but your extra large monthly payments will cost you. If you have the extra income to be tackling larger mortgage payments, you should speak with a financial advisor to weigh strategies that can increase your home equity without increasing your monthly indebtedness.
4. When You Paid Cash for Your Car
Paying cash for a large purchase feels nice, but it might not be your best option, especially if you want to raise your credit score. Regular payments on a loan can build the credit history you need to qualify for lower interest rates. A financial advisor can help you evaluate the pros and cons of big purchases you make, plus incentives and loan options available to you.
5. When You Invested in Your Employer's Stock
Having faith in your company is one thing — putting your income and savings in the hands of your employer is another. While investing in your employer is a common practice, putting too much stake in your company's stock can set you up for financial disaster if the business stumbles. A financial advisor can help you determine the right amount to invest.
6. When You Rebalanced Your 401k
While regularly checking in on and rebalancing your 401k is a great habit to pick up, if you are not rebalancing with your risk tolerance and investment horizon in mind — or you are being too conservative in how you invest — you might be setting yourself up for big losses. A financial advisor can help you determine if you should be more aggressive in how you invest your money, or else help you better allocate your funds.
7. When You Cashed Out Retirement Savings to Pay for College
Retirement savings are just that — money saved for retirement. You might not want to send your child into the world saddled with college loans, but they have decades to pay off their debts, whereas your retirement might only be two decades away or less. When it comes to financing an education, you have numerous options to choose from, many of which won't jeopardize your retirement.
8. When You Rolled Your 401k Into an IRA
When you have an opportunity to roll over your 401k without penalty, you should strongly consider your investment and distribution options. A financial advisor who knows the ins and outs of retirement savings accounts can help you determine the best ways to roll over funds to avoid penalties.
Related: 5 Major 401k Rollover Rules You Need to Know
9. When You Rolled Your 401k Into a New 401k
Money invested in a qualified plan has limited mobility based on account restrictions. When you switch employers, you have the opportunity to do a 401k rollover to reinvest your money into new investment options. But having new choices on where to put your money doesn't necessarily spell out better opportunities, especially if your new employer's plan has higher fees. An investment advisor can help you weigh the opportunity cost of moving your money to a new plan.
10. When You Got Married
Some engaged couples shy away from talking about money. Whether you or your spouse is hiding a poor credit score or mountain-high debt, you need to be honest and frank when it comes to money — and a financial planner can help. Not only can your financial advisor help you and your spouse ask each other the right questions, they can take the uneasiness out of the discussion, helping you focus on how your finances will come together and how you will meet long-term goals.
11. When You Got a Divorce
Divorce is an emotional process — and it is hard on your finances. If you've ever gotten a divorce, you know that at one time or another you've wondered, "Should I get a financial advisor?" When you divorce, you need to reevaluate your finances, from your long-term plans to your current assets. A financial planner can help you make sense of the clutter to ensure you stay on track for your financial goals, while budgeting for alimony and other expenses.
12. When You Made an Emotional Financial Decision
It's easy to let your emotions get the best of you — but when you're making a major purchase or other financial decision, you shouldn't let your emotions take the wheel. Consulting with a financial advisor when the stock market takes a plunge or when you're shopping for a new car can stop you from making a decision that can wreck havoc on your finances. Admittedly, a financial advisor can, at times, simply help you avoid tripping along your way to financial security.
13. When You Got Financial Advice at the Water Cooler
At the water cooler, everyone is a financial savant. But even people working at financial companies can end up on the wrong side of the balance sheet. When you take advice from coworkers at the water cooler, you are most likely not consulting with trained financial advisors with obligations to give you unbiased advice in your best interests.
14. When You Purchased Bonds and CDs
Bonds and certificates of deposit are reliable investment options. If you are young and just getting retirement savings started, however, you don't want to invest too much into bonds and CDs. You're better off investing in stocks during your young years, when you have more time to recuperate from losses due to dips in the market, such as on Black Monday.
Your financial planner can help you evaluate your risk tolerance and, depending on your assets and age, advise you on proper investment strategies. They can also help you determine the best times to pick up bonds and CDs.
15. When You Took a Loan Against Your 401k
When you take out a loan against your retirement account, you risk your livelihood on a short-term investment. Unfortunately, this is a common mistake. In fact, 1 in 4 Americans borrowed against their 401ks in 2014, according to data from Aon Hewitt. A financial advisor would likely turn you away from a 401k loan, citing high fees and risk if something goes awry with your finances.
16. When You Purchased a Timeshare
Timeshares can be a great way for you to enjoy your favorite vacation spot — but they can cost you a pretty penny. Even worse, it's easy to get corralled into a timeshare when a well-dressed salesman offers you incentives and a warm meal. But timeshares can be costly investments that can be hard to sell on the market and have high annual costs.
17. When You Opened a Joint Account With Your Kid
Opening a joint account with your kid can seem like an easy way to help them get started on their financial journey. It can also be an easy way to ensure that, upon your death, the money in the account belongs to your child. But a prudent financial advisor might tell you that a joint account invites your child's legal liabilities into your financial life, and can put your credit score at risk if your child mishandles the account.
18. When You Won the Jackpot
Whether you've literally won the jackpot or come upon some other windfall, a financial planner can help you make sense of the extra zeroes in your checking account. Better yet, a financial advisor can help you properly invest, spend and save extra capital.
19. When You Canceled Your Life Insurance
Life insurance can help ease the financial burden on your family after your death. A financial planner can not only assist you with choosing the right life insurance policy for your situation, they can help you choose from long-term plans.
20. When You Avoided Umbrella Insurance
You might be tempted to dodge umbrella insurance, but this added level of protection can safeguard your assets in case of a major claim or lawsuit. Umbrella insurance can cover a variety of events, such as injuries, property damage and certain lawsuits. Your financial planner can help you determine if umbrella insurance is right for you.
21. When You Bought Investment Property
What seems like a great idea on paper might not hold water if you consult with an investment advisor. They can help you better assess your long-term return on investment. Better yet, they can also provide you with other investment options that might be less risky.
22. When You Created Your Own Retirement Strategy
Even a heart surgeon has a primary care physician to keep them on track year to year. When you begin planning for your retirement, you might come up with a game plan, and that's great. But you should run your financial plans by a professional who can point out any holes or pitfalls.
23. When You Inherited Assets
When you inherit assets, such as a home or other property, you can easily be plunged into the muck of legal and financial woes. A financial advisor can help you better manage property and other inherited assets to minimize how much you pay in taxes, among other things.
24. When You Became a Trustee
When you become a trustee, you become legally liable as a fiduciary to the beneficiaries of a trust. Consulting a financial planner on financial decisions you make as a trustee can protect you in case beneficiaries ever decide you did not act in their best interests, wherein they can sue you for damages.
Related: Estate Planning 101: Why Everyone Needs an Estate Plan
25. When You Drew Up Your Own Legal Documents
While drawing up your own legal documents in court — or working with a low-cost, unqualified service — can be a cheap way to get legal documents, it could put you on the wrong side of a judgment in court. While many financial advisors will refer you to an attorney for legal documents, some financial planners are also attorneys who can help with estate or tax planning.
26. When You Bought a Variable Annuity
Variable annuities are popular investment vehicles, but they might not be your best option, depending on your situation. A financial advisor committed to your best interests can help evaluate your savings strategy to help you determine if a variable annuity is your best long-term option.
27. When You Opened an E-Trade Account
Do-it-yourself online trading companies are a convenient way to manage investments, but they might not be your best financial option. After all, while you might have a few finance books or courses under your belt, a certified financial planner has years' of experience in the field of money management.
28. When You Filed for Social Security
If you're preparing for retirement, you might want to speak with a financial advisor who can advise you on filing for Social Security. In some cases, for instance, you might be better off on waiting to file for Social Security, or you might have different paperwork to fill out if your spouse is also a working professional, according to Financial Planning.
29. When You Invested in a Business
What seems like a great business venture might not pan out, but a financial advisor can help minimize your risk. Whether you're buying a business or plan to transfer ownership to your children, managing the ins and outs of a business involves a confusing amount of steps and paperwork that your financial planner can help make sense of.
30. When You Made Extra Mortgage Payments
Whether you make extra payments on your mortgage, your payment is due every month. Your bank does not count extra payments as getting ahead. While paying off your mortgage is a common financial goal, an extra payment or two over a 30-year mortgage might not make a world of difference. Having an emergency fund, however, can help you in case your finances take a tumble.
If you've ever wondered, "Do I need a financial advisor?" the answer is yes. From helping you select investment options to planning for your child's future, working with a financial advisor can help you avoid common pitfalls.