4 Ways You're Wasting Money Without Realizing It — And How To Stop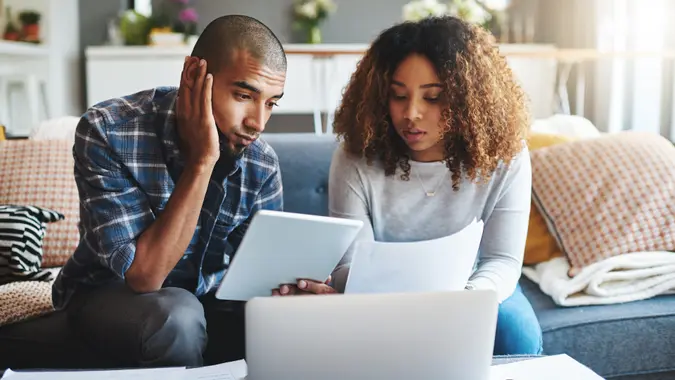 Yuri Arcurs peopleimages.com / Getty Images
Although America's love affair with spending is put on display most prominently during the holidays, chances are good you're wasting money all year round. If you feel like most of your money is already owed and gone as soon as your paycheck hits your bank account, you might be able to right the ship with a few fairly simple financial tweaks.
Here's where all your disappearing money is going.
You're Splurging on the Wants

…

In 2019, OnePoll conducted research on behalf of Ladders, and the results showed just how much money people were spending on things they didn't really need before the pandemic changed everything. The average American at that time was spending just about $1,500 per month — $1,497, to be exact — on nonessential purchases. That's $18,000 lost to creature comforts every year.

About $200 a month went to restaurants, with nearly another $200 going to drinks with friends or co-workers, lunch and delivery or takeout. Impulse purchases, nonessential ride-share, personal care, subscription boxes and cable accounted for around $100 more.

That was just the big stuff — there were a whole bunch of other mini-spends, too. But the interesting thing was that the virus didn't actually change anything.

As Deloitte Insights points out, consumer spending cratered in 2020. When it bounced back in 2021, the virus had shifted spending away from services like restaurants and ride-share to the purchase of physical goods, but people kept spending money on nonessentials at nearly the exact same rate they always had.
…
While Scrimping on the Needs
There's no shame in spending money on amusement park rides and Pandora subscriptions — as long as you've already covered the essentials. Just keep in mind that the $18,000 a year that people spend on things they could do without adds up to a cool million bucks over the course of the average lifetime. It's your money to lose, but people who splurge on nonessentials tend to do so at the expense of the stuff that really counts.
The research found, for example, that more than half of the respondents who spent all that cash on nonessentials didn't have enough money to pay for things they knew were more important. Around 1 in 4 couldn't afford to own a car, repair the cars they already had or pay off their credit cards. More than 1 in 3 couldn't afford to buy life insurance or save for retirement.
If that's the case, streaming subscriptions and tickets to Six Flags can wait.
You're Subscribing Your Life Away
It's easy to preach about reining in nonessential spending, but life is hard, and leisure purchases like Netflix and Butcher Box take the edge off. The problem with those subscription services and the endless sea of others like them is that they pull your payments automatically every month without you seeing the money disappear — and boy is the money disappearing.
Recent research from West Monroe showed just how much modern budgets have shifted toward services with recurring monthly fees. The average American now spends $237 across 21 categories of subscriptions every month. If you feel like that's crazy high and there's no way you spend anything close to that, the subjects of the study felt exactly the same way.
Researchers asked 2,500 people to guess what they spend each month on subscriptions. After 10 seconds to make their first guess, the average response was about $80. After taking 30 seconds to make their second guess, the average climbed to about $112.
The vast majority had no idea they were actually spending $2,844 a year on things like:
Mobile service

Wi-Fi

Pet services like Chewy

Amazon Prime or Walmart+

Netflix, Hulu or other streaming services

Music streaming like Spotify or XM

Dating apps like Match

Meal services like Blue Apron

Wellness apps like Headspace

Web hosting like GoDaddy

Book services like Kindle

Diet or fitness apps like Fitbit

Gaming services like PlayStation Now

Identity protection services like Lifelock
Taking inventory of your subscriptions can be a chore, particularly if they're spread out across multiple cards and accounts, but it's something you have to do. Apps like Truebill or Hiatus could help.
You're Practicing Bad Credit Card Hygiene
It's not just what Americans buy that they could have gone without — it's how they buy it. More than half of American adults now carry a credit card balance from month to month, according to CNBC, and about half of them have been in debt for at least a year.
By carrying a balance — not paying off your entire statement every month — you get hit with finance charges that pay for the miles, points and cash back that the bank gives to cardholders who played it smart.
That means treating your credit card like a debit card and never using it to make a purchase you couldn't cover right away. If you do miss a month where you can't pay off the whole balance, don't worry. If you pay in full for two months straight, you'll be back to borrowing money for free.
Stringing it out is always the worst thing to do.
The average American holds $5,315 in credit card debt, according to data from Experian. Presuming an APR of 16% and a minimum payment of 3% of the balance, it would take 15 years and five months to dig out of that hole and you'd pay more than $4,000 in interest along the way — and that $5,315 would have grown to $9,333.
More From GOBankingRates