5 Ways to Cut Costs Regardless of Income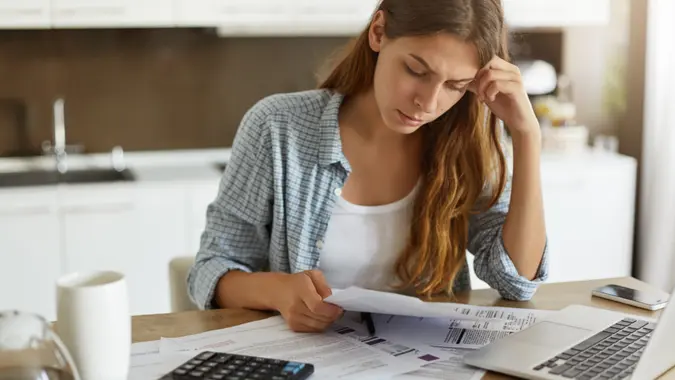 ©Shutterstock.com
As income inequality increases, more and more Americans are being forced to scrimp and save their hard-earned dollars. The good news is that there are quite a few tactics we can all implement no matter our income level. Not only does it help our overall financial health to trim down our expenses, it ultimately makes the issue of money less stressful, so we can finally take those summer vacations for which we've all been longing (and saving), without worrying about breaking the bank. 
The Economy and Your Money: All You Need To Know
Read More: 19 Effective Ways To Tackle Your Budget
"Regardless of your income level, one of the best things you can do is learn to budget," said  Jake Hill, CEO of DebtHammer. "Budgeting helps everyone understand and manage their finances. There are so many different ways to budget that you can find one that fits your lifestyle. To start with, though, I recommend tracking every expense, down to the penny. It will be tedious and not always necessary, but to start with, you need to know exactly where you spend your money."
Budgeting Can Help You Discover Where You're Needlessly Spending 
Budgeting may sound like the most rote and obvious money-saving effort, but it is almost guaranteed to give you helpful insights about where you can reasonably cut back. 
Learn More: 25 Hot Jobs That Pay More Than $100,000 a Year
"Once you know what you're spending, you can reroute excess into something more useful," said Hill. "Let's say you didn't realize you were spending so much eating out. Even if you change one meal a week to home-cooked, you can reroute that saved money into paying down debt, padding out your emergency fund or getting closer to a savings goal." 
Choose A High-Yield Savings Account 
Once you have a solid picture of your budget, you can begin to assess other cost-trimming methods. One very simple task is to look into switching your savings account to amass more savings through interest.
Discover: Just How Rich Are Elon Musk, Donald Trump and These Other Big Names?
"Shop around for banks or credit unions that offer a high-yield savings account," said Molly Ford-Coates, an accredited financial counselor and the founder/CEO of Ford Financial Management. "$10,000 in a savings account paying .2% interest is only earning $20 a year. Having that same money in an account paying 2% is earning $200 a year. Which would you prefer for not doing any work?
Sometimes The 'Expensive' Grocery Stores Save You More (On Certain Items) 
You might even adopt a more investigative approach. For example, you can start sussing out which grocery stores flaunt the best deals, and/or the best shops to buy from depending on your dietary desires. Optimizing her grocery shopping has been life- and wallet-changing for Robin Lee Allen in NYC.  
Read More: 3 Alarming Ways Women Are Lagging Behind Men When It Comes to Their Finances
"For a couple of months I would compare prices at various grocery stores, food co-ops and farmer's markets, gradually refining my approach," said Allen. "I have almost completely stopped buying ready-to-eat items unless they are fresh fruits. Instead of an endless variety of pastries, I treat myself with ice cream. I also started buying olive oil in bulk packages that I use to refill the more manageable bottle in my kitchen. Finally, I generally do not buy beverages other than water and lemon juice."
Modern Money Etiquette: Should You Pay a Friend Who Does You a Professional Favor?
The biggest shock, Allen noted, was in finding that when she changed what she was shopping for, premium grocery outlets worked out to be less expensive than discount chains. "For example, a month's worth of groceries from Whole Foods often costs me less than $250.00 on a 2000 calorie/day diet, including a steady supply of Ben & Jerry's."
Ditch Your Car 
"Transportation expenses are one of the most important expenses to analyze regardless of your income," said R.J. Weiss, a CFP and founder of the personal finance site The Ways to Wealth.  "In fact, the timing has never been better for those looking to save money in this category.
Find Out: What Percentage of Your Income Should Go Toward Auto Loan Payments?
"Due to a used car shortage, which has increased prices on used cars to historic levels, car owners can downsize their cars, eliminating or reducing their monthly payments by downsizing," Weiss continued. "Similar to downsizing a house, the objective would be to sell your existing vehicle(s), finding cheaper alternatives. If you recently purchased a car that's stretching your existing budget, it's a good market for saving money." 
Sell Stuff You No Longer Use Or Need  
While we're on the topic of selling items, you may want to take a look around your home (and garage or storage unit) to see what you can part with — and then hawk it on the good ole internet. 
See: 22 Side Gigs That Can Make You Richer Than a Full-Time Job
"A client of mine and I once created an inventory of all the things she could sell to find an extra $600 for the month," said DJ Uch,  a finance author. "When we were done writing, she found over $13,000. Yes, that is the correct number.  You have a treasure trove of items to sell right now on Facebook Marketplace or Offer Up, you have the money right now! Compare prices online and start posting now." 
More from GOBankingRates:

Last updated: June 7, 2021