10 of the Biggest Money Influencers on TikTok and YouTube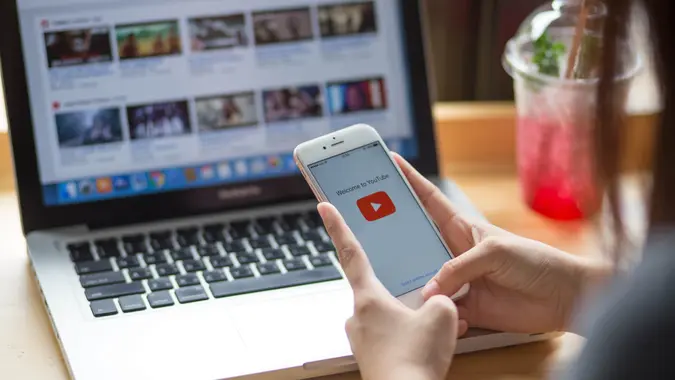 NiP Photography / Shutterstock.com
The ways in which people learn about money have changed considerably thanks to the internet. Gone are the days where your only options are reading personal finance books or working with a financial advisor. In the mid-to-late 2000s, the first personal finance blogs started to appear; with that, the paradigm began to shift.
Fast forward to today and people have an abundance of options, including personal finance blogs and larger financial websites. But more affordable smartphones and faster mobile data speeds have helped fuel the rise of video as the preferred medium of many. After all, watching can be not only easier than reading but also more engaging and even fun.
As a result, more and more people are turning to platforms like YouTube and TikTok for recipes, home improvement and, indeed, personal finance. Some money influencers on these platforms have millions of subscribers, each having their own brand and personal touch.
We'd like to highlight the top 10 money influencers (by follower/subscriber count) on each of these platforms. We will also touch on what some of these influencers do and why people are so drawn to them.
TikTok or YouTube: TikTok
Follower/subscriber count: 1,100,000
Brief description: Democratizing finance, GenZ
TikTok or YouTube: YouTube
Follower/subscriber count: 1,140,000
Brief description: We make simple videos on HOW TO START TRADING IN the stock market, ETF, Penny Stocks, Swing & Day Trading, Cryptocurrency, Bitcoin, Startups, Real Estate, Forex, Binary Option, Affiliate marketing, Digital Marketing, Online Sales, and creative methods to make money online
TikTok or YouTube: TikTok
Follower/subscriber count: 1,300,000
Brief description: Helping You Achieve Financial Independence Tiktoker
TikTok or YouTube: YouTube
Follower/subscriber count: 1,310,000
Brief description: Helping you grow your income so that you can live a financially successful life
TikTok or YouTube: TikTok
Follower/subscriber count: 2,200,000 
Brief description: Fighting the patriarchy by making you rich
TikTok or YouTube: YouTube
Follower/subscriber count: 2,240,000
Brief description: I'm like Harry Potter – if he was a financial minimalist, did card tricks and worried about money
TikTok or YouTube: YouTube
Follower/subscriber count: 2,260,000
Brief description: The Coin Bureau is your go-to informational portal to the Cryptocurrency galaxy
TikTok or YouTube: TikTok
Follower/subscriber count: 2,400,000
Brief description: Teaching Financial Freedom
TikTok or YouTube: TikTok
Follower/subscriber count: 3,300,000
Brief description: I make videos on Personal Finance
TikTok or YouTube: YouTube
Follower/subscriber count: 4,320,000
Brief description: I've created this channel to share my successes, failures, and experiences in the real estate industry and to support others who are thinking of getting into the business
More From GOBankingRates