7 Ways To Prepare Your Budget for Living By Yourself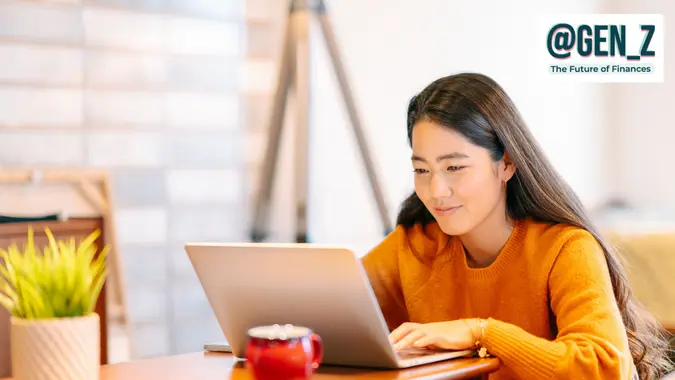 ©iStock.com
For anyone who has grown up with siblings or spent time sharing a space with roommates, living alone seems like the ultimate dream. You don't have to worry about cleaning up your own mess (or anybody else's), or hurry up in the shower so that your housemate can squeeze in their morning routine, too. 
Their Impact on Money: Gen Z: The Future of FinancesFind Out: Surprising Ways Gen Z and Millennials Are Worlds Apart Financially
According to a report by Zillow, more than a quarter (26%) of Generation Z renters live with a roommate, whereas just 11% of all renters share a rental home with a roommate. This group, made up broadly of people born between 1997 and 2012, may be especially keen on getting a place of their own — especially since they are more likely to delay or pass on marriage than older generations. And some of them are still under 18 and in their parents' care. Who more wants to live on their own than a teen who has been helicopter-parented all her life? 
The only real downer to getting a place of your own is the cost. That's usually the first thing people think of and one of the main reasons the concept of roommates even exists; but how do you accurately analyze the costs? And what happens when you really are ready — and able — to live on you own? How do you make it work and how can you financially prepare for this major step?  
Check Out: A Look at Gen Z's Financial Habits, From Spending to Saving and More
Be Realistic — and Write It All Down
"The first step to financially prepare for living on your own is to be realistic about your finances," said Julien Brault, CEO of Hardbacon. "This means determining your net income — simply put, this means the money from your paycheck. Then, write down a list of your monthly expenses and anticipated expenses along with their price. This will help you visualize your costs and cut out or reduce unnecessary spending, especially when trying to prepare yourself for living on your own."
Getting Ahead: 5 Financial Steps Gen Z Should Be Taking Now
Create an Honest Budget
"Plan out all the monthly expenses that you need to set aside, and figure out realistically how much you would need for each," said Kalleigh MacCormack, personal finance expert and editor at creditcardGenius. "Depending on what you prefer, you can create a budgeting spreadsheet or use a financial planning app to help you navigate your budgeting needs."
The key to successful budgeting is being unflinchingly honest about your spending behavior and including even the seemingly nominal needs/wants. 
"We all put down the big stuff, like rent, utilities and food, but don't pretend you won't spend the same $40 a week on coffee, or $100 a weekend on beer, if that's what you do," said John Stoj, founder of Verbatim Financial. "Everything needs to be included, or the budget will never work. Including the coffee and beer will ensure that there is money available for that each month, without worry. Leaving things like that out could mean being short at the end of the month, and not being able to pay off credit card bills, or worse."
Read: 7 Remote Jobs Gen Z Will Love
Be Prepared To Pay First Month, Last Month and a Security Fee
Traditionally, in order to secure a place, you'll need to cough up the first month's rent, the last month's rent and possibly a security fee. A pet deposit may also be required if you have a furry friend. So be ready to fork over quite a chunk of change!
Know the Core Basics of Your Budget
Though your budget may look a bit different than your elderly millennial friend's (me), in addition to rent, it should include some core essentials, including:
Utilities (gas, water, electric, etc.)

Food and groceries

Cell phone bill

Internet connection/cable

Any other regular payments like healthcare, car payments and subscription services 
"You'll also want to make sure you have a little extra money for emergencies," said Dafina Sharpe, Esq., a lawyer and the editor of Dollars Plus Sense. "Depending on where you live, these expenses will cost you anywhere from $600-$1,000 monthly for basic needs."
Savings will also save the day if your roommate or partner suddenly moves out and you're not yet prepared to live alone. 
Read: 4 Industries Gen Z Might Save — and 4 It Might Destroy
Make a List of What You Need and Research Best Price
"Before purchasing new items for your home, make a list of what you immediately need and what you want at some point, as it could really impact how much you are spending on household items," MacCormack said. "For example, necessities might include a mattress, a few utensils, pots and pans, dishware to get you through the first few weeks of living in your new place. For less immediate items like shelves, rugs, etc., you can take your time to research which item you want and how you can get them for the best price (i.e., getting it second-hand), which will help you save a lot in the long run as these items can add up." 
Budgeting 101: How To Set a Realistic Budget You Can Live With
Examine the Rental Rates in Your Region
"When searching for a new location to live, the first thing you should do is check into the cost of living. Is rent exorbitant where you reside or intend to relocate? Is this something you can afford on your current salary? You're pushing it a little if your monthly income is $2,000 but your rent is $1,200," said Gerrid Smith CEO and founder of Property Tax Loan Pros. "A decent rule of thumb is to not spend more than 30% of your take-home income on rent after taxes. That is, if your monthly take-home pay is $2,000 (after taxes), you should not expect to spend more than $600 on rent each month."
Take a Look: What To Do If You Can't Afford Your Student Loan Payments
Get Renter's Insurance
Once you secure the perfect place (or whatever will do with the budget you're working with), it's worth investing in renter's insurance. 
"​​Renter's insurance can cost as little as $10 a month yet guarantees compensation in the event of apartment damage or emergencies," said Anthony Martin, Forbes Finance Council member and CEO and founder of Choice Mutual. "In fact, most people set themselves up for real financial problems when they don't have protective insurance policies like renter's. It's too big of a financial risk to take when you're this young."
More From GOBankingRates
Last updated: Sept. 24, 2021