Are Americans Discussing the Right Money Topics?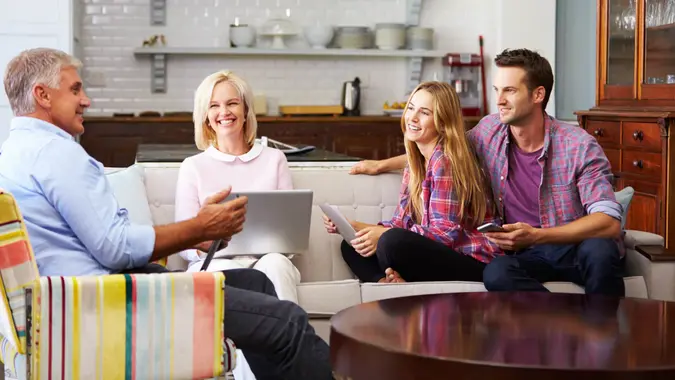 monkeybusinessimages / Getty Images/iStockphoto
In America, money is on people's minds and on their lips.
A new GOBankingRates study of more than 1,000 people found that most people — upward of 55% — talk to their friends and/or family about personal finance issues at least monthly, with 1 in 4 bringing it up weekly and 1 in 10 talking about money every single day.
Experts: Here's How Much You Should Have in Your Checking Account
See: With a Recession Looming, Make These 3 Retirement Moves To Stay On Track
Unfortunately, some of that is couples arguing — nearly half of those surveyed say they fight with their significant others about money at least sometimes or a lot. The good news is that plenty of other cash conversations involve parents schooling their kids on the finer points of finance so they can grow into responsible money managers when they graduate to adulthood.
Whether it's kids, romantic partners, family members or friends, people gravitate toward the same subjects when talking about money. Here's a look at the most-mentioned topics between parents and their children and why they're important enough to discuss with all the people you love.
Saving
According to the Wall Street Journal, Americans banked roughly $2.7 trillion in extra savings by the end of 2021. But thanks to the end of pandemic-relief payments, the highest inflation rate in 40 years and the demise of cheap credit, those once-flush savings accounts are drying up.
The country has already spent down 35% of the COVID-19-era cash cushion it briefly enjoyed, and Goldman Sachs estimates Americans will have spent 65% of the extra they accumulated by the end of 2023.
With that in mind, it's no surprise that saving is the No. 1 topic at the country's kitchen tables — nearly 55% of parents discuss the importance of putting money away with their children. It's an especially important topic now that many analysts predict an economic downturn in the coming months.
"People who stop paying themselves first risk watching their cash positions dwindle," said Bryan M. Kuderna, author of "What Should I Do with My Money?" and a CFP. "That can introduce credit card debt when expenses arise, in turn leaving them playing catch up when the economy rebounds when they should be back to investing in sync with their pre-recession budget."
Smart Spending
Saving is clearly the top priority — but your ability to save money will depend largely on the way you spend it. It's natural, then, that smart spending would rank among the top money topics that people are talking about most.
Smart spending is a loosely defined concept that involves eliminating unnecessary expenditures like finance charges on credit card balances not paid in full while spending less on the things that are necessary.
"Look for ways to reduce your expenses," said 40-year money-management veteran Fred Winchar, co-founder, president and CEO of MaxCash. "This could include cutting out non-essential spending, such as entertainment or eating out, and reducing your utility bills using energy-saving devices."
Spart spending involves controlling the things you can control — things like eliminating impulse purchases, using coupons, shopping the deals, buying store brands, limiting dining out,  canceling unused memberships and following a meal plan.
Budgeting
Mary Hines Droesch, head of consumer and small products at Bank of America, cites Bank of America research that shows 60% of Americans who had financial stress during the holidays managed it by sticking to a budget.
The GOBankingRates study confirms that budgeting is still front and center in people's minds after the holidays passed. It remains one of the most talked-about topics between parents and children, which makes sense.
If saving more and spending less — or at least spending smarter — are priorities, then so, too, must be budgeting. A budget provides the blueprint for both a spending plan and a saving strategy, which are the primary building blocks of a healthy financial life.
"Regularly tending to your budget, especially as your priorities change, can help ensure you're on track to meet your goals or allow you to pivot if needed," Droesch said. "If you don't know where to start, revisit the basics. Compare your monthly expenses against your take-home pay and look for areas where you can cut back or start saving. Set and track realistic goals. With an uncertain economic outlook for 2023, setting financial goals and saving for bigger purchases can seem daunting. However, even the smallest steps can help lead you to achieve your bigger savings and budgeting goals."
What Other Topics Are on People's Lips?
The big three money conversations among parents and children are saving more, spending less and budgeting to make both of those things possible. But people are talking about more than just that.
The study found that families are concerned with college expenses and investing. They're also discussing money as it pertains to taxes and responsible credit card use.
No matter the topic, at least they're talking. The only people who need to change the subject are the large percentage of those who aren't having any money conversations with their families at all.
More From GOBankingRates
Methodology: GOBankingRates surveyed 1,005 Americans aged 18 and older from across the country on between January 16 and 18, 2023, asking twenty different questions: (1) Do you currently have any form of an emergency fund?; (2) How much do you currently have put away for an emergency fund?; (3) If you faced an emergency (medical, housing, etc.) how would you have to pay for it?; (4) How much do you currently have saved for retirement?; (5) Do you have any of the following debt? (Select all that apply); (6) How much debt (student loans, medical, auto/personal loan, credit card, etc.) do you currently have? (NOT including mortgage); (7) If you have a significant other, how much do you argue about money concerns?; (8) Which money topics do you discuss with your children? (Select all that apply); (9) How often do you discuss personal finance issues with your family and/or friends?; (10)What are the chances, in an average month, of you and your family running out of money before you are paid next?; (11) What worries you most when it comes to your personal finances?; (12) Compared to pre-COVID (before March 2020) are you more or less confident in your personal finances?; (13) If you received an unexpected bonus of $5,000, what's the first thing you would do with it?; (14) If you won the lottery ($100 million), which of the following would you do with the winnings? (Select all that apply); (15) Would you rather…ask a family or friend to borrow money or max out a credit card?; (16) What would you like to learn more about in order to improve your personal finances?; (17) Do you consider yourself a spender or a saver?; (18) Which categories do you believe you overspend on? (Select all that apply); (19) How much do you spend on self care monthly?; and (20) What is your top financial priority?. GOBankingRates used PureSpectrum's survey platform to conduct the poll.