The Average American Now Has $9K Less in Savings Compared to 2021: Here's Why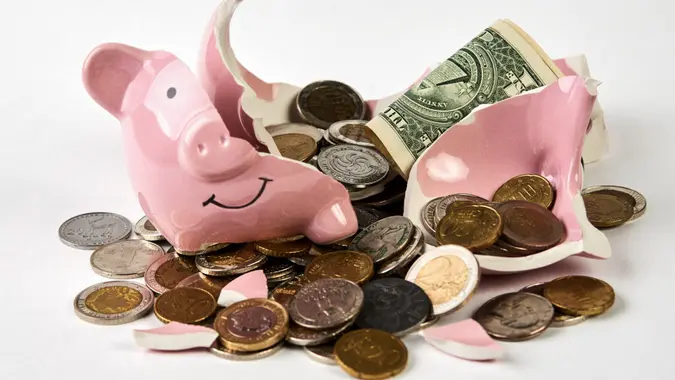 geckophotos / Getty Images/iStockphoto
The COVID-19 pandemic reinforced the importance of having money saved for the unexpected, with many Americans experiencing job loss and unanticipated medical expenses. And many people took this lesson to heart — Northwestern Mutual's 2022 Planning & Progress Study found that 60% of Americans have built up their personal savings over the last two years, and 69% of those say they plan to maintain their new saving rate going forward. However, despite these good intentions, savings balances have dipped significantly over the past year.
Here's a look at how much Americans have saved and why there's been a notable decline.
Personal Savings Levels Have Dropped 15% Since Last Year
The average amount U.S. adults had in personal savings in 2021 was $73,000, and that's now dropped to $62,000 — a 15% decrease, the study found. Aaron Bell, partner and wealth management advisor with Cannataro Family Capital Partners, part of Northwestern Mutual's Private Client Group, said that while everyone's financial circumstances are different, there are three key factors that have led to this drop.
1. Rising Interest Rates and Spiking Inflation
"After being all but absent for 40 years, inflation is back in a big way, and rates are rising again," Bell said. "Most adults under the age of 60 haven't had to manage their finances in a high-inflation environment before, and many younger adults have only known low- to no-interest rates. All of this is having a profound impact on Americans' finances."
The ripple effects of inflation and rising interest rates are making it harder for people to find room in their budgets for savings.
"We see inflation rates driving everything from macroeconomic decisions to big swings in the market to spiking gas prices. This undoubtedly presents a challenge to savers in both the near- and long-term," Bell said.
2. Return to Semi-Normalcy
For those fortunate enough to keep their jobs throughout the pandemic, many were able to save money as they stayed home and spent less.
"There's no doubt that the pandemic changed our way of life and impacted how people save, spend, invest and protect their assets. However, we've come a long way, and the survey findings suggest a significant number of people have turned a corner," Bell said. "People have started to adapt to a new normal, and with that, we see people spending more on everything from flights and travel, to commuting back into the office, to paying down student loans. This increased spending is contributing to the dip in savings."
3. Regression of Habits Adopted During the Pandemic
"During the tumult of the pandemic, many people sought out control wherever they could find it. One of the things they turned their attention to was their financial behaviors, and many Americans committed in earnest to developing better money habits," Bell said. "Some regression in those habits, such as saving, isn't particularly surprising then, given the heightened levels of uncertainty people felt earlier in the pandemic. And while people say they plan to continue saving at an elevated rate going forward, intentions don't always follow through to action."
Intention Versus Action
As Bell noted, the 69% of savers who said they plan to maintain their new savings rate going forward may not be following through with their intent.
"We would expect to see somewhat of a bifurcation in the way people respond, based largely on human behavior and how people react to uncertainty," Bell said. "A portion of the population will likely have long memories of the prolonged uncertainty they experienced in the early innings of the pandemic, and will continue to embrace their disciplined savings habits to ensure they and their families are protected in the long run.
"On the other hand, some segments of the population, particularly younger generations, may feel like they have put their lives on pause and deferred spending for long enough," he continued. "Those people are more likely to prioritize getting back out and enjoying their lives, even if it means spending more and saving less in the near term."
How To Rebuild Savings
If you're part of the population whose savings took a dip over the past year, there are some things you can do to build it back up.
"For people looking to catch up on savings and make sure that they are on the right path, it could be a good time to check in on their financial plans and see whether there are any healthy financial habits or behaviors they can adopt moving forward," Bell said. "That could take many forms — from reducing spending and delaying big purchases, to saving more, to paying down debt, to investing more. It could also be a matter of shifting their financial priorities to better meet their goals — for example, saving for bigger-picture emergencies and risks."
You might consider meeting with a financial professional who can help you come up with the best plan for your needs.
"This is where working with a financial advisor can really help," Bell said. "Advisors can help people put a financial roadmap in place, or update the plan they previously set for themselves, to account for any recent changes to their financial situation and help them achieve financial security, regardless of what the future holds."
More From GOBankingRates