Ben Affleck and Matt Damon Once Shared A Banking Account – Is It A Good Idea to Do with Friends?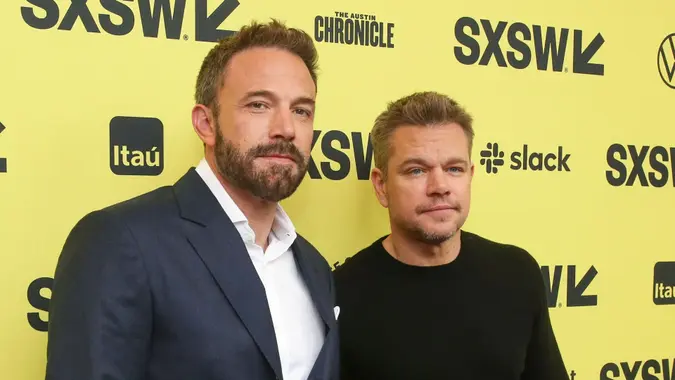 Jack Plunkett/Invision/AP/Shutterstock / Jack Plunkett/Invision/AP/Shutterstock
Ben Affleck and Matt Damon are known as one of the most successful and longest-running collaborators in Hollywood, ever since breaking out with their 1997 film "Good Will Hunting" in which they wrote and starred. Their latest collaboration, "Air" (about Michael Jordan) comes out on April 5. But their partnership goes back even further to when they were teenagers sharing a bank account.
During an appearance on "The Bill Simmons Podcast," the acting duo (and former roommates) said that they opened a checking account together in the late 1980s as their foolproof way to help support each other in their hunt for the silver screen.
"As long as one of us had money we knew the power wasn't going to get shut off," Damon told Simmons. The idea was that, whenever one of them booked a gig and got paid, they'd contribute the money to their shared checking account and use it to pay for bills so they'd always have a safety net together.
"We were going to help each other and be there for each other," Affleck added. "It was like, 'You're not going to be alone. I'm not going to be alone. Let's go out there and do this together.'"
Of course, there were ground rules about how the money was used, as the actors explained during the podcast episode. They were allowed to use it for auditions and expenses but eventually, they bent the rules and allowed use of the money for arcade trips and beer purchases. Damon does ultimately admit having a joint account was "a weird thing in retrospect."
This begs the question, is it ever a good idea to have a joint bank account with a friend? While most people who share an account are usually married or family members, it doesn't have to be that way. Any two or more people can have a joint account in which they all have access, says Pocket Sense. 
Essentially setting one up just encompasses an agreement where "both parties enjoy equal ownership of the funds in the account, including the right to withdraw and deposit funds into the account at any time."
The two parties just need to be over 18 and have proper identification to open the account, the article adds, and might have to show proof of income if there's a minimum requirement to keep it open, for example.
The biggest thing to keep in mind is that trust is a huge part of having a joint account since both parties will have access to the funds and setting up ground rules like Affleck and Damon did is important.
Experts advise that you might want to make the joint account supplementary to a separate personal account and use the commingled funds for a specific goal or purpose rather than to help manage all your finances. For example, you might have a joint account in the situation of roommates for paying monthly essentials like utilities and groceries for the household. Or you may open one for the purpose of saving for a trip with friends where there's a common goal. 
Take Our Poll: How Much Salary Would Buy You Happiness?
There are some drawbacks to keep in mind. Says Forbes, if one person makes more money than the other on the joint account, there may be feelings of inequity or where one person relies on the other to help support bad spending habits and this could lead to arguments over time. There may also be a lack of privacy wherein both parties can see all the transactions that happen. 
More From GOBankingRates