6 Best Cash Advance Apps That Let You Borrow Money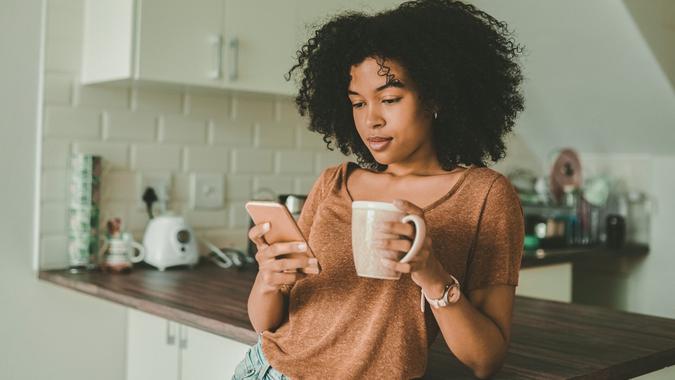 Moyo Studio / Getty Images
Every once in a while, you may be stuck in a situation where you need money urgently. If you don't have a friend around who could lend you some extra cash, you may turn to an institution for help. However, conventional lenders' processing times can often be weeks long.
Payday loans have been around for a long time, but lenders can charge enormous fees. In fact, payday interest rates can be over 600%.
6 Best Cash Advance Apps
Fortunately, some apps let you borrow money, making it easier for you to get urgent cash in just a few minutes. Not only is the processing quick, but it also takes less than five minutes to start applying for a loan. In addition, the fees are a lot better than traditional payday loans.
Here are six apps that let you borrow money:
1. Dave: Best for Small Loans
If you have a minor expense that can't wait till your next paycheck, Dave is one option you may consider. If you have a Dave spending account, you'll get access to bigger loans.
Amount: $5 to $100 if you don't have a spending account, but up to $200 if you have a Dave spending account.
Processing Time: 3 days
Repayment: By default, it's the day your next paycheck arrives, but you can change the date.
Fees: Dave charges a $1 subscription fee that is paid monthly. You can opt out of it if you want. In addition, you can tip 20% or less on the loan you've taken–it's optional.
2. Empower: Best for Quick Cash Advances
Empower gives you cash advances of up to $250 without any late fees or interest. Moreover, you can use the Empower card to get up to 10% cash back on purchases at specific merchants. The card also offers free transactions at 37,000 ATMs across the country.
Even better, Empower cardholders get their paychecks up to two days early.
Amount: Up to $250
Processing Time: 2 days
Repayment: At your next paycheck
Fees: No interest, credit checks or late fees
3. Earnin: Best for Earning-Based Borrowing
Earnin has a unique lending system where its app tracks the number of hours you have worked and allows you to access your money according to your earnings.
Plus, the app has a notification feature that alerts you in case your bank balance is low.
Amount: $100 to $500
Processing Time: Generally, the processing time is one to two business days, but you can get your money instantly if you opt for Earnin's Lighting Speed.
Repayment: At your next payday
Fees: Earnin uses a voluntary tipping model. Typically, the voluntary tip is set at $14 by default. If you want to get the overdraft protection feature, you must set a recurring tip of at least $1.50. However, if no overdraft protection is required, the tip can be set to $0.
4. PayActiv: Best for Short-term Loans
PayActive is more than just an app that lets you borrow money. In fact, it also allows users to pay their bills and get discounts on certain departmental stores and prescription drugs. Check the stores associated with PayActiv and redeem your discounts directly in the app. For example, you can get 10 cents off per gallon with Murphy USA.
The app lets you see what you have earned and allows you to access it when you require it. Plus, you can pay your bills through the app directly.
Moreover, the app lets you book Uber rides through your earned wages.
Amount: A set percentage of what you earn
Processing Time: You can get your earned wages instantly if your employer also uses the app.
Repayment: Not required since you're getting paid for what you've already earned.
Fees: PayActiv is free if you direct deposit your paycheck into your Payactiv card. If you don't, there's a $1 per day fee for each day you use cash access, card load and bill pay. If you choose cash pick up at a Walmart store or if you're using instant deposit to another card, you'll pay a $1.99 processing fee.
5. Brigit: Best for Same-Day Loans
Brigit lets you borrow $250 the same day you apply for it – provided your application is submitted before 10 a.m. EST.
However, you need to use the company's monthly paid plan to access this feature.
Amount: $50 to $250
Processing Time: You get your loan the same day if you apply before 10 a.m. EST. Otherwise, the money is deposited into your account the next business day.
Repayment: The app sets the repayment date as per your income schedule. You can also reschedule this once if you have paid two advances back on time.
Fees: The Plus paid plan costs 9.99 per month.
6. MoneyLion: Best for Multiple Options
Besides offering you a loan, MoneyLion has many other features, such as financial tracking and investment accounts.
Amount: $50 to $250. You can loan larger amounts if you have a MoneyLion checking account.
Processing Time: You get your loan in 12 to 48 hours if you're an account holder and 3 to 5 days if not.
Repayment: On your next payday. If your account is empty for five days following the date of the payday, you'll have to pay a late fee.
Fees: You can pay an optional tip. Plus, there's a $3.99 fee for instant delivery if you're an account holder and $4.99 if not.
Our in-house research team and on-site financial experts work together to create content that's accurate, impartial, and up to date. We fact-check every single statistic, quote and fact using trusted primary resources to make sure the information we provide is correct. You can learn more about GOBankingRates' processes and standards in our editorial policy.