Beyond Generational Wealth: 3 Factors Keeping Millennials and Gen Z Financially Dependent on Parents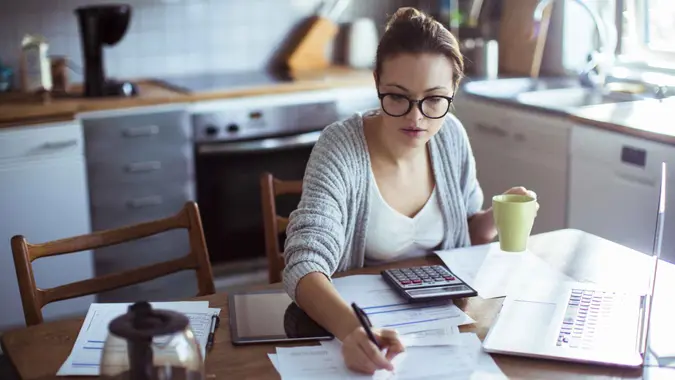 Geber86 / Getty Images
More than half of Gen Zers and millennials say they are financially dependent on their parents — and they are not feeling good about it. Inflation, soaring interest rates and the coming resumption of student loans payments are burdening many millennials, while sometimes poor spending habits and limited credit experience are adding to their financial woes.
A new Experian survey found that 54% of Gen Z and millennial Americans feel somewhat or very financially dependent on their parents, with the feeling being stronger for Gen Zers — at 61% — compared to 47% for millennials.
And what's more, 66% of people belonging to these generations say they feel ashamed about their financial dependence. This is a more common sentiment for millennials, with 70% of these respondents indicating as much, per Experian.
Poor Parental Guidance About Personal Finance
The survey found that both Gen Zers and millennials feel they had poor guidance from their parents regarding finances, with 37% of them saying their parents didn't teach them about personal finances. An additional 44% said that their parents have/had bad spending habits, and 16% said that their parents avoided talking about money with them.
Credit Is Key to Financial Independence
Limited credit experience is another factor limiting financial independence for members of these generations. The survey found that 80% of Gen Zers and millennials believe having an established credit history is key to being less financially dependent on their parents.
"Credit can be a financial tool to help us achieve many of the things we want in life, including financial independence from our parents," Christina Roman, consumer education and advocacy manager at Experian, stated in a press release.
Spending Remains a Serious Struggle
Millennials and zoomers may also have to own up to somewhat poor spending habits. Experian found that more than half — 57% — say they have a hard time saying no to themselves when making an impulse purchase for something they want, but don't need. In addition, 61% of Gen Zers and millennials said they prefer to spend money on life experiences, such as traveling and concerts, rather than saving for retirement.
Yet, they are also trying to cut costs, with 57% stating they're considering cutting down on online entertainment subscriptions to save money.
The good news is that there is a very clear path toward financial independence for Gen Zers and millennials: focusing on intentional spending so you can prioritize your actual financial goals. This advice came courtesy of Bobbi Rebell, CFP, founder of Financial Wellness Strategies.
"The standout in this survey is that the majority of them said 'I have a hard time saying no to myself when making impulse purchases.' The solution is simple: say 'yes' to being intentional with what you buy," said Rebell.
She recommended avoiding impulsive buys, seeing this change in behavior as a gift to yourself and your future financial goals.
"Take a step back and make a list of the things you bought in the last three months that were impulse buys. Would you have bought them if you had waited even 24 hours? Right there you have your answer," added Rebell.
"Set a new rule: Everytime you want to buy something, if it is in person, take a picture of it and promise yourself you will come back to get it in a few days if you are still thinking about it. If it is online, put it in your virtual cart and see if you even remember to come back to it. One way to stay on track? Share your plan with someone who cares about you and keep them in the loop on your plans."
More From GOBankingRates