Beyond New Year's Resolutions: What People Plan To Do With Their Money This Year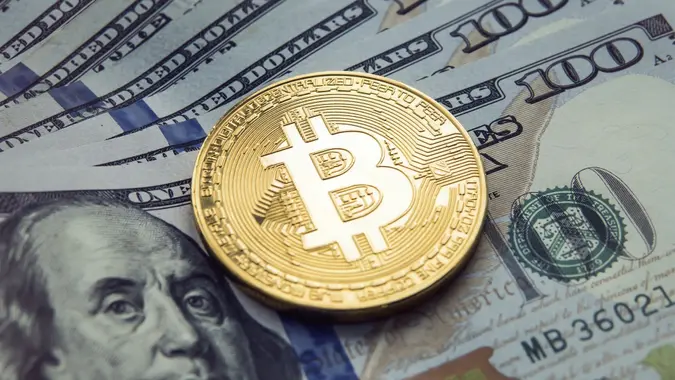 Diy13 / iStock.com
Around two years ago, COVID-19 was just starting its journey around the globe. All these months later, the virus has killed over 830,000 Americans, and close to 5.5 million globally. Now, if you're wondering why a personal finance story is kicking off with such a depressing news flash, it's because this seemingly unending pandemic, like it or not, is what our world revolves around —  and that includes the economy at large and, on a more micro level, how we individually approach money matters.  
Save More: Unplug These Appliances That Hike Up Your Electricity Bill
Important: $1M Is No Longer the Standard Nest Egg – Here's How Much Most Americans Think You Actually Need To Retire
The pandemic has rapidly and radically changed the way we spend and save. In 2020, we saw the skyrocketing of online shopping — a trend that isn't going anywhere anytime soon. Later that year and into 2021, interest rates plummeted and the demand for housing soared, causing home prices to spike to unfathomable heights. And then came the not-so-steady rise of inflation, which has caused the price of everything from groceries to electricity to surge. 
So what's in store for our financial lives in 2022? It looks like many of the same trends we saw in 2020 and 2021 will continue, but more intensely. We can also expect consumers to get smarter and more adventurous with their money, after such a prolonged period of chaos and uncertainty. 
Also See: The 8-Step Plan To Achieving Financial Freedom
More Investing in General — Particularly for Beginners 
"We have seen an increase in beginner investors over the pandemic, which will increase throughout 2022," said Julien Brault, CEO of Hardbacon. "People want their savings to begin working for them, especially with all the uncertainties the pandemic has brought. So they will start investing more money into stocks this year, especially ETFs and relatively safe low-growth stocks."
Advice: 12 Essential Money Tips for Every Phase of Your Financial Life
Continued Investing in Crypto 
"More and more will continue to invest in crypto. Cryptocurrency is a great way to diversify any portfolio, because crypto is one of the least correlated assets to stocks and bonds, and this is what makes it a great hedge against different asset classes," said Andrew Lokenauth, CEO of Fluent in Finance. "Crypto is also an exciting way to think about money, and has the ability to change how we do many things in the future. Crypto can be sent anywhere in the world, at a low cost."
More Momentum Around NFTs 
"More [people] will invest in NFTs," Lokenauth said. "When you purchase an NFT, you become the owner of a unique item, a level of exclusivity that other markets do not offer. This is what makes an NFT the ultimate item for collectors. This has driven the price up for many NFTs."  
Helpful: 35 Useless Expenses You Need To Slash From Your Budget Now
Starting a Business 
"In 2022, more and more people are going to invest in themselves by starting a business," said Simon Worsfold, senior data communications manager, QuickBooks at Intuit. "In fact, according to a recent report from Intuit QuickBooks based on a survey of 8,000 U.S. employees, 57% of workers want to start a business and of these, one in five (20%) will make the leap in 2022. Why now? An overwhelming 83% of people who want to start a business say COVID accelerated their plans. This is either because they spotted a new opportunity online during the pandemic or because it made them rethink their priorities."
Intuit projects 17 million new small businesses will be formed in 2022.
Learn: Savings Tricks From Regular People Who Are Sitting on Millions
Refinancing 
"Interest rates remain near all-time lows, but the Fed has forecast fairly significant rate increases later this year and into 2023," said Steve Muszynski, CEO and founder of Splash Financial. "When it comes to refinancing student loans, waiting to lock in a low rate could cost consumers thousands of dollars over the next decade. Taking advantage of low rates could free up more money for travel, family planning, or saving and investing, and consumers are taking notice."
Muszynski added that Splash Financial has seen record refinancing requests in November and December and anticipates this trend will continue.
Spending on Travel and Tourism 
Millions traveled for the holidays despite the vicious spread of the COVID-19 variant Omicron, and they'll likely continue to as the year progresses. 
"At the beginning of the pandemic, when people were forced to stay home, money was often spent on products that people could enjoy from home, such as TVs, couches, and desks," said Melanie Pitman, personal finance expert and content specialist at creditcardGenius. "Now that travel and experiences are beginning to open up again, many will be returning to this avenue of spending – people want to go out and experience dining and concerts again, and they want to travel. The tourism industry will likely experience a certain level of revival in 2022, as will restaurants, museums, concert venues, and sporting events."
Cut Costs: How To Save Money on All Your Monthly Expenses and Bills
Real Estate
"Nearly all of my clients are interested in investing more so in real estate than anything else," said Blaine Thiederman MBA, CFP, founder and principal advisor at Progress Wealth Management. "Rental Properties are all the rage these days and with good reason; over the last 24 months, real estate has exploded and most people feel uncomfortable with the stock market given the crash in March 2020. Many individuals think the real estate trend will continue purely based on their observation of what's happened in the past 24 months."
Buying Cars 
"Autos are set to be a major item in 2022," said David Russell, VP market intelligence at TradeStation Group. "Tesla, General Motors and Ford Motor all ended last year with strong sales and deliveries. In isolation, the sheer numbers of auto sales aren't very high because there are still chip shortages from coronavirus. But pricing and demand suggest conditions may improve."  
The Ultimate Financial Planning Guide: Do It Like the Pros in 6 Steps
Hiring Virtual Assistants and Other Help 
"I believe there will be an increasing trend of delegation to other professionals in 2022, especially as many families work from home and start new businesses," said Cody Garrett, CFP and owner of Measure Twice Financial. "This will increase demand for virtual assistants and other freelance workers utilizing online marketplaces like Upwork and Fiverr. More people will ask, 'Who can do this for me?' rather than, 'How can I learn this?' as we align our time with our best use. Families are creating healthy boundaries as they become more aware of how they spend (and value) their time."
Home Gyms and Fitness Streaming 
"With omicron on the rise, fitness facilities and gyms are closing down again," said Sandy Yong, aka, The Money Master. "This means that those looking for a good sweat will be continuing to search for new fitness equipment and live streaming classes. Recently, Lululemon debuted with their smart home gym called MIRROR which includes on-demand classes and live classes daily. There are also exercise bikes such as Peloton and NordicTrack. With a monthly subscription, you can gain access to a variety of workouts including cycling, strength training, cross training and more."
More From GOBankingRates