Can Someone Hack Your Cash App with Your Email?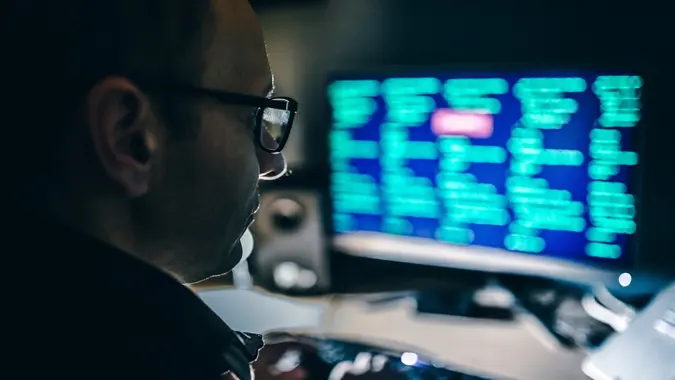 sestovic / iStock.com
Cash App is an easy and quick way to send money to friends and family, but there's a lot you need to know and do to keep your account safe. While everyone knows not to share sensitive information about their account, it's not always clear what counts as sensitive information. For instance, can someone hack your cash app with your email?
The answer to this is no — it's not possible to hack an account just by knowing a user's email address. To log into an account, hackers need access to the correct email account or phone number to receive the one-time-use login code. 
Keep reading to learn more about Cash App's security features and what users can do to make sure their account stays secure.
What Is Cash App?
Cash App is a peer-to-peermoney transfer app that lets users pay friends and family instantly. It also has a variety of other features, including Bitcoin management, banking services and stock trading.
What Is $Cashtag?
$Cashtag is used to identify your Cash App account, and is used for both individuals and businesses. Your $Cashtag is a unique URL that you can share to those you trust to make secure transactions.
Can Someone Hack Your Cash App With Your Email?
To sign in to Cash App, users need to enter the email or phone number they chose to set up their account. It's true that if a hacker knows your email address, they might be able to complete this first step of the process. 
However, to complete the login, they'll also need access to the email account or phone number to receive the one-time-use code that Cash App sends. This means that just knowing an email address isn't enough to hack an account. 
By keeping their phone and email accounts secure with passcodes and two-factor authentication, users can protect themselves from hackers.
What Can Hackers Do With Your Email?
Hackers can't log in to an account just by knowing the email address, but they could send emails to try and trick the owner into providing more information. By pretending to be a Cash App Support team member, hackers can ask for more sensitive information that helps them access the account.
To avoid this, users need to remember that Cash App Support never asks for personal information like Cash App PINs, sign-in codes or full bank account information. They will also never ask for remote access to devices or ask users to complete a test transaction.
How To Keep Your Cash App Secure
There are several things users can do to keep their accounts secure with Cash App, including:
Enabling the Security Lock feature so all payments need a passcode
Enabling text notifications when receiving a payment
Enabling two-factor authentication on the email associated with an account
Securing mobile devices with passcodes and biometrics 
Hiding virtual Cash Card info.
Common Cash App Scams
There are various ways to carry out a scam on Cash App, and the easiest way to avoid financial scams is to know what to look out for. One popular type of scam promises a user something later on if they send a small payment first. This could be someone promising to double a payment through smart investment or encouraging users to claim a bigger payment by sending a smaller one first.
It's also possible to get scammed by receiving a payment from a stranger. These scammers ask users to kindly send back the money they initially sent by accident. 
However, they often use stolen credit cards to make payments, so the payment received by the victim disappears once the card is cut off. The money sent back to the scammer, however, will come directly from the user's funds. 
Final Take
While it's important to pay attention to security issues and potential scams while using Cash App, a hacker can't break into an account with just an email address. To use Cash App as safely as possible, it's best to secure the email account attached to it and turn on all of Cash App's safety features. 
FAQ
Here are the answers to some of the most frequently asked questions about Cash App and potential scams.
Is it safe to give someone your Cash App email?

Emails are used as a form of communication, so it's very normal for someone to give out their email so others can contact them. It's also safe to set up a Cash App account with an email address that lots of people already know, as long as the email account is secure.Searching for an email address on Cash App is one way for friends and family to find an account when they want to make a payment, so it's totally safe to share an email. However, if a user prefers not to share their email, they can make a $Cashtag instead which works the same way.

Can you get scammed by giving someone your Cash App tag?

No, you cannot get scammed by giving someone your $Cashtag, according to a February 2020 Tweet from the official Cash App Support. As a general rule of thumb, make sure you only send and receive money between people you know and trust.
Our in-house research team and on-site financial experts work together to create content that's accurate, impartial, and up to date. We fact-check every single statistic, quote and fact using trusted primary resources to make sure the information we provide is correct. You can learn more about GOBankingRates' processes and standards in our editorial policy.