Can You Actually Delay Your Utility Bills?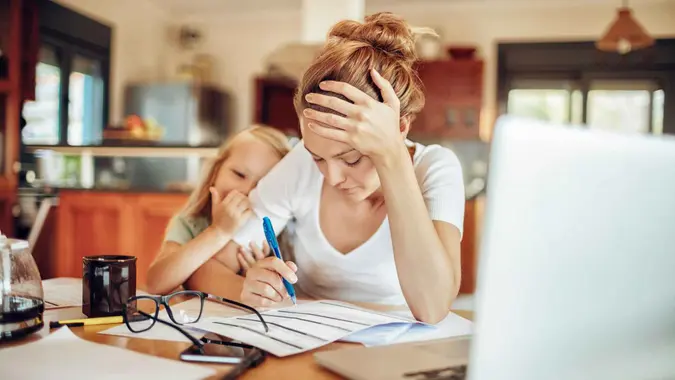 Geber86 / Getty Images
With pandemic-related benefits long spent, eviction moratoriums for renters expired and food prices still through the roof, you may be struggling with your bills. Often, that means prioritizing who to pay first.
You might think you should pay your electric, water, and other utility bills first. After all, if you don't pay these bills, the providers could shut off your service. You can't live safely, shower, or cook without electricity and water. If you work from home, your internet could be your means of generating cash.
A report from the National Energy Assistance Directors Association shows that nearly 20 million households are behind on their energy bills for a total of $19.5 billion owed, CNN reported.
Take Our Poll: Are You Concerned About the Safety of Your Money in Your Bank Accounts?
However, you'll have some time to scrape together the cash before you face having your electricity turned off. Here's what will happen if you don't pay your electricity or other utility bills.
You'll Face Late Charges
If you don't pay your bill by the due date or a few days later, you will likely have late charges added to the bill. They typically range from 1% to 12% of your total bill. There is usually a 30-day grace period before late charges are added.
Utility Bills and Your Credit Score
Electric and utility companies do not report payments to the three major credit bureaus: Experian, TransUnion, and Equifax. If you use a service like Experian Boost, which reviews utility and other bill payments to generate an "alternate" credit score, late payments won't be reported. But, you will miss the benefit of having on-time payments reported to help calculate your alternate score.
You Could Face Shut-Off
Companies can send shut-off notices as soon as 30 days after a missed payment, although some providers wait 60 or 90 days. If you receive a disconnection notice, you should call your provider immediately and negotiate a payment arrangement.
You Can Get Help Paying
Some electricity providers will allow you to negotiate a payment arrangement. The Low Income Home Energy Assistance Program (LIHEAP) can also help you pay your heating, cooling, and electric bills. Funding and funding requirements vary by state. InspireCleanEnergy.com indicated that only about 20% of qualified households receive these benefits each year.
If you need help paying your utility bills, call the provider and see what kind of arrangement you can make. They might accept a post-dated check or a down payment for the full amount.
For the future, you can look into incentives, grants, and tax credits for home improvements that will reduce your energy costs. When you are faced with an intimidating electric bill, the worst thing you can do is ignore it. Avoid disconnection and the fees associated with reconnecting your electricity by calling your provider right away to make a payment arrangement you can afford.
More From GOBankingRates