A Complete Financial Checklist To Meet All of Your Money Goals in 2022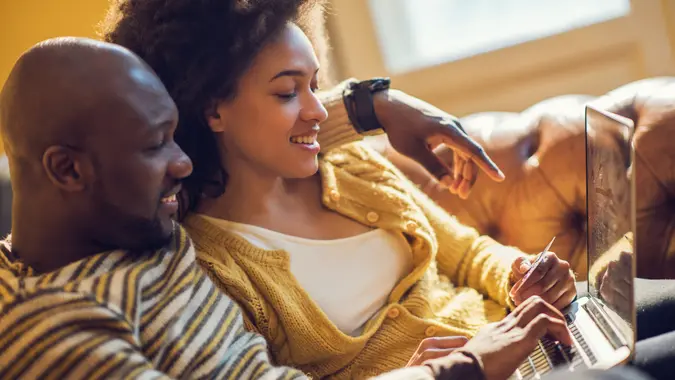 BraunS / Getty Images
Whether you're charging into 2022 with a full head of steam or barely limping away from 2021, it's time to regroup, reassess and make a plan for the new year. With one of the most dramatic years on record now in the books, now is the time to take what you learned over the last 12 months and apply it to your financial life in the 12 that are coming up the pipeline.
Have a Goal — or Better Yet, Goals
Don't let 2023 sneak up on you next winter the way 2022 did in December — install a finish line for yourself to cross at the end of this year by setting clear goals that you can actually reach.
"One thing that should be on everyone's checklist for a successful 2022 is to create a personal finance goal," said Jacqueline Gilchrist, founder of MomMoneyMap.com. "It can be a savings goal for a vacation, paying off one of your loans, or having a down payment for a house. As long as it's realistically achievable in 2022 given your current and anticipated savings amounts, it'll be a motivational tool to earn and save more money."
Plan For Your Savings To Keep Up With Inflation
The price of everything is going up — and 2022 is so far not going to come with four-figure stimulus checks to help cover the costs this time. Once you have a goal, make a plan to save money — or prepare to watch that goal slip away.
"Even if you aren't trying to save for a big purchase, like a down payment on a house or buying a new car, you'll still want to try to save more," said Julie Ramhold, consumer analyst with DealNews.com. "Things are getting more expensive and it's unlikely that the prices will come down, at least any time soon. Saving more will allow you to be prepared whether you want to take an epic vacation or just need savings set aside in case a bad situation like job loss arises."
Make Increased Savings Possible by Spending Less
Unless you earn more income in 2022, the only way to save more money is to spend less of it.
"This doesn't mean to cut out your spending completely," Ramhold said. "Rather just make sure that when you are spending, you're doing so in the best way. This means trying to aim for items that are 'buy it for life' — maybe they're more expensive upfront but you won't have to replace them for a long time, if ever. Spending wisely also means shopping around for the best price as well as focusing on the best times of year to purchase certain items. Try to cut out things you don't need or enjoy, especially when it comes to things like streaming services you might not use anymore, subscriptions you don't find enjoyable anymore, or even by adjusting plans for things like internet or cell phone that you might be overpaying for."
Automate What You Can
One of the keys to saving consistently, budgeting efficiently and not letting bills go unpaid is to automate as much of both your spending and your saving as humanly possible.
"Setting up automatic payments for bills that need to be paid on time each month is important," said Farhan Advani of Buy Here Pay Here. "Setting up automatic deposits to savings accounts is another good step."
But don't stop there — transfers to your brokerage account, college fund and just about any other vehicle for saving or investing can all be automated.
Make 2022 the Year You Finally Start Estate Planning
As a whole, America is horribly underprepared in terms of end-of-life arrangements. One of the bright spots to come out of the last few years is that the reality of the pandemic put estate planning at the forefront of the national discussion.
"With 60% of Americans not having a will or estate plan, the pandemic has led to people having end-of-life and preferences conversations," said David Edey, certified executor advisor and author of "Executor Help: How to Settle an Estate, Pick an Executor and Avoid Family Fights."
"But they still avoid or procrastinate and nothing changes. In 2022 make it a point to get a will or update it, have a health directive document, and a power of attorney. Pick an executor who understands what the job entails. Have family conversations so you don't leave them disorganized. Leave a legacy — not a legacy and a mess."
Dust Off Old Policies That Have Beneficiaries
If you have policies and accounts that other people stand to inherit, now is the time to revisit them and make sure the people named are still the people you want to reap the benefits of your legacy.
"Check your beneficiaries on life insurance and retirement plans," said Stephen J. Landersman, president of Unifi Advisors and a CFP since 1993. "Life changes — and you want to make sure they change with it."
More From GOBankingRates