Dave Ramsey's 5 Tips for a Profitable 2023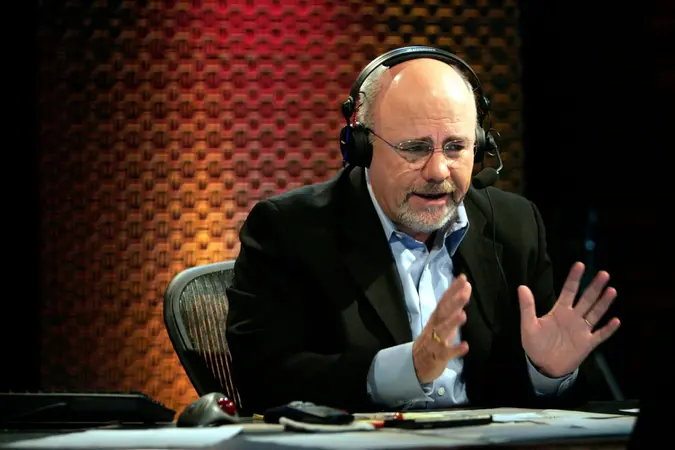 Mark Humphrey/AP/Shutterstock / Mark Humphrey/AP/Shutterstock
If you let the winter slip away without keeping the financial promises you made around the holidays, don't worry: Spring is the season of rebirth.
On his blog, money guru Dave Ramsey wrote, "Not only does spring remind us of the beauty of the outdoors, but it also reminds us to get our homes organized — in other words, to do a little spring cleaning. This year, though, while you are cleaning the garage, shampooing the carpet and organizing the closets, we suggest that you do a little spring cleaning in another area of your life — your money."
If your finances could use a little sprucing up, Ramsey has offered some advice worth heeding. Here are the top tips for 2023 from one of the biggest names in the personal finance game. 
Get Organized — It Will Make You Feel Better
In January, Ramsey said in a cable news interview that people who are bad with money are often just afraid to confront the state of their finances. But, according to Ramsey, the simple act of getting organized can ease your anxiety. 
"The thing that pierces through that more than anything else is an action plan," he said. "It gives you a sense of release. I remember being terrified about money; but, when I actually started walking my way through it, the terror kind of melted away."
Start small. Scan your statements, write down your debts and revisit dusty accounts.
Give Every Dollar a Home
After you confront your financial clutter, Ramsey said, Step 2 is to start your action plan by creating a budget. You can find your own style, but Ramsey recommends a zero-based budget, which dedicates every dollar you earn to wants, needs or future savings.
"Focus on the most important things," Ramsey said in the interview. "Food, shelter, clothing, transportation and utilities. That's not subscriptions. That's not eating out."
Those things get dollars assigned to them only once needs and savings are accounted for. But, if you have debt, paying it down should come first.
Got Debt? Build Momentum With Small Victories
Ramsey's favorite debt-reduction strategy is the snowball method, It has been his go-to advice for years, and he still lists it as the No. 1 strategy out of 28 he ranks on his website today.
It's practical because it delivers small but fast wins that give you the good feeling of crossing debts off your list while watching your position improve. 
Ramsey's site offers a snowball debt calculator, but the premise is simple. 
Start by listing your debts from smallest to largest without regard to interest rates. Then, pay as much of the smallest debt as you can as frequently as you can. When you eliminate it, move on to the second-smallest. You'll keep the others idling the whole time by making only the minimum payments until it's their turn in the crosshairs.
Save $1,000 — To Start
If you don't have at least $1,000 in the bank, Ramsey wants you to prioritize saving that amount even before you pay down your debt. 
In a post on his blog, Ramsey acknowledged that $1,000 is not sufficient savings, but he calls it "the first piece of your money journey." Consider it your "starter emergency fund" or "baby step No. 1." 
While $1,000 will disappear in the face of unemployment or a medical emergency, it's enough to cover smaller unforeseen expenses like minor car repairs. Without it, you'll eventually have to tap your credit cards and destroy any progress you made with the snowball method.
When you finally eliminate all non-mortgage debt, Ramsey wants you to re-prioritize saving, this time for three to six months' worth of expenses before moving on to the fun part — growing your wealth.  
Put 15% of Your Money to Work
By paying down debt, you'll free up money — so you'll have to decide what to do with it. You can either reduce your newfound wealth by spending it or grow it by investing it. 
Ramsey recommends contributing 15% of your income to long-term investing, and he created a beginner's guide on his website at the end of last year.
The first step is budgeting and saving to come up with the necessary 15%. When you have your investment money, Ramsey recommends mutual funds, but you might also consider ETFs, which are cheaper and easier to buy and sell. The best home for this investment is a 401(k); but, if your employer doesn't offer one, Ramsey suggests using after-tax money to fund a Roth IRA. 
Although you might be tempted to invest every dollar you can spare, consider using some to pay for the services of an investment expert. Ramsey insists that professional help will pay you back in the long run.
More From GOBankingRates