How To Determine Which Money Transfer App Works Best for You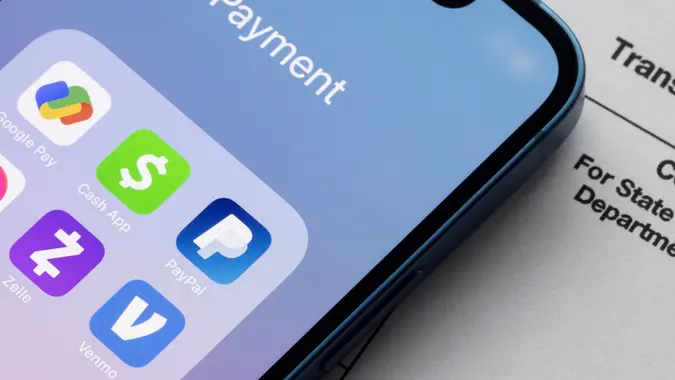 hapabapa / Getty Images
Money transfer apps have come into their own over the last decade, with people quickly warming to the ability to send money immediately with a few taps. Four of the most well-known and often-used of these apps are PayPal, Venmo, Zelle and Cash App, which vary in popularity among users, according to data from Pew Research.
While all of these apps were designed for the same purpose — as P2P payment services — each one functions a little bit differently. If you're struggling with which one should be your go-to when you need to send money quickly, here's how to determine which money transfer app works best for you.
PayPal
If deciding was based on popularity, PayPal would be the winner. The majority of U.S. adults have used PayPal over any other money transfer app — approximately 57%, according to Pew Research. The app is most popular with adults aged 18-29 and adults aged 30-49. It's also the money transfer app of choice by far for adults 50-64 and 65+. Here's how that breaks down by users in each of the following age groups:
Adults 18-29: 63% 
Adults 30-49: 66%
Adults 50-64: 55%
Adults 65+: 41%
PayPal is known for its ease of use. You can send money with a host of payment options, including your credit or debit card, PayPal balance or your bank account. This is extremely convenient and not something every money transfer app offers. However, you will pay a 2.9% fee + $0.30 per money transfer transaction you make with your debit or credit card. So if this is something you will often do, you'll need to factor in the extra cost.
If you have PayPal Credit, you can also use it to send money to family and friends. The fee is the same amount you'll incur for using a debit or credit card. However, money sent from your PayPal balance or bank account is free of fees. You can also send money internationally to over 200 countries, which is not standard among these types of apps.
Cash App Borrow: How To Borrow Money on Cash App
Venmo
Venmo, which is owned by PayPal, is the next most-popular money transfer app, with 38% of U.S. adults having used it. It appeals mostly to adults aged 18-29, followed by adults aged 30-49. By age group, here's how many adults use Venmo:
Adults 18-29: 57% 
Adults 30-49: 49%
Adults 50-64: 28%
Adults 65+: 15%
Venmo advertises its ease of use and has an advantage over PayPal in that it does not charge a fee if you send money from a linked debit card. It's also free to send money from your linked bank account or Venmo balance. However, there is a 3% fee for sending money from your credit card, and you can't send money internationally like you can with PayPal.
Zelle
Zelle has been used at least once by 36% of U.S. adults. Again adults aged 18-29 and 30-49 are most likely to use this app. Here's how that breaks down by age group:
Adults 18-29: 48% 
Adults 30-49: 46%
Adults 50-64: 29%
Adults 65+: 20%
Zelle is fast when it comes to money transfers, and there are no fees involved. However, it's likely less popular than PayPal or Venmo because it's not as convenient to use.
One drawback of Zelle is that either the sender or the receiver involved in the payment transaction must have access to Zelle through their bank or credit union, and not all banks and credit unions are members of the network. Additionally, Zelle only allows you to send and receive money via a Visa or Mastercard debit card that's tied to a bank account — you can't use a credit card. Zelle doesn't allow users to send money internationally, either.
Cash App
Cash App is the least-used of these money transfer apps, with only 26% of U.S. adults ever choosing it. Adults aged 65+ use this app the least of all four money transfer apps. Here's how the users break down by age:
Adults 18-29: 39% 
Adults 30-49: 35%
Adults 50-64: 19%
Adults 65+: 9%
With Cash App, users can send money through a credit card, debit card, Cash App balance or bank account to anyone's phone number, email, or $cashtag. However, there is a 3% fee to send money with a credit card. Cash App is unique in that it also allows users to send money, stocks or bitcoin within the app. Like PayPal, you can also send money internationally with Cash App, but only to the UK or EU.
Which Money Transfer App Works Best for You?
A couple of things to consider are that PayPal, Venmo and Cash App offer a variety of payment methods, while Zelle does not allow you to send money via credit card and requires the sender or receiver to be connected to a bank that supports it. Also, only PayPal and Cash App allow for international transactions, with PayPal offering more than 200 countries.
However, the money transfer app that works best for you is the one that offers the features and payment methods you need to fit in with your lifestyle. Additionally, you'll want to choose a money transfer app that results in the least amount of fees when you use it.
More From GOBankingRates