Digit Review: The App That Puts Your Savings on Autopilot
PeopleImages / iStock.com
Digital personal finance tools are designed to help you whip your money and spending habits into shape. Many of them, such as Mint, help you see where your money is going, but the Digit app is designed to help you put savings on autopilot. A money-saving app like Digit can be an effective way to take your finances to the next level.
Digit connects with your checking account to track your spending habits and automatically transfers money into savings based on how much or little you spend throughout the week. The app is available on iOS, and an Android version is coming soon. You can send text commands to Digit or use a handy commands menu with shortcuts to check your balance, view recent purchases and withdraw money. Here's what you can expect from the Digit app.
Read: 10 Reasons to Open a Savings Account If You Haven't Yet
Digit App Review
To help you decide if this app could be right for you, take a look a quick look at some of Digit's features:
Digit Mobile App at a Glance
Cost to Download
Free
Where Available
iTunes App Store
iTunes App Store Rating
4 out of 5 stars
Digit offers bank-level security, with all of your personal information anonymized, encrypted and securely stored. And just as importantly, your funds in your Digit savings account are FDIC-insured up to $250,000 with Digit.
Once you complete the intuitive set-up steps, entering commands into the Digit app — from setting alerts on savings levels to modifying savings plans — is easy. The app lets you ramp up or cut down your savings levels quickly, and the app works with 2,500 different banks across the U.S.
Digit also offers incentives for you to save. For example, you can earn a small bonus for maintaining a minimum amount in your Digit savings account.
The app's high iTunes rating is reflected in user reviews such as the following:
"Digit is effortless saving!" S. MacMillan wrote in an iTunes App Store review. "I enjoy the fact that I can send an easy text message and get an update regarding the digit savings as well as my checking account. Through the settings, I set up a minimum amount that digit will stop saving so I won't overdraft! How cool is that?! So not only [do] I have the reassurance, but all the ability to have an enormous savings without much effort."
If you need customer service or assistance with the app, you can use the searchable help interface on the Digit site. You also have the option to contact Digit directly via an online form to get help.
How to Sign Up for and Use Digit
To use the free app, you'll need a bank account and an iPhone, iPad or iPod touch with iOS 8.0 or later. Signing up for Digit is fast and easy; visit the iTunes App Store and follow these steps:
Search "Digit" to find and select the app. Tap the "Get" button to download the app.
Open the app and enter basic information. You will be prompted to enter your name, email and a password. Then click the "Continue" button and confirm your information.
Enter your mobile number and click "Continue" to confirm.
A six-digit confirmation code will be sent to your mobile device. Enter this code to verify your number.
You'll then choose your bank; if you don't see your bank's logo as an option to select, enter the name of your financial institution in the box provided.
The information you'll need to provide next will vary depending on your bank. For example, Bank of America customers will proceed to entering their online login information for their bank. Capital One 360 customers will have to first sign into their bank accounts to create an access code that they'll enter in the Digit app. Once you are prompted to enter your banking information, you'll be able to link your bank account to your Digit account.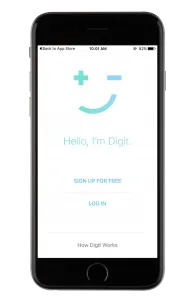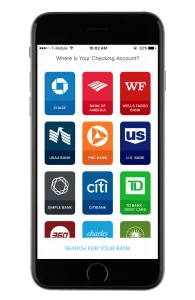 Digit will then track your bank account and evaluate your spending habits, deposits and withdrawals. Depending on how much you spend, Digit will withdraw a certain amount of money from your checking account and deposit that amount into a Digit savings account.
Digit makes these withdrawals from your account every two to three days. The withdrawals will range from $5 to $50, depending on what Digit thinks you can afford to save. Based on your preferences, Digit will contact you every day or week with an update on how much money you've saved.
You can use the app to put your savings on pause, modify transfers or reduce the number of texts you receive. If you want to make a withdrawal from your Digit savings, you can transfer the withdrawal amount to your checking account via the app or even just send a text message to Digit with the amount you want to withdraw from your savings. Within one business day, your funds will be back in your checking account.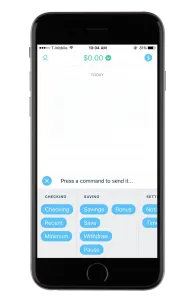 Digit Plus Savings Bonus: A Rewarding, Free Feature
The Digit savings bonus is a free feature that incentivizes keeping savings in your Digit savings account. With this feature, you earn a reward of 5 cents for every $100 you have saved in your account.
The savings bonus is a built-in feature that requires no sign-up. You can have your rewards transferred into your checking account or put onto a gift card. You can view your rewards within the app, and Digit will also send you a text message notifying you of how much you've earned in rewards since you signed up. You can even text the word "plus" to Digit at any time to see when you'll earn your next bonus and to check the total amount of bonuses you've received.
Read: What Is a Savings Account?
Pros and Cons of the Digit App
The Digit app has earned a four-star rating and generally good reviews in the iTunes App Store. "Digit's genius is knowing that we don't really miss small purchases," user PrivateEye37 wrote in an iTunes App Store review. "It [takes] small withdrawals from your bank account a few times per week and … without even realizing it, you've saved a few hundred dollars."
To help you decide whether this is the right financial tool for you, take a closer look at the pros and cons of Digit.
The Pros: Free and Easy
You might want to download the Digit app for a number of reasons. For one, it's a free opportunity to save. Second, whether you choose to take savings or withdrawal actions text messages or use the simple app to adjust your finances, Digit is easy to use.
Here are a few other reasons to consider using this money-saving app:
Automated savings: Once you set up Digit, the app takes care of saving money for you.
FDIC insurance: Your Digit savings account is insured by the FDIC for up to $250,000.
Frequent and easy communication: Digit keeps in touch with regular text messages, notifying you of your growing savings. And if you want to make changes to your account, you can simply text the one-word command to complete an action. For example, you can text "withdraw" to make a withdrawal from your Digit savings.
No-overdraft guarantee: Because Digit transfers only what your checking account can afford, the app is designed to not cause you to overdraft on your checking account. In the event you are hit with an overdraft fee because of the app, Digit will reimburse you for the charge up to two instances.
Liquidity: Your Digit savings account doesn't have the penalty fees and restrictions that many traditional savings accounts have. You can choose to withdraw your funds at any time.
Free rewards: Every three months, you'll get 5 cents for every $100 you have saved in your Digit savings account.
Referral bonus: For every friend you refer to Digit, you earn $5.
The Cons: No Interest and Delayed Withdrawals
Before you download the app, there are some disadvantages that you should consider. Perhaps the biggest disadvantage is that a Digit savings account does not earn interest. Here are a couple of the app's other limitations:
Limited accessibility: The service is still small, available only to customers at approximately 2,500 U.S. banks and credit unions.
Delay on withdrawals: Digit withdrawals occur the business day after you make your request, so if you use Digit for emergency funds and find yourself in need of money right away, you might be out of luck.
Read: What Is the Average Savings Account Interest Rate?
Bottom Line: For Savers Who Don't Want to Think About Saving
Digit's primary goal is to help people who have difficulty saving money. Whether you lack discipline, forget to make manual deposits into savings or don't know how much you can afford to save, Digit can help. Although your savings with Digit will grow slowly, you can put your funds toward anything at any time. If you are looking to keep savings in your account long term, however, you might be better off with a high-yield savings account.
Ultimately, Digit is a helpful mobile tool that makes it easy for you to sock away a few extra dollars. It has a "set it and forget it" feel but still keeps you regularly posted on your savings progress, so you can save more with less effort.