Do You Live In the One State That Dropped Its Rent?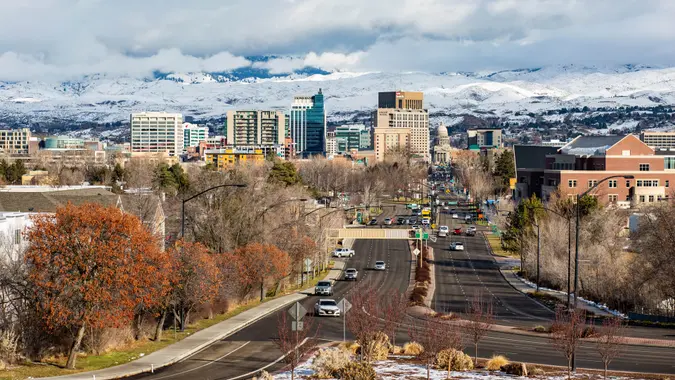 Jennifer_Sharp / Getty Images/iStockphoto
Only one state in the United States has seen rent price drops instead of rent hikes in 2022. According to the August 2022 Average Rent Report from Rent.com, one-bedrooms in Idaho registered year-over-year price drops. 
Learn More: 9 Bills You Should Never Put on Autopay
Related: The Safest Places To Retire Outside the US
Is it time to move to Idaho? Not quite. Despite the price drop, there are additional considerations to factor in before making a move in pursuit of cheaper rent.
Where Is the Rent Decrease Applicable?
Would this rent decrease be applicable to all apartments in Idaho or select units? The Rent.com report said only one-bedrooms in Idaho registered year-over-year price drops. No states in the United States, Idaho included, saw decreases in two-bedroom rents in 2022.
Outside of Idaho, there are cities that have experienced decreases in one-bedroom rents on a year-over-year basis. Some of these cities include St. Louis, Baltimore and Fort Lauderdale, Florida.
Take Our Poll: Do You Think Student Loan Debt Should Be Forgiven?
Idaho's Rental Market Is Cooling Off
A recent GOBankingRates survey on rent found nearly 53% of renters are experiencing a rent increase. While rent continues to soar across many major metropolitan cities, the Rent.com report reveals the home and rental market is showing signs of cooling off.
This is especially true of cities like Boise, Idaho. In the early days of the COVID-19 pandemic, Boise made headlines for its hot housing market as professionals fled expensive cities in favor of a more affordable area. 
Since then, however, Boise has become "the most overvalued housing market in the U.S.," according to researchers at Florida Atlantic University and Florida International. Soaring housing prices and back-to-office returns by employers mean Boise struggles to attract new residents now versus the start of the pandemic.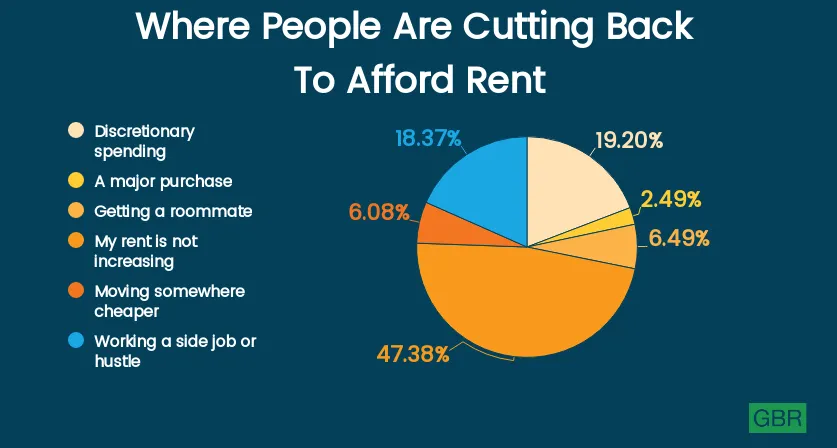 A Rent Increase Doesn't Always Mean You Need To Move 
While we often tend to associate a rent increase with a need to move, this is not necessarily the case anymore. 
Renters experiencing a rent increase, according to our survey's research, are finding other ways to cut back. The two most popular budgeting methods for an added expense among renters are cutting back on discretionary spending (19%) and working a side job or hustle (18%). 
It is possible for renters to explore additional strategies to keep rent hikes at bay. Renters are encouraged to negotiate a rent increase with their landlords to see if there's any wiggle room or one-time concessions available. Renters may also revisit their lease terms to determine if they can stretch it beyond a 12-month term and receive a financial break for a longer lease term or ask if the increase may be delayed by a couple of months.
More From GOBankingRates
Methodology: GOBankingRates surveyed 997 Americans aged 18 and older from across the country between August 9 and Auust 11, 2022, asking sixteen different questions: (1) How much money do you currently have saved for retirement?; (2) How much money do you think you'll need to retire?; (3) Realistically, at what age do you want to be retired?; (4) At what age did you start saving for retirement?; (5) What worries you financially about retirement? (Select all that apply); (6) Do you plan to work in retirement?; (7) What assets do you have in your retirement portfolio? (select all that apply); (8) How has the current inflation impacted your retirement plans?; (9) How much of your retirement do you plan to fund with Social Security?; (10) How do you feel about the future of Social Security when you retire?; (11) What percentage of your salary are you currently investing for retirement?; (12) Are you planning to move after your retirement?; (13) Where is your ideal place to retire?; (14) What government programs do you plan to use for your retirement? (select all that apply); (15) Do you have a pension plan?; and (16) How much do you think the average American has saved at the time they retire?. GOBankingRates used PureSpectrum's survey platform to conduct the poll.