5 Essential Tips for Spotting and Avoiding Online Scams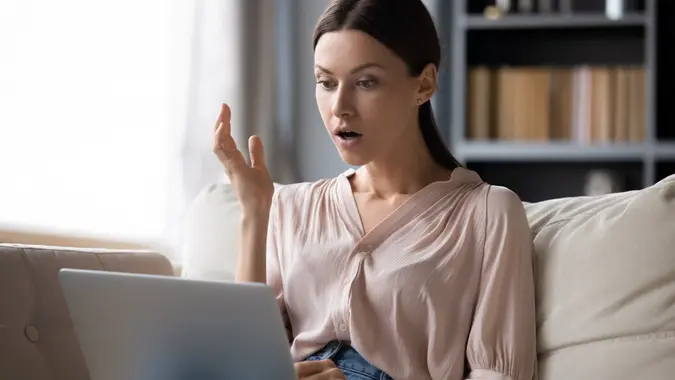 fizkes / iStock.com
We share our personal and financial information online so frequently that we might not always catch the tricks scammers are trying to pull. As technology gets more advanced, so do the techniques criminals use to defraud people online. GOBankingRates spoke with financial experts and influencers to provide the signs you can look for to avoid being taken advantage of by an online scam.
See: 10 Financial Blind Spots To Fix NowFind: 7 Hidden Ways You Can Boost Your Credit Score
If It Feels Too Good to Be True, It Probably Is
Say you're looking for a car and you find the car you want to buy for half the price you've seen on other sites. If you can't find a price like this anywhere else, it's probably a scam. The scammer is hoping you'll pounce on this unbelievable deal and give over all your information as soon as possible before they suddenly disappear. This sort of immediate need for your name, credit card number and other personal details is especially suspicious.
Stacey Kelly, the owner and CEO of Simully said if someone is rushing you to give them more private information, it's a bad sign. "If someone is calling or emailing you repeatedly over some sort of business deal, consider it a major red flag. Scammers will try and rush you into making bad decisions." Kelly went on to say if you run a business and get a call out of the blue offering unheard of prices on supplies, know that the caller probably found your information on your website, and is trying to use that knowledge to get you to hand over cash.
"I would get calls and emails from supposed potential suppliers offering me extremely low prices," Kelly said. "They would mostly ask for money upfront, my private information, and give little to no information about themselves. A good way to avoid this kind of scam is to try and have a face-to-face interaction with them, even if it is online over a video call."
See: Social Security Card and 4 Other Things You Should Never Keep in Your Wallet
Never Click a Link in An Email From Someone You Don't Trust
If you receive an email from an unknown sender or just something that looks out of the ordinary, do not click any links within that email. CEO of GoodHire Mike Grossman said clicking those links is exactly what fraudsters want you to do so they can steal your information. "By clicking the link, you end up on a phishing website designed to mimic the website you intend to visit. Then, if you enter your login details, the scammers will use this private information to breach your real account," Grossman said.
According to Grossman, these emails look authentic but they're actually from criminals. A good trick is to thoroughly check the email address. Often, it will be one letter off from the company it's trying to look like, or will be a .net address instead of a .com. 
Find: 10 Ways That Extra Stress Can Impact Your Wallet
Use Security Software 
Installing added security software can help protect your assets with an added layer of safety. Yosun Allen, the founder of YOSUN UV Printer added that once you've put that software into action, make sure you keep it updated for the most protection. "Set the program to automatically update so that it can handle any new security risks," Allen said. Allen also suggested keeping your phone updated, as there are often security installments that help keep your private information secure. 
Opt Into Multi-Factor Authentication
Though it might seem like a pain to have two security checks when you log into one of your accounts, it can help prevent a scammer from getting access in the future. Allen explained that multi-factor authentication is so effective because it demands two different proofs of identity. "There are two types of extra credentials you'll need to log in to your account [with multi-factor authentication]: something you have, such as a password or a security key obtained
through an authentication software, and something about you, such as a scan of your fingerprint or face. If scammers do gain your login and password, multi-factor authentication makes it more difficult for them to enter into your accounts." 
Get a VPN
A VPN, or a virtual private network, enables a private network to be extended over a public network. Brent Shelton, a representative for NordVPN, explains that a VPN encrypts your online activity to protect your private details from hackers while you're using a public network. "Utilizing [a VPN] will encrypt your internet traffic, making it invisible to third-party snoopers. It's the most cost effective mechanism you can employ to make sure your browsing data remains safe from spying eyes."
More From GOBankingRates