Experts Answer: Should You Let a Family Member Pay Off Your Debt?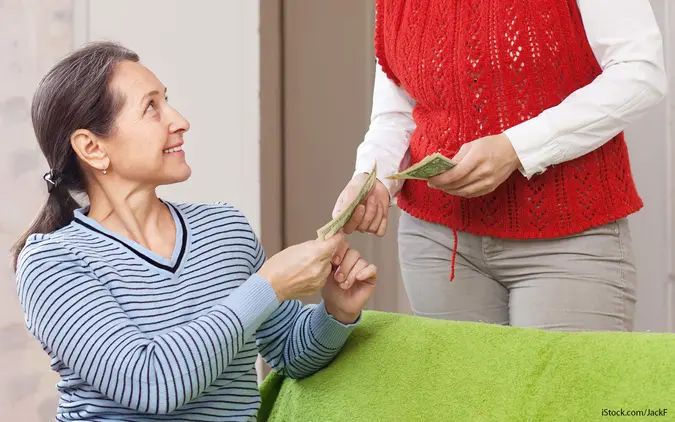 ©iStock.com
Ours is a nation steeped in debt, with the average American being at least $90,000 in the red. Now, with inflation driving up the costs on everyday goods, consumers are increasingly relying on credit cards to help them weather the storm.
The Future of Finances: Gen Z & How They Relate to Money
Student Loan Forgiveness: Mark These 4 Dates on Your Calendar Now
Meanwhile, homes are becoming more expensive, the cost of education is soaring and a global recession is looking more and more likely. How does one get out from under it all? 
You might just turn to a family member to pay off your debt. But is that a wise move? When and how should you resort to this type of bailout? And what should the ground rules be? GOBankingRates turned to financial experts for their advice on whether you should let a family member pay off your debt. 
Ask Yourself These Questions First 
Before you even start to ponder whether a family member should pay off your debt, Mariana Martinez, senior lead family dynamics consultant at Wells Fargo Wealth & Investment Management, encourages people to ask themselves the following questions: 
What's the relationship between you and the family member offering to pay off your debt? Are you close? Is the relationship strained?
Who approached whom regarding the offer?
How will this offer affect the giver? Is this a form of inheritance? Or is it coming from their savings and could it adversely affect their retirement plan?
What are the circumstances surrounding the debt: Is it your mortgage? Student loan? Gambling debt? Medical expenses? Credit card debt from overspending?
What are the consequences of the debt? For example, is it a dire circumstance such as home foreclosure or is it so you feel more comfortable without the debt?
Why are you not paying the debt off yourself? For example, did you lose your job? Or is it due to poor judgment?
What's the likelihood that this will happen again? Is it already a pattern?
What are your other options? Are you able to pay the debt if you cut expenses, sold property or worked more hours, for example?
By taking the time to sit down and answer these questions, you should be able to figure out whether this is a good idea. For instance, if your relationship is strained and/or your debt is a result of your own recklessness, you're better off taking accountability for the debt without any handouts. 
Take Our Poll: Are You Struggling To Keep Up With Your Utility Bills?
Assess Your Options 
"Before turning to your family, it is essential to thoroughly assess your options for the most suitable way to pay off the debt," said Michael Throckmorton, finance expert at Merchant Cash Advance. "If there is another way you can pay off the debt, then it's worth exploring your options. If you are considering family, then it ultimately should depend on how close you are to the family member and whether they are in a secure financial position to help you pay the debt."
Make It a Win-Win for Both of You 
"I would recommend that clients allow family members to pay off debt [only] if they could make it a win-win for both parties," said Brendan Sheehan, MSFP, CFP, managing director at Waymark Wealth Management. "In other words, if you are making a good, reliable income, but you have accumulated high-interest debt, ask a family member to pay off your debt. 
"In return for their generosity, you can pay them back over time with an interest rate better than they currently are receiving. For instance, if you have $10,000 of 10% credit card debt, ask a family member to pay it off using their excess cash at the bank and you will pay them back over time and credit them 3% annually. This is a higher interest rate than they can earn at the bank, and it will save you at least $700 net each year you keep the $10K balance."
Talk It Out 
No matter what, you absolutely need a clear and mature conversation about the debt payment plan.
"You have to ensure that there is a detailed conversation taking place about the gift and its intended purposes," said Bryan Curry, CFP, partner and retirement planner at Bridge The Gap Retirement Planners, LLC. "If this does not happen, both parties can be disappointed by how the funds are actually used."
You also need to be very clear on whether this is a gift or a loan. 
Draw Up a Contract 
"While a contract might feel somewhat formal with a family member, it helps provide some legal ground and guidance should things turn sour in future — e.g., if they want payback in the future or if they decide to suddenly demand the money they [gave you]," said Bill Ryze, a certified chartered financial consultant and a board advisor at Fiona. "All the conditions should be stipulated and noted down, and signed by both parties."
Choose the Path That Makes You Stronger 
"Whether you accept the offer to pay off your debt or you pay it off yourself, hopefully the decision will lead to you feeling more mature and capable in the end," Martinez said. 
Though overall experts are wary, they're not necessarily against letting a family member pay off your debt. They just want you to be super careful and thoughtful. 
"Money and family is always a tricky situation," Curry said. "However, gifting and helping family can be extremely rewarding for all parties if done carefully, and with clear and open communication."
More From GOBankingRates