Experts: How To Talk To Your Partner About Saving for Emergencies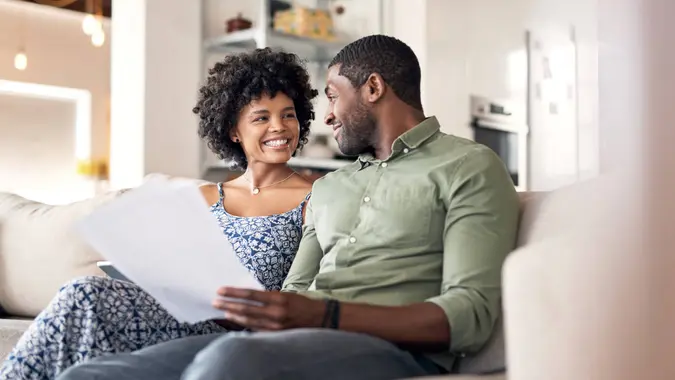 shapecharge / Getty Images
Money issues are a primary source of relationship friction, but that's old news.
However, it doesn't have to keep causing problems in your relationship. You can often avoid fights over money with a simple conversation — particularly when it comes to something as standard as saving for emergencies.
Experts: Here's How Much You Should Have in Your Checking Account
See: With a Recession Looming, Make These 3 Retirement Moves To Stay On Track
According to a new GOBankingRates survey of more than 1,000 adults, nearly 50% of people in a relationship argue with their significant other about money either "a lot" or "sometimes."
Interestingly, a nearly identical percentage of overall respondents have no emergency fund at all.
If you and your partner aren't on the same page about putting aside cash to manage a future emergency, save the arguments for something worth arguing about. Preparing for the worst doesn't have to be a difficult discussion.
Follow Standard Relationship Conversation Best Practices
Having a conversation with your partner about an emergency fund isn't much different than having a conversation about anything else. The keys to success are mutual respect, honesty, empathy and a willingness to seek out common ground.
"When it comes to discussing saving for emergencies with your partner, the best way to do this is by scheduling a time when you both can sit down and have an honest and open discussion about your financial goals and priorities," said Michael Throckmorton, a business success manager and personal finance expert at Merchant Cash Advances.
Just as with any other subject, you'll get the farthest if you don't try to force your point of view on the other person without knowing how your partner feels about the issue first.
"Start by asking questions so you can get a better understanding of each other's perspectives on the importance of saving for emergencies," Throckmorton said. "Then, it's worth working together to come up with a plan that works for both of you covering your long and short-term goals."
Take Our Poll: What Are Your Financial Priorities in 2023?
'Start With Why'
Before you get into the nuts and bolts of how best to set aside money for the inevitable crisis, start by conveying your sense of urgency and why you feel it's such an important pursuit in the first place.
"Start with why," said 40-year money-management veteran Fred Winchar, co-founder, president and CEO of MaxCash. "Explain the importance of having an emergency fund and how it can provide peace of mind and financial security."
Seek Out Common Ground
Once you've established why emergency financial planning is necessary, resist the urge to drive home your ideas on what the strategy should be. Instead, seek out the areas where you already agree on the issue.
"Set common goals," Winchar said. "Discuss your financial goals as a couple and work together to determine how much you should aim to save for emergencies."
The only way to find common ground is to abandon any ego or sense of shame you might have about your own financial circumstances. In short, honesty is the best policy — especially with intimate conversations about money in a relationship.
"Be open and transparent," Winchar said. "Share your financial situation, including any debts or financial obligations, and encourage your partner to do the same."
With a healthy foundation based on mutual respect, mutual goals and mutual understanding in place, it will be much easier to begin hashing out a strategy.
"Work together to create a budget and a savings plan that fits within your means," Winchar said.
Be Realistic
Once things start rolling along smoothly, you might be tempted to avoid upsetting the cart at any cost, even if it means approaching the subject through rose-colored glasses.
Don't — you'll only set yourself up for failure by ignoring the hard truth about the mountain you're about to climb together.
"Don't make it sound like it will be all rainbows and butterflies," said Jonathan Merry, founder of Moneyzine. "Be honest about what it'll mean to your everyday spending. Maybe it means that you're going to have to take it easy on the night outs or cut back on online purchases. Whatever it is, be honest. That way, you can both set realistic expectations for your plans."
Share the Burden, Check In Regularly and Make It Fun
As with most things in a relationship, building an emergency fund will go much more smoothly if both parties feel that the other is shouldering their share of the burden.
"Work together to set realistic savings goals and determine how much each of you can contribute each month," said Natalie Maximets, a certified life transformation coach at OnlineDivorce.com.
That said, it's also important to leave wiggle room for errors, lapses or unforeseen obstacles — and check back in consistently with your plan and your partner to monitor your progress as a team.
"Regularly review and adjust your emergency savings plan to ensure you're on track," Maximets said. "Be open and honest with each other about any financial difficulties, and work together to overcome them."
Finally, don't be afraid to pat yourself on the back when you make progress.
"Celebrate your successes and stay motivated by reminding each other why an emergency fund is important," Maximets said.
Remember that you're in it together and try to have a little fun along the way.
"Be supportive," Winchar said. "Encourage each other to stick to the plan and celebrate milestones."
Just make sure those celebrations don't require you to dip into your emergency fund.
More From GOBankingRates
Methodology: GOBankingRates surveyed 1,005 Americans aged 18 and older from across the country on between January 16 and 18, 2023, asking twenty different questions: (1) Do you currently have any form of an emergency fund?; (2) How much do you currently have put away for an emergency fund?; (3) If you faced an emergency (medical, housing, etc.) how would you have to pay for it?; (4) How much do you currently have saved for retirement?; (5) Do you have any of the following debt? (Select all that apply); (6) How much debt (student loans, medical, auto/personal loan, credit card, etc.) do you currently have? (NOT including mortgage); (7) If you have a significant other, how much do you argue about money concerns?; (8) Which money topics do you discuss with your children? (Select all that apply); (9) How often do you discuss personal finance issues with your family and/or friends?; (10)What are the chances, in an average month, of you and your family running out of money before you are paid next?; (11) What worries you most when it comes to your personal finances?; (12) Compared to pre-COVID (before March 2020) are you more or less confident in your personal finances?; (13) If you received an unexpected bonus of $5,000, what's the first thing you would do with it?; (14) If you won the lottery ($100 million), which of the following would you do with the winnings? (Select all that apply); (15) Would you rather…ask a family or friend to borrow money or max out a credit card?; (16) What would you like to learn more about in order to improve your personal finances?; (17) Do you consider yourself a spender or a saver?; (18) Which categories do you believe you overspend on? (Select all that apply); (19) How much do you spend on self care monthly?; and (20) What is your top financial priority?. GOBankingRates used PureSpectrum's survey platform to conduct the poll.