5 Ways Our Finances Changed Over the Past Year — And Why That's Both Good and Bad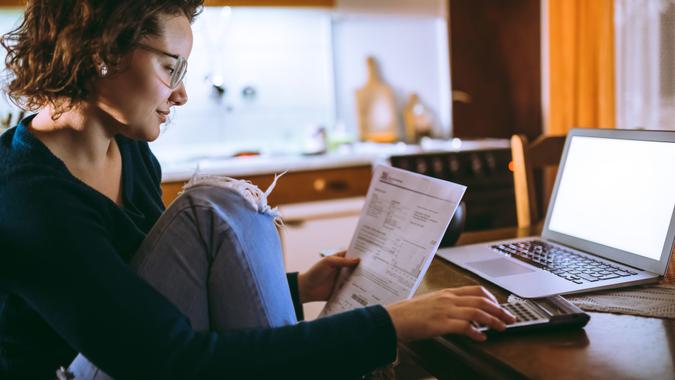 urbazon / Getty Images
Life has changed in so many ways over the past year, and many of the financial changes will continue to affect individuals and businesses in the future — both in good and bad ways.
Read: COVID's Financial Impact After 1 Year: See All Our Coverage
More Financial Transactions Went Digital
Digital access to your money had gradually been increasing over the past several years, but the COVID-19 experience accelerated the changes. Life insurance companies figured out ways to issue policies to many people without requiring a paramedical exam — speeding up the process of applying and approving applications. Many states passed laws making it easier to sign legal and estate-planning documents remotely during quarantines — a timely change as the pandemic prompted more people to take action to update their wills, powers of attorney, healthcare proxy and life insurance.
Keep Reading: The Financial Impacts of COVID-19 That We Weren't Expecting
"I talked with an estate-planning attorney who told me he did more documents in six months than he did in six years," said Mari Adam, a certified financial planner with Mercer Advisors in Boca Raton, Florida. The homebuying process pivoted online, too. "We saw enormous changes in buying and selling real estate," Adam said. "You could show a house safely online, and they changed the real estate contracts."
See: The Standard Emergency Savings Advice Was Wrong — How Much Do You Really Need?
The pandemic streamlined many transactions, but it also made it more difficult for people who don't have good internet access. "Suddenly all of our bank branches closed down," Adam said. "The ability to access your money and accounts from home is really important – and that is a sea change. Everything is digital." For example, filing your taxes electronically and having your refund deposited directly into your bank account has been the fastest way to get your refund for a while (you usually get your refund within 21 days) but people who filed a paper return had to wait even longer than they had in the past — at least two months, and sometimes much longer.
Find Out: How Biden's Plan To End Coronavirus Is Impacting the Economy (So Far)
A New Relationship With Your Home
Rather than just a place to lay your head, people's homes became everything for months — your office, school, gym, summer camp for kids and where you ate all of your meals, entertained and relaxed. The experience caused many people to reassess what they wanted out of their homes.
Many city dwellers who were used to spending little time in their small apartments ended up moving to have more space, creating a suburban housing boom. And when they could work remotely from anywhere, it made it easy for them to move farther away from work — opening the door to live in less-expensive cities and rural areas that usually don't have as many job opportunities. A December 2020 study by the National Association of Realtors found that 8.9 million people relocated since the beginning of the pandemic.
More: These Cities Have the Most People Moving In During the Pandemic
Others stayed put but invested in home improvements to make space for home offices or transformed their backyards into oases, expanding their living space and areas for outdoor entertaining to make up for a lack of travel.
People's homes also became a way to improve their finances: For people with financial hardships, selling their home and downsizing or moving to a less-expensive area became a way to save a significant amount of money and help them weather job loss. For others, refinancing their mortgage to record-low rates helped them reduce their monthly payments and/or their mortgage term — either freeing up more money to pay other bills or helping them afford to retire earlier.
Read: The Pros and Cons of Continuing To Work Remotely Post-Pandemic
But it will be interesting to see what happens to the people who moved to work remotely after their jobs open back up, especially after they have lost tolerance for a long commute and appreciate the extra time at home with their families.
New Ways To Get Medical and Mental Healthcare
Insurers had been encouraging people to use telemedicine for many basic healthcare needs for years because the virtual doctor's visits can cost a lot less than going to the emergency room, urgent-care center or doctor's office. But telehealth didn't take off until the pandemic, when people wanted to avoid going in person to the doctor or hospital and felt more comfortable with virtual visits for some check-ups and basic exams. Many insurers and employers expanded coverage and reduced cost-sharing for virtual visits with doctors, and patients are likely to continue using telehealth because of the cost and convenience. In 2012, only 7% of employers offered telehealth services as part of their employee health coverage. Now, almost all large employers cover telehealth services at least for minor, acute care, according to an annual employee benefits survey from the Business Group on Health. Eighty percent of the employers believe virtual health will play a significant role in how care is delivered in the future, and 52% plan to offer more virtual care options this year.
See: Jobs That Didn't Exist Before COVID
One of the biggest increases in telemedicine is for behavioral health services. The Business Group on Health survey found that 91% of the employers plan to offer telehealth mental health services in 2021. These virtual visits are especially attractive because of the convenience and privacy of meeting from their own home. And they also help provide access to many more behavioral health providers, especially for people who live in rural areas that have a shortage of therapists, psychologists, psychiatrists and especially child psychiatrists.
Charitable Focus on Community Needs
Even though many people were struggling financially because of the pandemic, it was also a record year for charitable giving. For example, Fidelity Charitable made more than $9 billion in donor-recommended grants in 2020, a 24% increase from 2019. Both Fidelity and Schwab Charitable eliminated the minimum investing requirement for their donor-advised funds, opening up these tax-advantaged charitable giving tools to many more people of all income levels.
Find Out: How To Write Off Donations on Your Taxes
Needs in the community became more obvious, especially as neighbors were losing their jobs and needed money for basic expenses and local businesses and nonprofits were struggling. Community foundations, which focus on local giving, introduced COVID-19 relief funds targeting specific needs in their areas. There are about 700 community foundations in the country; you can find links at the Council on Foundations website.
Other new tools helped people find ways to target their gifts, such as Vanguard Charitable's Nonprofit Aid Visualizer tool, which uses mapping technology to help people identify areas with the most need and find local charities specializing in COVID-19 relief. Charity Navigator, which has always been a helpful resource, changed its ratings criteria and expanded its database from 9,000 to 160,000 to help people assess the impact of more charities of all sizes. These tools will continue to help people focus their giving in the future.
More: Bill Gates and 15 More Rich People Who Won't Leave Money to Their Kids
Women Faced Financial Challenges That Could Impact Them for Years
When schools switched to remote learning or elderly parents needed care, many women faced a difficult decision. A Fidelity study in September 2020 found that 39% of women were considering either leaving their job or reducing their hours due to increased caregiving responsibilities. Not only does this decision change their income now, but it can affect their financial future through lost benefits and retirement savings, especially if they have a difficult time finding another job after their caregiving needs change.
"Women definitely faced unexpected and unprecedented challenges, which led to a lot of stress," said Lorna Kapusta, head of women and customer engagement at Fidelity Investments. "But an outcome of that stress is that women more than ever are looking to do more with their money." The study found that 67% of the women were more engaged in managing their money since the onset of the pandemic. "The pandemic acted as a positive catalyst for people to start reaching out for help," she said. They reassessed their budgets, found other ways to earn income and save for the future and worked with advisors to develop a financial roadmap that can help them "understand what they owe and what they own, and what they want to accomplish in 3, 10 and 30 years and making sure their money is lined up to do that," Kapusta said.
Read: A 'Staggering' 2.6 Million Women Have Left the Workforce Since the Pandemic Started
Take advantage of resources that can help: Tax breaks, such as the child care tax credit and dependent care flexible spending accounts, can stretch your caregiving dollars. Some employers offer financial advice through their 401(k) providers, and many cities have Financial Empowerment Centers that provide free one-on-one financial counseling for people of all income levels. And more employers recognized the importance of helping their employees with caregiving needs — whether it's by providing flexible schedules, child care centers, respite care or emergency backup caregiving or resources to help find care for aging parents.
More From GOBankingRates
Last updated: March 11, 2021