Moving Abroad? Here's the Financial Checklist You Need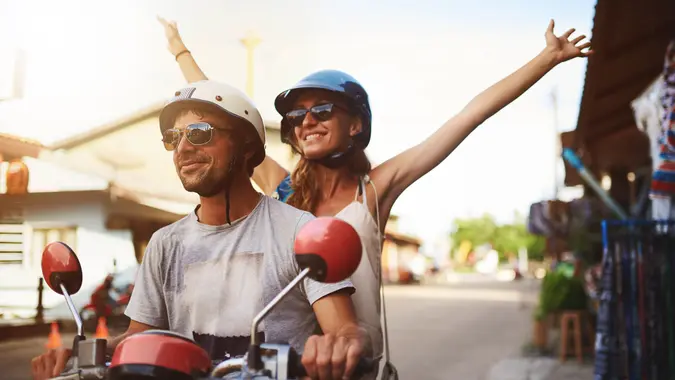 Peopleimages / Getty Images
Moving abroad can be an exciting and life-changing experience, but it also requires careful planning, especially when it comes to your finances. Whether you're moving for work, retirement or simply seeking a new adventure, it's crucial to ensure your financial affairs are in order before you embark on your international journey.
To help you navigate this complex process, we've put together a comprehensive financial checklist. By following these steps, you can set yourself up for a smooth transition into your new life abroad. Bon voyage!
1. Accounts and Investments
Before moving abroad, review your existing bank accounts, credit cards and investments. Inform your financial institutions about your relocation plans to ensure uninterrupted access to your accounts. Consider opening an international bank account that offers convenient currency conversion and low transaction fees. Research local banking options in your destination country and be prepared to provide the necessary documentation to open a new account.
"Know your bank's fees, and know how to get in touch with your bank if it needs to be by phone," said Becca Siegel, travel expert from Half Half Travel. "This might sound easier than it is: your bank could have fees for foreign withdrawals or overdrafts, and if you need to place an international call, you may need more than just the WhatsApp app on desktop. Have either an international calling plan or a service like GoogleFi to be able to seamlessly call an 800 number to get in touch and resolve issues."
"Just because you're moving doesn't mean your investments need to, too," said Shelley Marmor, the face behind Travel to Oaxaca and a happy expat in Mexico. "Evaluate your portfolio and consider if you need to rebalance considering your future plans. Also, bear in mind that your new country might have different rules about foreign investments. "
2. Housing
One of the most significant expenses you'll encounter when moving abroad is housing. Research the cost of living in your destination country and city to determine an appropriate budget for accommodation. Decide whether you want to rent or buy property and explore local real estate markets. Consider engaging a local real estate agent who can guide you through the process and help you understand any legal requirements or restrictions.
"When I moved, I had to make a choice between selling, renting out, or keeping my property in the States," Marmor said. "If you decide to rent out your property, you'll have to consider hiring a property manager and understanding the tax implications. On the other hand, if you're thinking about buying a house in your new country, you'll need to understand the local housing market and the mortgage system, which might be vastly different from what you're used to."
3. Taxes
Understanding the tax implications of moving abroad is crucial to avoid any potential legal issues. Consult with a tax professional who specializes in international tax laws to determine your tax obligations both in your home country and the country you're moving to. Some countries have tax treaties that may affect your liability, and you may be eligible for certain tax benefits as an expatriate. Ensure you comply with all reporting requirements and deadlines to avoid penalties.
"It's an open secret that Uncle Sam likes to keep tabs on us, even if we're not in the States," Marmor said. "So, understanding your tax obligations before moving is not just smart, it's essential. Remember, some countries have tax treaties with the U.S., which can be a blessing."
4. Retirement and Benefits
If you're moving abroad permanently, assess how your retirement savings and benefits will be affected. Research the regulations and eligibility criteria for Social Security benefits, pensions and retirement accounts in both your home and destination countries. Determine whether you need to transfer your retirement funds or if you can continue contributing to them from abroad. Consult with a financial advisor to make informed decisions regarding your retirement planning.
5. Estate Planning
Moving abroad also calls for reviewing your estate planning documents, such as wills, trusts and powers of attorney. Different countries have varying legal systems and inheritance laws, so consult with an estate planning attorney who is knowledgeable about international law. Update your documents to ensure they align with the laws of your new country and reflect your current wishes.
6. Physical Documents
Gather all important physical documents and make copies or digital scans of them before you move. This includes passports, birth certificates, marriage certificates, insurance policies, investment statements and any other legal or financial documents. Keep both physical and digital copies in a secure location accessible to you and a trusted individual, such as a family member or attorney.
7. Consult an Immigration Professional
Navigating immigration laws and obtaining the necessary visas or residency permits can be complex. You might want to start by consulting an immigration professional who can guide you through the process and ensure you meet all legal requirements. They can provide valuable advice on the necessary paperwork, timelines and any specific conditions or restrictions that may apply to your situation.
"Maybe not the cheapest option in the short run but don't be penny-wise and pound-foolish when it comes to moving abroad," said Richard Bexon, managing director of Investing Costa Rica. "Having someone to rely on to help you find a rental/home, open bank accounts, meet you at the airport, organize initial car delivery, cell phone, utilities, etc., will pay its weight in gold! Especially important if you don't speak the local language!"
Are You Ready for the Next Step?
Moving abroad requires careful consideration and planning, especially when it comes to your finances. By following this comprehensive financial checklist, you can set yourself up for a successful transition and avoid any unnecessary financial hurdles. Remember to be proactive, seek professional advice and stay organized throughout the process. Whether it's the cobblestone streets of Firenze or the beaches of Brazil, with proper preparation, you can embrace your new adventure with peace of mind and financial stability in your new home.
More From GOBankingRates