I'm a Financial Expert: Here Are 7 Expenses You Should Avoid Paying With Your Credit Card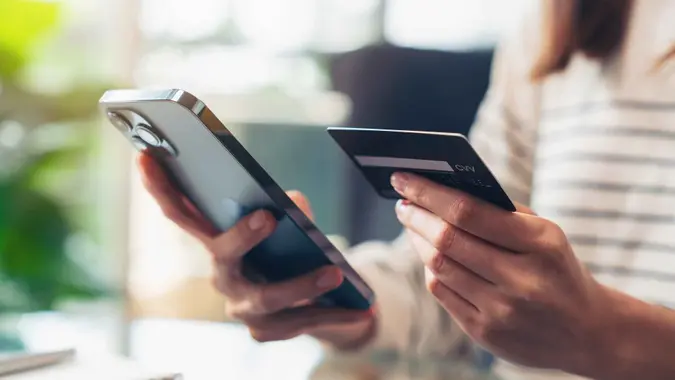 Sitthiphong / Getty Images/iStockphoto
Credit cards have long been all the rage in the U.S., but in recent years, as consumers increasingly struggle to get by, they've become central to our lives. The temptation to spend with a card instead of cash may also be building because of all the perks that credit cards offer, including cashback rewards. 
But even if you regularly pay your credit card balance in full and on time, there are certain purchases you should avoid using credit cards to make. 
To learn what expenses you should never use a credit card to cover, GOBankingRates chatted with Marcus Arcabascio, financial expert and founder of the banking and credit site Bank Locations.  
Large Payments (Including Car Payments, Mortgage and Medical Bills) 
When short on cash to cover huge expenses like car payments, mortgage payments, and medical bills, using a high-limit credit card can seem like the obvious answer. However, you need to tread very carefully here.  
"Most mortgage companies won't allow a payment using a credit card, but some third-party organizations will enable the payment for an added fee," said Arcabascio. "Big payments on your card can lead to higher fees and interest. This means your large expense can become an even bigger payment."
Small Indulgences 
Most retailers allow for easy-as-can-be payments with the tap of your card or phone–which is linked to your credit card. 
"If your card gives cashback or rewards, this might be an excellent way to build them up, but if not, users might end up with a larger bill than the initial price of the same expenses, that's harder to pay off at the end of the month," Arcabascio said. 
Take Our Poll: Are You Concerned About the Safety of Your Money in Your Bank Accounts?
Subscriptions 
Auto-scheduling payments for things like subscription services and monthly bills with your credit card may also seem like the obvious thing to do. But if possible, link to your debit card instead. 
"As tempting as it is, users should refrain from putting subscription or recurring payments on their credit cards," Arcabascio said. "Charging a recurring payment can help organize expenses and finances, but users run the risk of running up credit bills if they're not careful and don't stay on top of them." 
Cash Advances 
The gist of credit cards is that you don't need cash to use them. However, some cards allow you to obtain cash advances from ATMs when you're in need of it, such as paying the babysitter or giving your kids their allowance. 
"Tread cautiously, though, as some ATMs charge a fee, and getting cash with credit cards can come with higher than usual fees," Arcabascio said. 
High-Risk Investments 
This tip actually comes not from Arcabascio, but from Brian Meiggs, founder of My Millennial Guide. We're including it here, though, because it's really important.  
"Using credit cards to invest in high-risk assets, such as cryptocurrencies or speculative ventures, can be financially dangerous," Meiggs said. "Investing with borrowed money not only amplifies the potential losses but also exposes you to interest charges if you're unable to pay off the credit card balance immediately. It's crucial to invest with money you can afford to lose and to follow a diversified investment strategy that aligns with your risk tolerance and long-term financial goals. Avoid the temptation of using credit cards for speculative investments and focus on building a solid investment portfolio through prudent and informed decision-making."
Income Taxes 
Another tip that comes not from Arcabascio, but from another source, Derek Miser, investment advisor and CEO at Miser Wealth Partners — is to not pay your income taxes with a credit card. 
"Paying your taxes with a credit card may subject you to substantial processing fees," Miser said. "These fees can quickly add up, making it a less cost-effective [payment method]. The IRS and most tax authorities will impose such a fee." 
Impulse Purchases 
Consumers can easily fall into the false thinking of having almost limitless funds with their credit card, which can lure them into spending more lavishly than they would with a debit card or cash. They may up the impulse buys. 
"Buying things on impulse with a credit card can lead to money problems," Arcabascio said. "You might not realize how much you've spent until the bill comes. It's not smart to make big purchases without planning. It's better to use your credit card for small things you can pay off as soon as possible." 
Keep in mind that Arcabascio isn't telling you to never use credit cards — only that you have to be mindful and careful when using them. 
"When used correctly and sensibly, credit cards are a beneficial tool offering convenience and a path to build or improve credit scores," Arcabascio said. "They are also a great way to earn rewards if users monitor their expenses wisely." 
More From GOBankingRates