What the Financial Incentives To Stay Home Have Looked Like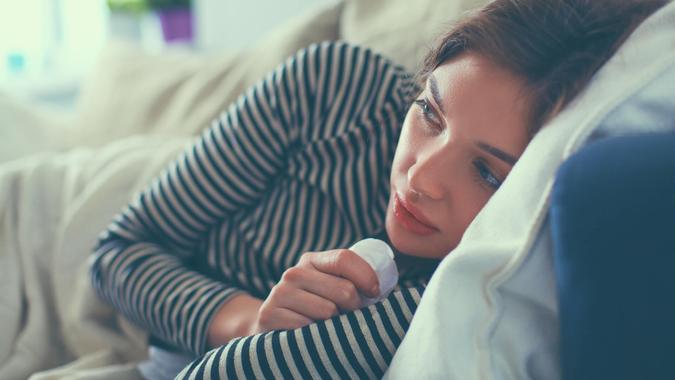 ©Shutterstock.com
From the very beginning of the pandemic, people who got sick had to make the hard choice between isolating themselves in safety or going out and earning a living. It's an impossible Catch-22. But some cities, counties, states and even whole countries have tried to ease the burden by paying sick residents — or forcing their employers to pay them — to stay home instead.
Read: COVID's Financial Impact After 1 Year: See All Our Coverage
Some Places Made Quarantine-Related Sick Pay Mandatory
To help people facing the conundrum of going to work sick or not earning an income, several governments required some employers to pay infected workers to stay home and get well. 
Families First Coronavirus Response Act (FFCRA)
Before this federal law expired on Dec. 31, 2020, it served as the blueprint for similar initiatives that counties, cities and states introduced on their own across America. It required certain employers to provide paid sick leave and/or expanded medical leave for people who had to quarantine due to COVID-19. It required:
Sick pay at the employee's regular rate up to 80 hours for two weeks for people diagnosed with the virus or ordered to quarantine by a healthcare provider or a federal, state or local government. The same was given to anyone experiencing COVID-19 symptoms and seeking a diagnosis. 

Sick pay at two-thirds of the employee's regular rate up to 80 hours for two weeks for people who had to care for someone diagnosed and forced to quarantine.

Up to 10 extra hours of sick pay per week at the employee's regular rate for anyone who had to care for a child for reasons related to COVID-19.
Exclusive: Nearly Half of All Americans Missed Rent or Mortgage Payments Due to COVID-19, New Study Reveals
New York: New Paid Leave for COVID-19
New York Gov. Andrew Cuomo signed this legislation, which provides protections similar to FFCRA. It also provides an outlet for residents to file complaints against employers who refuse to pay.
More: 22% of Americans Who Lost Their Jobs During the Pandemic Remain Unemployed, Survey Reveals
San Jose, California: Urgency COVID-19 Paid Sick Leave Ordinance
The trend caught on in the unofficial capital of Silicon Valley, as well, with San Jose passing its own ordinance mandating sick pay for people who had to quarantine. Like New York, it had its own stipulations, but the basic premise was the same as FFCRA.
Virginia Lawmakers Struck Out
At least three bills that would have mandated quarantine sick pay got close to passing in Virginia but ultimately died en route to becoming law. Lawmakers there are currently hoping the fourth time will be the charm.
Your Opinion: Do You Think the Minimum Wage Should Be $15? Take Our Poll
Oregon Expanded the Safety Net
Some businesses were exempt from paying infected workers to quarantine, depending on their size, number of employees, industry and a range of other factors. In other words, mandatory quarantine pay wasn't mandatory for everyone. 
Oregon responded with the COVID-19 Temporary Paid Leave Program. The initiative paid qualifying residents who had contracted COVID-19 but didn't qualify for standard paid sick leave to self-isolate. Benefits were $120 per day for up to 10 days for a total of $1,200.
Read: Calculating Your Stimulus Check: How Much (if Any) Will You Get?
One California County Left Employers Out of It Altogether
Close to San Jose on the East Bay, Alameda County went a step further. By August 2020, the county had clocked more than 11,000 infections and was closing in on 200 deaths. Instead of using the weight of the government to compel employers to pay sick employees to quarantine, the government cut out the middleman. The Alameda County supervisors approved direct payments of $1,250 to encourage infected residents to shelter at home. At almost exactly the same time, the Los Angeles City Council was considering a nearly identical proposal in the south of the state.
See: COVID's Unexpected Financial Impacts
Hawaii Paid People To Say 'Aloha' (the 'Goodbye' Version)
Thanks to airplanes, Hawaii's isolated location in the South Pacific couldn't protect it from COVID-19 — so it paid to turn a lot of those airplanes right back around. When cases started rising, Hawaii mandated a 14-day quarantine for all incoming travelers. Thanks to a grant from the Hawaii Tourism Authority, the state was able to help pay for return flights for those who weren't aware of the rules, didn't know they were sick or otherwise would have a hard time paying for their trip back to the mainland.
More: How Biden's Plan To End Coronavirus Is Impacting the Economy (So Far)
Quarantine Pay Is a Global Trend
The U.S. is hardly alone. According to the BBC, countries across the world are experimenting with similar measures. In Sweden, for example, residents collect about 80% of their salaries to quarantine if they test positive. With full pay for up to six weeks, Germany has one of the most generous policies in the world. In Portugal, you get 100% of your salary for two weeks. In Slovenia, the sick are paid between 80%-100% of their salaries to quarantine.
More From GOBankingRates
Last updated: March 12, 2021