I'm a Financial Planning Expert: 3 Reasons I Don't Trust AI To Manage Money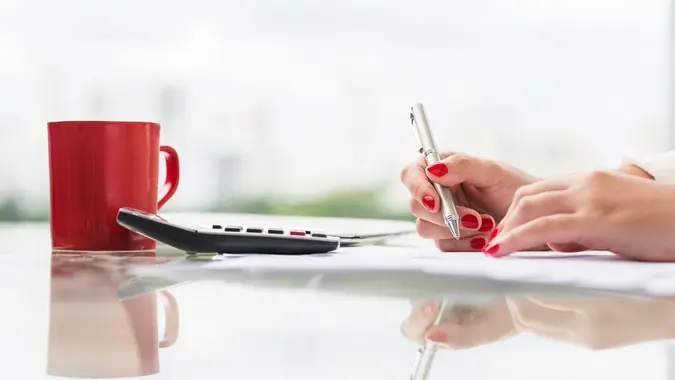 Dragon Images / Shutterstock.com
AI is rapidly becoming a part of many Americans' lives. A recent GOBankingRates survey found that over half of Americans (55%) have now used AI, and many have used it for financial planning purposes including for assistance with budgeting (11%), investing (11%) and saving money (15%). But should you actually use AI to help manage your money?
GOBankingRates spoke with Jen Hollers, CFP, head of planning at Kestra Financial, about the risks involved with using AI for financial planning purposes and why she doesn't see it as a replacement for human advisors.
Personal Finance Is Personal
Every individual is different, and therefore blanket financial advice provided by AI may not always be useful.
"There are some instances where AI can be a helpful day-to-day money management tool. But when thinking about the full spectrum of financial planning, AI isn't going to be the best tool — an element of human critical thinking will always help you arrive at the best decisions," Hollers said. "For instance, while AI tools might help present options for certain recommendations or pathways, they won't be able to help you choose the best course of action based on the psychology of financial planning-based concepts."
Financial Advisors Provide More Nuanced Advice
"Using AI, you risk missing key elements that only an advisor can help you think about critically," Hollers said. "This could include family dynamics, navigating the emotions behind a particular decision, or a host of other factors that software won't be able to capture."
Many aspects of financial planning require human-centric analysis and therefore should only be entrusted to a human, she said.
"For example, managing funds tied to education will be different for every family," Hollers said. "One parent may have a child with special needs while another is navigating which children are likely to attend university and how much they can save without compromising other financial goals. Or take retirement planning — you may want to retire for a short time, then go back to work for a certain length of time before officially retiring. AI won't have all of the anecdotal information needed to make the best decisions based on individual circumstances and goals."
Emotions Play a Role in Financial Planning
While some financial planning is based on hard facts and formulas, a lot of it is emotional and therefore can't be managed well by AI, Hollers said.
"While some tools include modules that show trajectories and projections using an AI element, there's just no good replacement for interaction with a human that understands the emotional elements of financial planning," she said. "An advisor can help us make critical decisions based on the wisdom they've collected throughout the course of their career. AI doesn't provide that benefit and will always miss key elements."
When AI Can Be Helpful With Financial Planning
Hollers believes that while AI can't be a substitute for a human financial planner, it can be a helpful supplement.
"We as humans aren't able to create success summaries as quickly as an algorithm can," she said. "We can use spreadsheets or planning tools but are still relying on technology in some way. And with algorithms, you can run 1,000 different scenarios with 1,000 different criteria instantaneously. That said, these outputs still need to be guided and directed with human capital."
More From GOBankingRates
Methodology: GOBankingRates surveyed 1,028 Americans ages 18 and older from across the country between June 27 and June 29, 2023, asking nine different questions: (1) Have you used Artificial Intelligence (AI) for any of the following? (Select all that apply); (2) In retirement, how much do you think you'll need in Social Security monthly, in order to retire comfortably?; (3) How much do you spend on your average Costco trip?; (4) How often do you go to Costco?; (5) What items do you purchase most frequently at Costco?; (6) How do you think the restart of student loan payments will affect the economy in 2023 and beyond?; (7) How much student loan debt do you currently have?; (8) How will the restart of student loan payments affect your financial situation? (Select all that apply); and (9) How much did you (or do you expect to) inherit from your parents/relatives? GOBankingRates used PureSpectrum's survey platform to conduct the poll.