7 Financial Steps You Must Take After You Get Married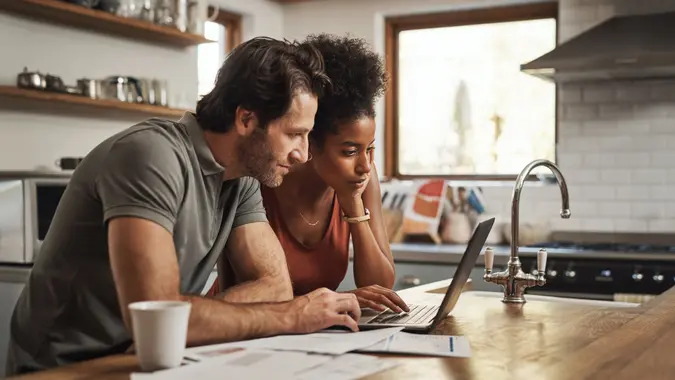 PeopleImages / Getty Images/iStockphoto
One of the most common reasons married people fight and ultimately file for divorce is over money. A recent survey of American adults conducted by YouGov found that money was the second most frequent reason couples argue. 
Many of us were taught that you simply don't talk about money or finances. Unfortunately, that way of thinking has not only landed millions of people in debt but has also led to a lot of tension in marriages. Everything from how much money you have (or don't have), how you spend money and your long-term financial goals should be openly discussed with your partner. 
So, if you are about to walk down the aisle, consider taking these seven financial steps after you tie the knot to ensure marital bliss. 
Have an Honest Conversation
Talking about money can be uncomfortable, particularly if you and your partner are in different financial situations. However, it is worth a little bit of discomfort to ensure that you are both on the same page about your money expectations during the marriage. The biggest thing is to be frank about any debt that you are bringing into the relationship, particularly if you plan on joining accounts. 
The earlier you have this conversation the better. Ideally, it is done before you get married. If you aren't comfortable or do not feel like you can be honest in a one-on-one, consider speaking with a neutral third party. 
The big money talk should not only include transparency about how much money you make and spend each month, but also what your lifestyle looks like down the road. Do you want kids? Will you both be working? Do you want to keep separate accounts? The more you discuss upfront the less likely you will experience resentment later on. 
Pull Your Credit Report
In order to be honest with your partner about your financial situation, you need to be honest with yourself. Each person should pull their credit report to determine what, if anything, they need to work on. Setting financial goals together, like improving a credit score, can be rewarding as a couple. It will also give you a chance to see if there are any errors that you need to clean up.
Decide Whether You Will Combine Finances
Deciding if you should combine finances is a monumental decision and one that should not be taken lightly. Over the past several decades, the average age that couples are getting married has gotten older and older. 
According to Statista, the median age of women at their first wedding was 28.6 years old and 30.6 for men in 2021. With individuals getting married closer to their late 20s and early 30s, it is a greater chance that they have already started to establish their careers, likely completed their educations and may be living on their own. 
Combining finances, therefore, has gotten slightly more complicated for couples because there is more to combine and consider. There is no right or wrong answer when it comes to this decision, only an open conversation that needs to be had.
Create a Budget
Whether or not you are going to combine finances, you will still want to create a budget. Write down all of your income and expenses, then make decisions about who will pay what. Even if you are planning to keep separate accounts, you still need to create a budget so that bills are taken care of each month. 
A happy medium if you are not ready to completely join finances at the start of the marriage is to keep separate accounts but to have one joint account that you each contribute to for expenses. You can also open a joint savings account to begin putting money away for things like a house or other large purchases.
Update Your Accounts
Once you are married, you will need to change your accounts. For anyone changing their last name, you may need to update your information with that new name. Depending on the situation, you may need to change your withholdings or name new beneficiaries to your life insurance, retirement or estate plans. If you have health insurance through your employer, you may be able to add your spouse once you are married.
Consider Combining Insurance Plans
You may be surprised at how much you can save by combining insurance plans. Once you are married, look at all of your insurance policies and shop around. There may be a discount simply for being married. You may also be required to add your spouse to your policy so that they are covered in the event something happens. 
Set and Work Toward Financial Goals
Now that everything has been updated and you have written out a comprehensive budget, you can start to set short- and long-term financial goals. Discuss how you will work together to achieve those goals whether they are homeownership, funding your retirement or starting a college fund for your kids.
More From GOBankingRates