6 Financial Things To Be Thankful for in 2022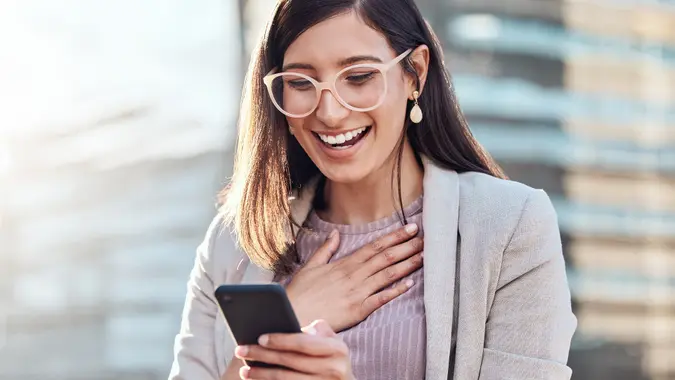 PeopleImages / iStock.com
While there have been a lot of negative financial happenings in 2022, from mass layoffs to high inflation, it hasn't all been bad news.
Holiday Spending: Get Top Holiday Shopping and Savings Tips
Find: Costco Black Friday Deals You Shouldn't Pass Up
Here's a look at some of the financial things to be thankful for this year.
Unemployment Is Down
This time last year, the unemployment rate was 4.6%; it's currently 3.7%, according to the latest Bureau of Labor Statistics data. In other good news, the U.S. continues to add more jobs, with total non-farm payroll employment increasing by 261,000 in October.
Inflation Is Slowing Down
Inflation is definitely still a major financial concern; according to the latest Consumer Price Index report, costs are up 7.7% since last year. However, if you want to look for a silver lining, it is encouraging to note that the 7.7% increase for the 12 months ending in October was the smallest 12-month increase since the period ending January 2022.
Take Our Poll: How Has Inflation Impacted Your Holiday Shopping Plans?
Savings and CD Account Rates Are Up
While rising interest rates make it more expensive to take on debt, they also lead to a boost in rates for savings accounts and CD accounts. This allows your savings to earn interest at a higher rate, which is good news for your wallet.
Social Security Payments Are Set for a Major Boost
This year's Social Security Cost of Living Adjustment of 5.9% was the highest since 1981, and it's set for a double-digit boost in 2023. Some experts are now predicting that the COLA for 2023 will be about 10.5%.
You May Have Gotten Free Money From Your State
To help Americans deal with inflation, several states offered eligible residents inflation-relief payments. These payments ranged from $100 to $1,700 and were distributed as direct deposits or checks in the mail.
The IRS Is Letting You Keep More of Your Money
The IRS recently announced that it would be adjusting tax brackets and increasing the standard deduction for 2023, which will result in lower federal income taxes for many taxpayers in the coming year.
More From GOBankingRates