How To Be More Fiscally Responsible: 7 Steps You Can Take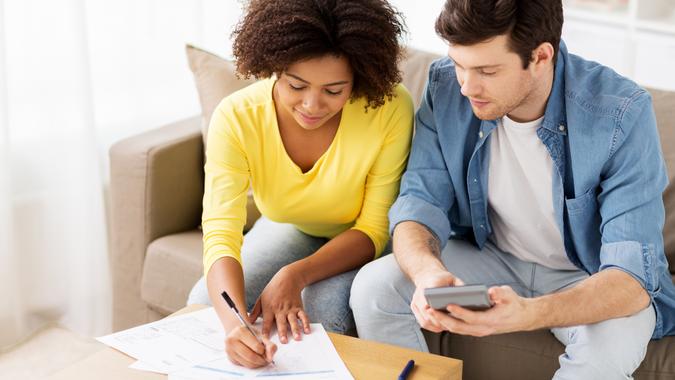 Syda Productions / Shutterstock.com
What comes to mind when you think of fiscal responsibility? It might be a phrase you've heard in the news regarding the government's obligation to balance spending and taxation. It's also relevant to the structure you govern — your household.
Every family has its own needs, so money choices will vary — but here's some general guidance about what running a fiscally responsible household looks like.
1. Check Your Mindset
There's reason to believe that success with money is influenced by a person's mindset. Ask yourself:
Do I have unresolved fears or traumatic experiences around money?
Is it difficult for me to find the motivation to log in to my financial accounts?
Have difficulties with money been disruptive to any other area of my life?
How convinced am I that I can improve my financial situation?
Am I grateful for what I have now?
If you feel angst around these questions, consider seeking guidance from a counselor or financial advisor. Keep a money journal, too — even a minimal number of entries can reveal your roadblocks.
2. Define Your Dream Life
Ramit Sethi, author of "I Will Teach You To Be Rich," advises his followers to define their "rich" lives, and he shares his vision of a rich life — a nice appetizer, convenience purchases, and the ability to travel regularly. Hello Seven founder Rachel Rodgers advocates in her new book "We Should All Be Millionaires" that people should put their dream life on paper and run the numbers.
3. Make a Plan To Earn More
Traditional advice about managing money effectively has revolved around cutting back. (Skip that latte!) However, there's growing sentiment that the solution is to earn more, rather than spend less.
4. Set Up a Money Management System
Whether you use Excel spreadsheets or money-tracking software, you need a money management system that works. This system should do three things for you:
Track your liquid assets, nonliquid assets, net worth and credit score. To be fiscally responsible, you'll need to know these numbers — and the only way to do that is to look at them often, write them down and observe how they're changing over time.
Set a monthly spending parameter and allow you to measure results. This is where budgeting comes in. You need to know how much you bring in, how much you pay in fixed expenses like housing, child care and transportation — and you need to measure your financial inflow and outflow on a regular basis.
Help you set goals. Having a money management system in place allows you to determine:

How and when to pay off debt
Whether or not you have enough savings in place for emergency needs, such as loss of employment, illness, or routine needs such as home repairs and auto care
What to set aside for planned upcoming expenses — which is a sinking fund
You will also want to ask yourself:
5. Diversify Your Income Streams
Part of being fiscally responsible is having an action plan for your earning power. Think of your earning power in two ways: active and passive income.
For your active income, or the money you have coming in from the labor you do, maybe you can upgrade to a better job or start a side hustle.
When it comes to passive income, which is the ability to earn money without putting regular labor in, you can turn to investments that appreciate over time, such as stocks, bonds, exchange-traded funds, index funds and mutual funds.
You can also lease out a portion of your home, invest in a vacation rental and let a property management company manage it, or start a knowledge-based digital business so customers can download your advice for a fee while you sleep.
6. Create an Estate Plan
Fiscally responsible people keep their hands on the wheel indefinitely via an estate plan.
You may also need to carry insurance — such as a life policy (term or whole), disability (make sure it's portable and guaranteed renewable, meaning you won't have to requalify every year) and long-term care insurance. Remember that your age at the start of your policy dictates pricing and eligibility.
If you're raising a child who has disabilities, you need to make sure that every financial asset you leave them is placed into a special needs trust. If you don't, your child will need to spend almost all of their inheritance from you before they qualify for federal benefits.
You might also want to establish an ABLE — a tax-deferred investment account for people with disabilities. An ABLE can serve many needs, from housing to healthcare and beyond, and can accept rollovers from a 529.
Lastly, make sure that you understand which of your accounts allow you to designate a beneficiary and make those designations. You can name an individual person or a trust, if you have one.
7. Plan for Deceleration
Last but not least, you must plan to get older — which means mapping your risk level to your current age. A portfolio full of individually held stocks may have gotten you to a nice nest egg, but it will be a risky strategy for your retirement years.
As you get older, you need to understand how to decelerate, meaning how to balance a desire for continued growth in your portfolio against the need for security.
Being Fiscally Responsible Is a Form of Self-Care
In the same way that putting on a nice outfit can lift your confidence, becoming fiscally responsible can improve your outlook and create serious opportunities in your life. Remember to look for the joy in it and celebrate every micro win.
Good To Know

Not every financial account will allow you to designate a beneficiary. Ask that question upfront when opening any new accounts, and work with an estate planning attorney if possible to understand how your current accounts will flow to your intended beneficiaries so you can make any needed adjustments.
Our in-house research team and on-site financial experts work together to create content that's accurate, impartial, and up to date. We fact-check every single statistic, quote and fact using trusted primary resources to make sure the information we provide is correct. You can learn more about GOBankingRates' processes and standards in our editorial policy.