Gen Z Is Prioritizing These 7 Financial Moves, Study Shows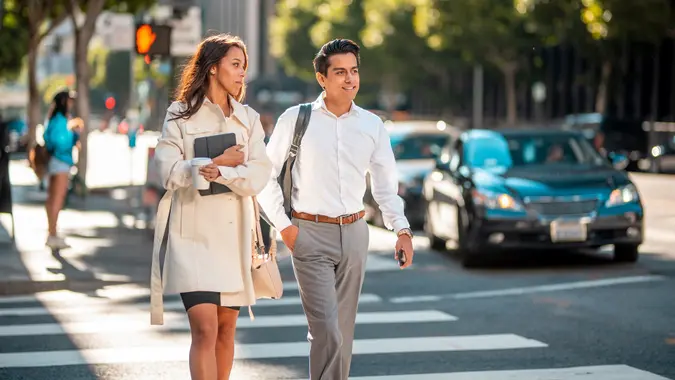 AzmanL / iStock.com
Not too long ago, all we heard about were millennials. What are their financial wants and needs? Will they be able to retire? Are they happy with their jobs? These and other questions about millennials are still relevant, but they have taken somewhat of a backseat now that Gen Z is all grown up.
The oldest Gen Zers are 25, and many are graduated and already years into their career paths. A new report from Bank of America examined what these young people are prioritizing financially, and found seven major themes. Read on to learn about what Gen Z values in their financial lives.
1. Education
According to the report, 40% of Gen Z are looking to further their education.
"This generation has access to a plethora of information and they are aware of the effects of the fluctuations of the economy," said Jeremy Wagner, a financial analyst at Trading Pedia.
"As a result, they are more cautious with their finances and understand the importance of having a solid education in order to get ahead. Additionally, employers are increasingly looking for candidates who have advanced degrees or specialized skill sets. By furthering their education, Gen Zers are positioning themselves as attractive job candidates who will be able to command higher salaries."
Take Our Poll: Do You Think Student Loan Debt Should Be Forgiven?
2. Advancing Career/Salary 
The Bank of America report found that 32% of Gen Z are looking to advance their career/salary. 
"This most likely [is attributed] to how difficult it is to get a job nowadays in the first place," said Derek Sall, the founder of Life And My Finances. "With countless cognitive and skill assessments, alongside long screening processes and multiple stages and interviews, it can get tiring, but very rewarding." 
Sall added that Gen Z "are one of the most competitive generations" and "a lot more picky than millennials when it comes to where they work."
3. Getting a New Job 
Thirty-one percent of Gen Z are prioritizing getting a new job, according to the report. 
"Gen Z tend to have student loans and other debts that they need to pay off, so they have to make sure they're earning enough money to stay afloat," said Harry Turner, founder of The Sovereign Investor. 
The strange times we're living in also likely factor in here. 
"In the unsure COVID-19 economy, people have frequently changed jobs to improve their earnings and professional mobility," said Lyle Solomon, principal attorney at Oak View Law Group. "Gen Z is following this tendency. Younger Americans are revising specific career transfer strategies in response to a changing reality. Younger workers want remote and flexible work arrangements and job mobility, a requirement that has become more pressing in the context of COVID-19."
4. Saving For Retirement 
According to the report, 25% of Gen Z are prioritizing saving for retirement. 
"With the cost of living rising and the job market becoming increasingly competitive, this generation is looking for ways to ensure that they have enough money to support themselves in retirement," said Linda Chavez, the founder and CEO of Seniors Life Insurance Finder. "Planning for retirement is also a way to prepare for the future and ensure that they're making the most of their money."
5. Travel 
The report found that 24% of Gen Z prioritize travel. 
"Gen Z is getting married later and achieving financial independence more quickly," said Solomon. "The societal construct of a life focused on milestones, which existed for millennials, is gradually changing, leading Gen Z to start saving much later in life. As a result, they are currently consuming much more, including travel."
6. Buying a Car 
Twenty-two percent of Gen Zers are prioritizing buying a car. 
"In many ways, it seems natural that Gen Z would continue to favor cash over credit cards and be wary about taking on debt even for significant purchases like cars," said Solomon. "This younger generation is looking for less expensive vehicles because they presumably have less total purchasing power."
7. Building Good Credit 
According to the report, 20% of Gen Z are prioritizing building good credit. 
"The cost of living has increased dramatically over the past couple of years, and it is only expected to become more difficult in the near future, making financial independence and homeownership more impossible for Gen Z than any generation before them," said Carter Seuthe, CEO, Credit Summit.
"The houses that baby boomers bought for $50,000 dollars at age 20 are now valued over $1,000,000, and combine that with the astronomical cost of higher education, the ability for most Gen Zers to own a home in the near future is extremely limited. So, they have to start making smart, impactful money moves ASAP — which includes building good credit."
The Big Picture
All these priorities are, as Sheila Walsh, CFP and financial empowerment coach sees it, "interrelated." 
"Since Gen Z thinks big picture, they wisely realize a comprehensive plan can help them achieve multiple goals," Walsh said. "Past generations including millennials have approached some goals as individual and distinct. Personal finances are indeed personal, though priorities such as building good credit and saving for retirement are generally important priorities for all."
Still, there's one major financial priority that is glaringly missing from this list: emergency savings.  
"[I] would rather see something like: 'Having cash reserves (emergency fund)' on this list than some others (like traveling)," Walsh said. "Although I get that traveling sounds more fun." 
More From GOBankingRates