Gen Zers and Millennials Need To Start Planning for These Life Events ASAP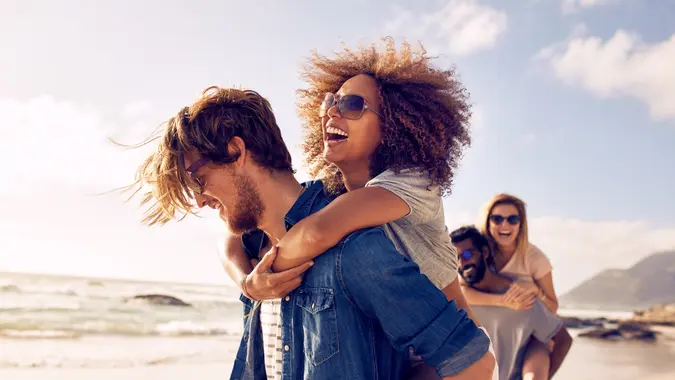 jacoblund / Getty Images/iStockphoto
When you're in your 20s and 30s (and early 40s in the case of some millennials), you may not be dedicating too much time to financial planning. However, there are numerous life events you will encounter in both the near and not-so-near future that you should start planning for now.
GOBankingRates spoke to financial advisors to get their professional insights on what these life events may be, as well as how having a professional in your corner can help you navigate them.
Younger Generations Need To Consider Their Short- and Long-Term Financial Goals
"Common short-term goals for young professionals are buying or renting a home, starting a family, [saving] in your retirement accounts or financing large purchases like a car," said Kelly Regan, CFP, vice president and wealth advisor at Girard, a Univest Wealth Division. "Longer-term [goals] include saving for retirement and getting a head start by saving and investing while you are young."
Regan notes that a financial advisor can be an invaluable resource when considering these goals, particularly retirement savings.
"A financial advisor can help explain where you are saving — such as the type of account — and how that affects you and your goals," Regan said.
An advisor can also be a sounding board for other financial goals you may have during this time period: "Retirement planning is the obvious one, but there are many other important goals that someone might want to save for," said Todd Beckmann, CFP, partner at Well-Traveled Wealth. "[These include] an emergency cushion in case things don't go as planned — as they often don't — managing debt, paying for travel, purchasing a first home, purchasing a second home or rental property, college savings for young children, starting a new business, and really any other goal someone may have that will require financial resources."
Marshall Nelson, wealth advisor at Crewe, said there are particular transitions and goals that may be difficult to navigate without the help of an advisor, including starting and scaling a business, setting up college savings for children, making large purchases, and achieving philanthropic and charitable goals.
Do You Need a Financial Advisor?
When you are young, enlisting the help of a financial advisor can pay off in the long run.
"Most young professionals find themselves busy focusing much of their time on building a career while maintaining a work-life balance, which doesn't allow them a ton of time to focus on growing their net worth," Regan said. "However, the longer you wait to focus on your finances, the worse off you will be in retirement, so using a financial advisor to begin planning while you're young can be really beneficial. An advisor can help you learn and understand not only investments and what's appropriate for you, but also things like how much to contribute to an employer-sponsored retirement plan, budgeting, where to save, etc."
Nelson notes that having a professional third party involved in your investment strategy can be particularly beneficial.
"Young professionals could benefit from having an advisor because an advisor is there to help them enhance their investments and avoid investing pitfalls," Nelson said. "A big part of this is helping young investors manage their emotions. Investing hard-earned money in a place where risk is involved can be highly stressful in the short term. An advisor is there to help them from turning short-term anxiety into a long-term mistake. An advisor helps investors make decisions using logic, instead of emotion."
One reason that Gen Zers and millennials may hesitate to hire an advisor is the feeling that they don't earn enough money to warrant the investment, but this shouldn't be the case.
"I don't think there's a salary threshold that investors should hit before seeking out a financial advisor," Nelson said. "It's more about the ability to save regularly and the desire to build wealth. When people have a surplus of cash each month that isn't allocated to expenses and debt, I think that's when it makes sense to seek out an advisor."
Regan also notes that different advisors use different fee structures, so it's likely that you can find one that operates in a way that works for you.
"While some advisors have account minimums, you can find advice for any size account," she said. "If you are interested in pure investment management, there are low-cost options that help you save and invest monthly. If you are looking to learn more and have in-depth questions about your personal goals and how to achieve them, then more than likely you'd want to investigate the personal advisor/financial planner route. Sometimes that doesn't require managing assets and instead an hourly or yearly planning fee, which may be more affordable. Everything has a cost and benefit, so it's important to evaluate if learning about your finances and having a trusted individual to help you achieve your goals is right for you."
More From GOBankingRates