6 Ways a Savings App Can Be Your Best Financial Friend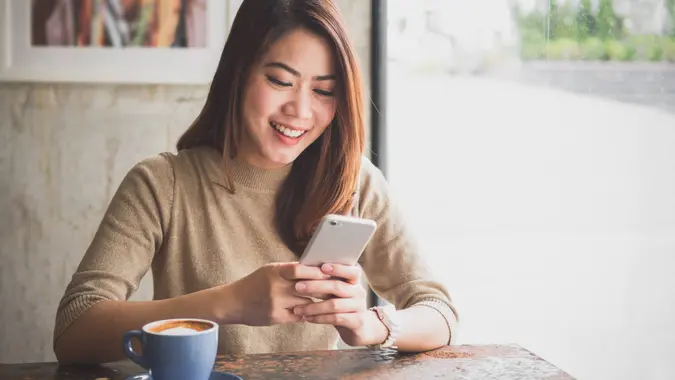 ©Shutterstock.com
If your friend tells you not to drop $1,000 on the newest iPhone, you might be a little offended. Who are they to say what you can spend your money on? An app, on the other hand — one specifically designed to track your finances — may give a more welcome nudge to saving that money instead.
These days, tons of financial apps are at your fingertips, including saving apps that can be downloaded and set up in a matter of minutes. Check out six major benefits a savings app can bring to your finances.
1. Inspire To Retire
Let's be honest: Saving for retirement can be tricky, whether you are just a few years away from clocking out for good or have decades to save.
That's where an app like Acorns comes in, taking leftover change from transactions and putting those amounts towards long-term financial targets, including retirement. The fees are super low — depending on how aggressively you're looking to invest — with plans ranging from $1-$3 a month. In addition to all that, Acorns can "turbocharge" your roundups, supplying your account with extra moolah.
2. Bye, Subscriptions
All of us have done it at some point in time; signed up for a free trial in order to get a few months of streaming music or watching movies, then forgotten to cancel once the trial period ends. An app like Trim — which is free to sign up for and boasts that users "save an average of $620 a year" — can help you keep track of your expenses, with early alerts about your upcoming payments and canceling subscriptions you aren't using.
3. Get Schooled
A quality college education is priceless, but the price of college is…oof, getting harder and harder to stomach. Luckily, savings apps aren't skipping class when it comes to socking money away for tuition, including Upromise, which not only sets college savings goals, but helps users obtain those dreams via automatic deposits.
According to their website, "Families have saved over $1 billion for college using Upromise," which means students have a little bit of spending money for all the important essentials of college, like industrial-sized cases of Cup of Noodles.
4. Cash for the Kids
The savings app BusyKid allows parents to assign chores to their children and in turn, kids can mark the tasks as done. Once Friday rolls around, their allowance for doing the chores is directly deposited into their FDIC-insured BusyKid account, with a weekly percentage automatically put into the child's BusyKid savings account. Throw the piggy banks out the window because this app is all you need to teach your kids about money management.
5. Cash Back
Gas. Groceries. The list of expenses goes on and on! While lots of debit and credit cards offer cash-back opportunities, saving apps like Upside give you additional rewards for everyday purchases at 50,000 brand retailers and local outlets in the U.S. According to Well Kept Wallet, "As of 2022, Upside users have earned over $200 million."
6. Keep Your Coupons Close
Apps such as Capital One Shopping have free money-saving tools that run price comparisons for each transaction you make. Set your preferences, check for daily featured offers and shop with thrifty confidence.
The Capital One Shopping app checks all over the web to get the best prices on whatever it is you're in the online market for, which can save you even more money than cash back because the prices are not inflated from the get-go. 
More From GOBankingRates