How Did You Do on Your 2021 Money Resolutions? Experts Weigh In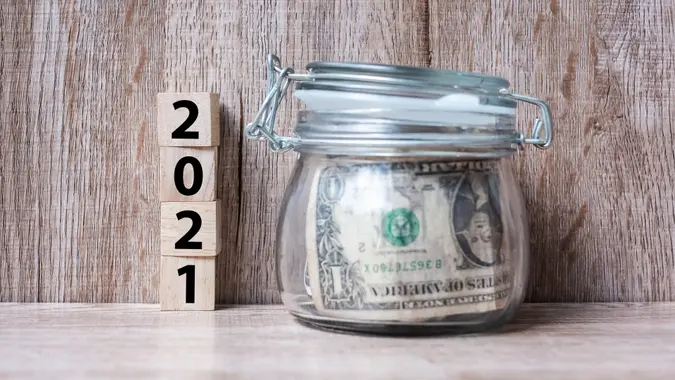 Panuwat Dangsungnoen / Getty Images/iStockphoto
New Year's resolutions are famous for going down in flames by the first spring thaw. But, for all of the dysfunction of 2021, last year was a bright and shining star in resolution history. Nearly twice as many people kept their resolutions as they did in 2020, and they've set new goals again for the year that just started.
Here's a look back at one of the great success stories of the annual ritual of taking vows of financial self-improvement.
In Terms of Resolution Success, 2021 Was a Banner Year
A recent Bank of America survey found that 42% of the people who made New Year's resolutions last year were able to see them through to successful completion. That's a huge improvement over the 24% of people who followed through on the financial resolutions they set in 2020 — and last year, they made money vows worth honoring.
Among the people who did keep their 2021 resolutions:
24% learned how to use budgeting tools
27% learned about the effective use of credit card rewards and points
34% invested their money and generated wealth
40% increased savings and created budgets
41% spent less on nonessential items
In terms of striving to do better, there's no sign of letting up. For 2022:
40% of Americans resolve to grow their savings
26% resolve to establish an emergency fund
26% resolve to pay off their credit cards
23% resolve to save money for retirement
For All That Was Wrong, a Lot Went Right Last Year
The Bank of America resolutions study found that impressive numbers of consumers, in general, are practicing healthy financial habits, with 60% paying bills on time and in full, 39% saving with a goal in mind and 28% using automatic savings tools.
It's part of an overall trend that saw people finally prioritizing their finances — often for the first time — in 2021.
"In the past year, we watched as people took more interest in their financial wellness," said Sachin "Sach" Jhangiani, co-founder of Elevate.Money. "It's hard to assess where we are across the board, but more people are interested in being prepared and that is a great thing to see.
"Young people want to save earlier, wealth tech has made investing more accessible, and there is more interest in how to be financially prepared when times get tough. Digital tools have made that possible, and I am excited to see how the democratization of wealth will help people earn more over time. I am hopeful for 2022 and to see more people strategically play the long game with their finances."
Resolutions Got a Huge Boost in 2021
Most resolutions — start investing, save for a down payment, launch a business, etc. — would be within reach if the people doing the resolving could only get their hands on a few thousand bucks. Last year, the fates delivered exactly that.
"In 2021, the United States was absolutely flush with cash," said David Frederick, director of client success and advice at First Bank. "The federal government was moving money to the population at a dizzying pace through Child Tax Credit advances, the remains of the CARES Act, the American Rescue Plan Act, the Consolidated Appropriations Act of 2021 and others. 
"As this money found its way into American pocketbooks and bank accounts, much of it was saved, but most of it went to meeting daily spending needs or paying off existing debt."  
But Just as 2021 Gave, It Also Took Away
It would be unfair to compare last year's resolutions to all those that came before because of the enormous head start that so many of them got thanks to all that stimulus. But last year's resolutions caught some tough breaks as well.
"As government spending increased and supply lines stalled out, inflation rose and strongly diminished the values that Americans had saved from the newfound cash flow," Frederick said. "After more than six months of record levels of inflation, the average American is likely worse off financially, despite — or in part because of — the large flow of cash from the government."
In the end, many of the resolutions that came true reached the finish line with a helping hand that didn't come from the government. 
"Individuals who worked closely with a professional financial advisor seem to be the ones who have done the best saving, investing and planning for the future," Frederick said. "Professional advisors have helped clients throughout 2021 assess the dangers of inflation and related risks and pick investments that will let them weather the storm and potentially come out ahead."
More From GOBankingRates