How Much Emergency Cash To Have in Case of a Snowstorm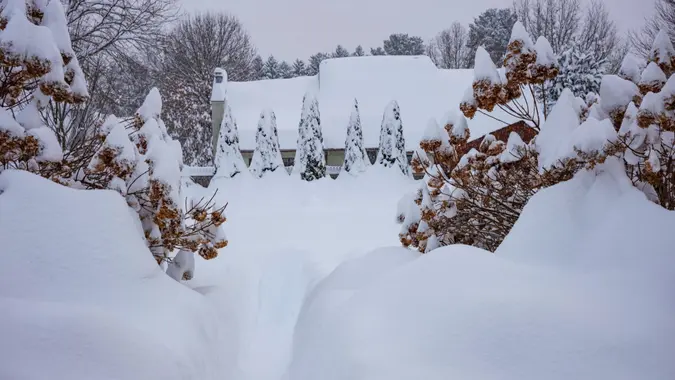 Jonathan W. Cohen / Getty Images/iStockphoto
A third straight year of La Niña has experts at the National Oceanic and Atmospheric Administration (NOAA) predicting "drier-than-average conditions across the South with wetter-than-average conditions" in the North.
Holiday Spending: Get Top Holiday Shopping and Savings Tips
Explore: Your Biggest Money Etiquette Questions Answered
Areas such as the Ohio Valley, northern Rockies,  Pacific Northwest and Great Lakes are expected to get above-normal precipitation with temperatures below normal. 
The outlook seems like the perfect recipe for a long, cold winter for several states. So, if you are one of the millions of people looking at a snow-filled couple of months, you need to be prepared for the inevitable. 
Getting ready for a blizzard means more than just ensuring your cabin socks are easily accessible; it also means you need enough money to get you through a few days without access to an ATM. Read more to find out just how much emergency cash you should have in case of a snowstorm. 
Short-Term Emergency Fund
A recent study found that most Americans do not have enough money on hand in case of an emergency. Less than 50% of people surveyed had easily accessible cash to cover an expense that cost $1,000 or more.  
Take Our Poll: Are You Struggling To Keep Up With Your Utility Bills?
Even people who have healthy savings and hefty rainy day funds forget to keep cash on hand. Despite our society moving more and more toward a cashless economy, experts agree it is still important to have some cash in case of an emergency.
Calculate Your Costs
To determine how much money you will need during a snowstorm, you need to calculate your potential costs. If you lose power during a blizzard, it is safe to assume others will lose power, too. This means your local market may require cash for all purchases. If you didn't grab enough groceries ahead of time to cover a few days to a week without power, you will need enough money to get the essentials.
Another cost to consider is lodging. In the event that your home becomes uninhabitable (such as a frozen pipe bursting), you may need to spend the night at a hotel. You should be able to pay in cash for your room just in case their card reader is down or they do not have internet access.
Think the Unthinkable
While we tend to focus our attention on states in the Midwest and across the northern U.S., it is not unheard of for our southern neighbors to deal with inclement winter weather. In February 2021, Texas got pummeled by a February storm that resulted in widespread power outages. The storm shook the state to its core, threatening the power grid and causing billions of dollars in damages. 
So, even if you are blessed with usually mild temperatures during the winter months, you should still be prepared just in case the unthinkable happens.
While you don't need an extraordinary amount of money on hand, it is a good idea to have at least $200 in cash. According to KSL NewsRadio and BeReadyUtah.gov, $200 in small bills can help you get through the worst of any natural disaster. 
Ideally, you will be able to have closer to $1,000 stashed in a secure place in your home in case a light dusting of snow goes to whiteout conditions. Depending on the size of your family, that amount of money should help to cover a few meals and a possible hotel stay until the power comes back on.
More From GOBankingRates