How To 'Future-Proof' Your Finances in Light of COVID-19's Lingering Effects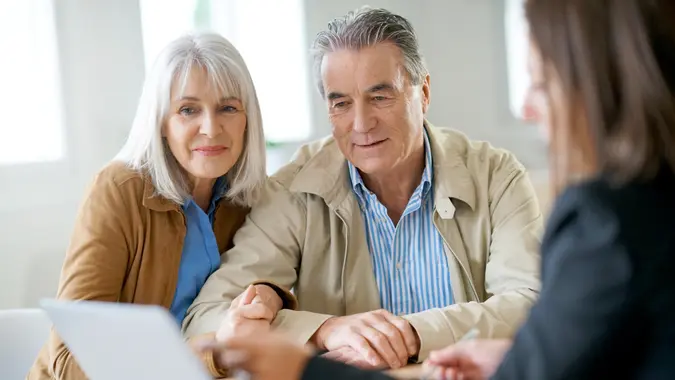 ©Shutterstock.com
The COVID-19 pandemic has shifted financial priorities for many, as the resulting economic downturn is still having effects on people's financial security and well-being. A recent Ameriprise Financial survey found that over 60% of Americans said the pandemic has heightened the importance they place on protecting their assets and preparing for financial uncertainty. If you're in this majority, there are steps you can take to protect your finances for the present and the future.
Cut Costs: Unplug These Appliances That Hike Up Your Electricity Bill
Be Aware: 17 Biggest Budgeting Mistakes You're Making
How To Protect Your Financial Assets
According to the survey, 63% of Americans feel that protecting their financial assets is more important now pre-pandemic, and 45% said this will be of long-lasting importance.
"Protecting your assets requires that you work with an attorney to establish and review your estate planning documents," said Katie Coleman, a certified financial planner with Ameriprise Financial. "The greatest risk that one faces, greater than market volatility or an economic downturn, is not protecting your family and loved ones from an unexpected event like disability or death."
Tips: 50 Easy Things You Should Do To Save Money
You also need to reassess the risk you are holding in any of your investments, and to do so on a regular basis.
"Now more than ever, with the complexities of the world, if your goal is to protect your financial assets from market volatility, then it is important to understand your personal threshold for risk and the returns for that level of risk that you are taking," Coleman said. "We now live in an ever-changing market climate, and we can no longer 'set it and forget it.' Our lives are changing on an ongoing basis, and that is why your comprehensive plan and overall strategy needs to be reviewed on an ongoing basis as well. Review your asset allocation and diversification quarterly to see if you should scale back the amount of risk."
Another step to take to ensure that your assets will be distributed the way you want them to be is to double-check all of your beneficiary designations regularly.
"Review your beneficiaries at least annually on your accounts to make sure that they are up-to-date and accurate," Coleman said.
For Your Financial Planning: 19 Effective Ways To Tackle Your Budget
How To Prepare For Financial Uncertainty
Another way to "future-proof" your finances is to be prepared for financial uncertainty. The survey found that 62% of respondents believe that financially preparing for uncertainty is more important now than pre-pandemic, and 47% said that making these preparations will be of long-lasting importance.
"Preparing for uncertainty has come to the forefront of investors' minds over the last few years with the shutdown that occurred last year," Coleman said.
The best way to do so is to have some funds set aside in cash.
"It is extremely important that investors have a cash reserve — that is not subject to market risks or decay — readily available for an [unexpected] expense," Coleman said.
How much you should have in cash will depend on your specific needs. In general, it's recommended to have three to six months of living expenses set aside for an emergency.
"The best way to derive how much you should have in your cash reserve all starts with taking the time to thoroughly understand your expenses," Coleman said.
Check Out: 37 Life Hacks That Will Save You Money
Recognize What's Important to You
The best way to prepare your finances for the future is to understand what your priorities are and will be down the line.
"With the global pandemic, we have seen a shift in financial goals and objectives," Coleman said. "People are looking to retire earlier, or take a leave of absence to spend time with their children or aging loved ones."
Your financial plan should be adjusted accordingly to accommodate your new goals, while protecting your assets and allowing you to weather unexpected events.
More From GOBankingRates