How To Live Richer in Your 40s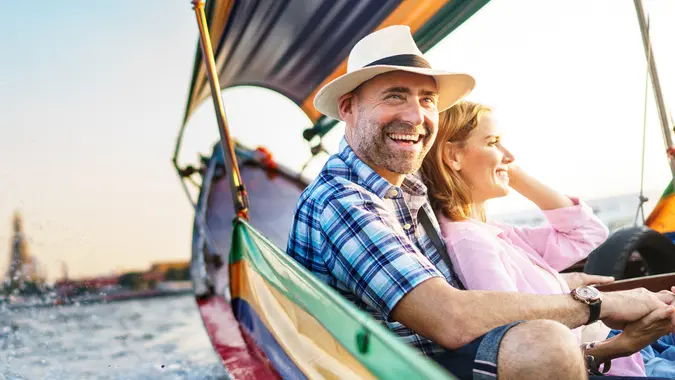 itsskin / Getty Images
Day 27: GOBankingRates wants to help you Live Richer. Throughout the month of July, we'll be sharing daily tips for how you can do just that, with advice on budgeting, saving, investing, making the most of your career and managing debt — plus money advice for every phase of your life. Check back each day during our 31 Days of Living Richer to learn everything you need to know to set yourself up for financial success and live the richest life possible.
Read Day 26: How To Live Richer in Your 30s
Back to Day 25: How To Live Richer in Your 20s
When you reach your 40s, you may be in your peak earning years — according to PayScale, full-time workers with bachelor's degrees tend to make the most money in their 40s and 50s, CNBC reported. But just because you may be making more money, this doesn't mean you should be spending it all. After all, retirement is now just a couple of decades away.
Check Out Day 24: How Debt Prevents You From Living Your Richest Life
Here's how to live richer in your 40s.
Start Setting Firm Retirement Plans and Goals
"With retirement becoming a closer reality, those in this generation should have a clear vision of their retirement dreams and goals," said Marcy Keckler, vice president of financial advice strategy at Ameriprise Financial. "If you haven't already determined how you'd like to spend your retirement and how much you'd need to fund this chapter of your life, now is the time to do this."
Read Day 23: How To Pay Off Your Debt in a Manageable Way
Consider meeting with a financial professional to help you set these plans into motion.
And Day 22 of Living Richer: How To Stop Accumulating Debt Once and for All
"Now is the best time to sit down with a financial advisor to see if you are on track to retire when you want and adjust your savings to meet those goals," Walsh said.
Maximize Your 401(k) Contribution
No matter what your retirement goals are, you should aim to make the most of your workplace retirement plan during this decade. Shomari Hearn, CFP and managing vice president of Palisades Hudson Financial Group, advised 40-year-olds to put retirement saving first — even above paying for children's college education. No one else will save for your retirement, but your kids have other options to pay for college.
Discover Day 21: Top 3 Expert Tips for Managing Debt
For 2021, the maximum contribution amount is $19,500.
And Day 20: 3 Signs You've Found Your Dream Job
"At a minimum, you want to contribute enough to your 401(k) to at least take full advantage of any company-match contribution your employer may offer," Hearn said. "Don't stop at just making the maximum contribution to your company retirement plan. If your budget allows, consider contributing to a Roth IRA as well."
Be Prepared for the Unexpected
"You've worked hard to build a smart saving and investing strategy, but unexpected events such as an illness or job loss can derail your future if you're not prepared," Keckler said. "Make sure you protect your assets with the right insurance coverage and a cash reserve to give you [the] flexibility to handle whatever comes your way."
Day 19 of Living Richer: Top 3 Expert Tips for Salary Negotiations
This means having an emergency fund with three to six months of living expenses saved up, just in case.
Invest in Your Health
Being healthy can help you live a richer life in a number of ways, including financially. Now is the time to make your health a priority for the present and the future.
Read Day 18: How To Achieve Better Work-Life Balance

"The payoff can be better overall health — with reduced medical expenses and fewer doctor visits and sick days — and greater energy," said Julie Rains, an RRCA-certified running coach and personal finance journalist.
And Day 17 of Living Richer: Top Perks To Look for When Searching for a New Job
Staying healthy will not only be good for you physically, but it will also be great for your finances as you avoid unnecessary medical expenses.
Spend Money on Travel
Yes, saving money in an emergency fund and staying focused on your retirement savings is important at this stage in your life — but it's also OK to have a little fun with your money. One of the best ways to live richer in your 40s is to invest in experiences, like traveling with your family.
Discover Day 16: How To Find a New Job That Fits Your Life

"Travel seems to be a big priority for people in their 40s, as they want to experience life before they get older and more settled in, and they want to generate memories with their kids," said Ryan Inman, a financial planner with Physician Wealth Services. According to him, travel might also set you up for a better financial future. "This goal revolves around the concept of saving, which is a main driver of financial success and achieving all the possibilities one might want out of life."
Here's Day 15: How a Side Hustle Can Help You Achieve Your Financial Goals
Day 28: Join us tomorrow for our Living Richer series when we discuss how to live richer in your 50s.
More From GOBankingRates
Barbara Friedberg and Morgan Quinn contributed to the reporting for this article.
Last updated: July 27, 2021