How To Remove Your Parent From Your Bank Accounts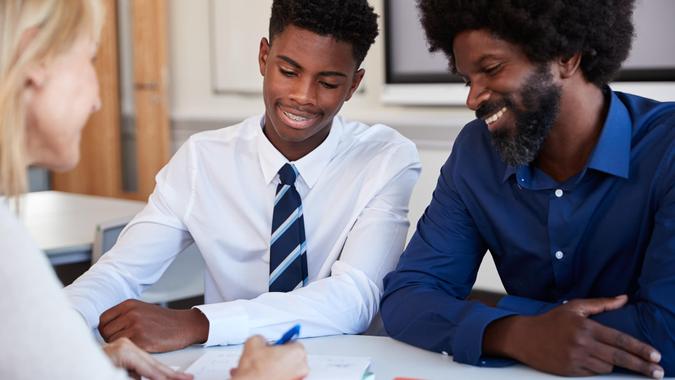 monkeybusinessimages / Getty Images/iStockphoto
As a child, you probably marched into your first bank with a parent, the contents of your piggy bank or the $50 check that grandma sent you for your birthday in your pocket to use to open your first savings account. You walked out so proud to have achieved this rite of passage — your very own account with your very own money in it.
Budget: 35 Useless Expenses You Need To Slash From Your Budget Now
Smart Banking: 11 Best Options for Free Checking With No Minimum Balance
Since minors generally can't open savings accounts, a parent or guardian will be listed as a co-owner on the account. In a joint account, both kids and parents can make banking transactions. With checking accounts for teens, a parent or guardian also serve as joint account holders.
As you approach age 18, it's time to inquire at the bank about what happens to your account on that milestone birthday. Does it automatically switch to an adult account with maintenance charges and minimum balances — something accounts for youngsters typically don't have — or does it convert to a student account with reduced or no fees?
See: Joint Bank Accounts: What You Need To Know
But it's also the time at 18 to consider severing the joint account and putting the new adult in charge of the money. Why?
No matter how old you are, your parents will have full access to your funds as long as they are joint owners of your account. They will not need your permission to dip into your account, and while it is hard to imagine your parent taking your hard-earned money, or money set aside for tuition, it happens. Once a parent is removed from the account, only you can access the funds.
Your money could be seized if your parent runs into financial trouble and a court issues a judgment in favor of a creditor. Assets in bank accounts can be taken — and your jointly held account is considered an asset of your parent, even if all the money belongs to you.
It's time to establish financial independence. Hopefully, you learned good money habits under your parent's watchful eye before your 18th birthday and won't be tempted to spend recklessly once your parent no longer can monitor your account.
Should you decide an individual account is right for you, the easiest thing to do is open a new account, then take the money out of the joint account and close it. The Consumer Financial Protection Bureau (CFPB) says it is permissible for either person on the joint account to either remove funds or close the account without the permission of the other account holder, in most cases. Should you choose this option, you don't have to stay with the same bank. If you'd like, you can shop around for a bank that is closer to your home or work, offers better options for mobile banking or maintenance-free accounts. If you close the account, remember to move any automatically deducted payments, such as your car insurance, to the new account. Also, if your paycheck or student financial aid is directly deposited, you'll have to fill out the paperwork with your new account information.
Find Out: How To Open a Bank Account Online
Opening a new account is easier, in many cases, than simply removing your parent from your account. At Citizens Bank, for example, a request to remove an account holder must be made in person at a branch, and all account holders must visit the bank together to sign the paperwork. Wells Fargo, for one, doesn't offer this option, instead requiring the original account to be closed and a new account opened. The CFPB says that under state law or terms of an account, you usually cannot remove the joint account holder without the consent of the other person.
One advantage to having a joint account at the same bank as your parents was the ease with which they could transfer money from their account to yours. Don't worry — you won't lose that ability if you have an individual account at even another bank. Many banks use Zelle or Popmoney for person-to-person transfers, plus there are always apps such as Venmo and PayPal, should you need a loan or advance from a family member.