Start Making Passive Income in 2023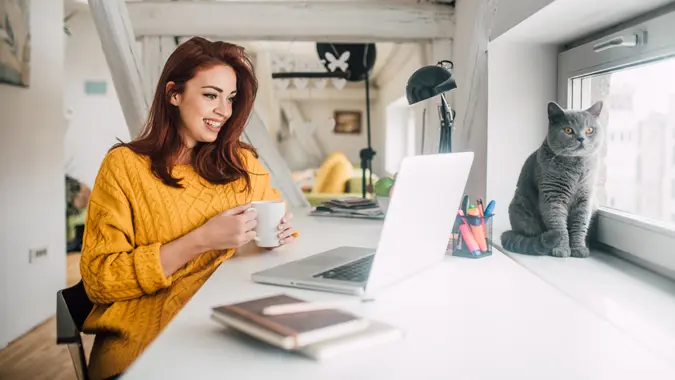 RgStudio / Getty Images/iStockphoto
Is making passive income one of your resolutions for this year? If you answered yes and you're new to this type of work, you might not know where to start or what it means to earn this type of income. 
GOBankingRates spoke to several professionals with experience in creating passive income to learn about key factors to know before getting started. Follow these tips to start earning your first passive income stream in 2023. 
Keep Your Primary Income Source
Julian Huff is the 22-year-old founder of Huff Management and has several active passive income streams. At age 18, Huff began investing in the stock market. He said he would get extremely excited when he was paid a dividend — even if the dividend was worth just five cents. Five cents was a new income stream for Huff, who said he is now starting to see dividends that pay $20 or more.
Passive income aside, Huff also works a full-time corporate job. 
"I think it is important [to understand that] when we speak about having various income streams it does not mean replicating your highest income stream," Huff said. "I find often a lot of people my age want to make a certain amount of money from their main income and make the same amount from a side income, which is possible but not always reasonable in the beginning."
While earning passive income will look different for everyone, this type of income generally doesn't mean you'll become insanely rich overnight. Some people planning to make passive income this year may decide to hang on to their primary source of income as their passive income builds up.
Huff said his initial investments started small, but this did not discourage him. Instead, Huff stays consistent as an investor, and that has allowed him to see these dividends begin to pay off.
Start With a Strategy
Don't feel as though you need a lot of money to earn passive income. Many passive income streams — such as investing, starting a blog or selling an online course — cost very little to begin.
The same can be said for investing in real estate. Tresa Todd, real estate investing expert and founder of the Women's Real Estate Investors Network, said real estate investing can seem intimidating but using the proper strategy can be a big aid.
Todd uses the example of someone who wants to get into real estate investing without much initial cash. She recommended using wholesaling — the process of searching for a buyer who is in a distressing situation, like a foreclosure — and getting the home under contract at the right price. Part of the wholesaling process includes finding another investor and assigning that person the contract for the wholesale property and closing on your deal at a reputable title company.
Think about what you want to do as a source of passive income. Then, think about the strategy you want to use in order to earn this income. Remember: Passive income should require a lot less upkeep and effort than its active income counterpart. 
Monetize Your Skill Set
What if you don't know which type of passive income works best for you and your situation? When in doubt, Huff recommends monetizing your skill set.
"Monetizing your skills is a great way to make passive income that does not come directly from your day job," Huff said.
As an example, digital natives may be able to create accounts on platforms such as Fiverr and assist clients who need help creating social copy or other assets. 
Start Now
Todd has one regret about making passive income: not starting earlier. Had she known then what she knows now, she would have created multiple streams of income much sooner in life.
As a Gen Zer, Huff said, it's important to start building a passive income stream as early as your twenties.
"Your youth gives you an opportunity to fail and start again without taking a big loss, because you have time," Huff said. 
Having the benefits of time, energy and youth on your side also allows those who start making passive income to lead less stressful lives.
"As Gen Zers we need to empower ourselves by ensuring we are not relying on one source of income," said Huff. He has seen, and read, the headlines in multiple publications since 2017 about why one source of income is not enough to achieve financial freedom. 
Passive income, for many, can be the key to setting yourself on the right path to financial freedom and great financial health. If you're questioning whether to start next month or in the next six months, why not draw the timeline down to starting as soon as this week?
"I have a sense of security every day," Huff said, "knowing I can wake up and not worry much if I lose my corporate job because I am young, have multiple income streams and am financially literate."
More From GOBankingRates