How To Talk With Your Aging Parents About Money Around the Holidays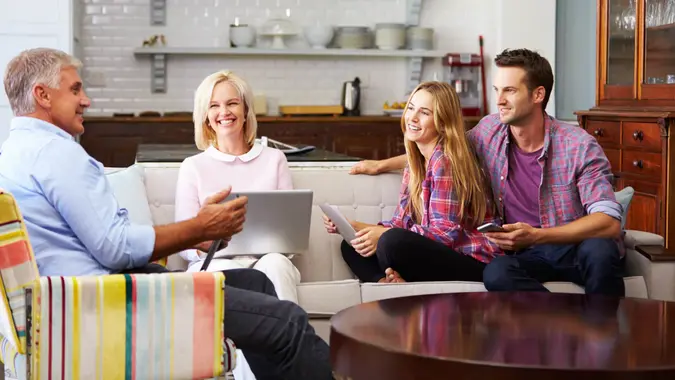 monkeybusinessimages / Getty Images/iStockphoto
Some of the most important conversations we must have with our loved ones aren't the most desirable. Among them is the talk with our aging parents about money matters. A new Wells Fargo/Ipsos survey found that more than 42% of respondents would rather talk with their parents about their funeral/end-of-life arrangements than about their financial plans.
Retirement at Any Age: Get Retirement Tips That Fit Every Stage of Life
Find Out: 5 Things You Must Do When Your Savings Reach $50,000
It's time that those of us living in dread finally tackle the topic of money with our aging parents. Now.
Holidays Are a Good Time for Talking About Life
"The best time to talk about what may or may not happen in the future is now," said Lyndsey Monahan, ChFC, CLU, financial consultant and CEO of Women Inspire Wealth. "Before there is a health scare, a medical emergency, a financial crunch or another need driving a change with how our parents are managing their finances, before there is an event driving these conversations, you and your family have the ability to talk objectively about wants versus needs.
"Once an event happens, you and your family are no longer able to talk without a level of urgency, loved ones' wants are moved aside to handle needs almost exclusively, and the stress applies unnecessary pressure to family relationships."
Although the holidays may seem like an awkward time of year to do it, having a serious conversation about finances with Mom and Dad this yuletide is a better idea than you may think.
"The holidays can be a perfect time to have this conversation because family members may have more time to have these conversations, may be more relaxed than at other times — and more family members may be available to participate in the conversation," said Bruce A. Tannahill, JD, CPA, director of estate and business planning with MassMutual. 
Come From a Place of Gratitude 
"Having open conversations about how family members can help one another — even if it's simply as a 'thought partner' through supportive and trusted dialogue — can be an extraordinary gift," said Michael Liersch, head of advice and planning for Wells Fargo Wealth & Investment Management. "So to start the dialogue, make sure you talk about how grateful you are for your parents, your family and whatever else may be on your mind. Get specific about that gratitude. Perhaps it's how your parents supported you growing up or paid for education or helped you find a job. Then, highlight how you want to offer your help, too, now that you're older and more independent. It's time for you to give that same gift of love, care and/or support back."
Talk About Your Own Financial Plans 
"Open the door by saying, 'Mom and Dad, we recently completed — or we have an appointment to complete — our estate planning documents including will, financial power of attorney and healthcare proxy,'" said Jacqueline Ellisor Wiggins, JD, CLU, ChFC, with MassMutual. "'Have you updated your plan? If not, can one of us — siblings, family members — make an appointment for you to meet with an attorney?' Or, 'Mom and Dad, we heard that [a family member] had to go into a nursing home and the financial burden on his wife has been considerable. Have you both discussed your preferences if you need long-term care and how it would be funded?'"
Topics To Cover
According to Tannahill, it is necessary to cover the following topics/questions when discussing finances with one's aging parents: 
Is their estate plan up to date? Where are the originals and copies?
Whom have they designated as their agent under a financial durable power of attorney to handle their financial affairs? Does the person designated know they've been designated and have a copy of their financial durable power of attorney?
Whom have they designated under a healthcare power of attorney to make medical decisions if they can't? Do their doctors and other healthcare professionals have a copy of it? Does the person designated know that they've been designated and have a copy of their healthcare power of attorney?
Are their beneficiary designations on IRAs, other retirement accounts, life insurance, annuities, etc., up to date?
Which types of accounts do they have? In which financial institutions are they held? Are they working with a financial professional? If so, can the children have their contact information? Who can access them — either as an owner or authorized signatory? Do they receive statements by regular mail or email notices?
Who prepares their tax returns? Do they keep paper copies of important documents? If so, where? "This information is important," Tannahill said. "If a parent is ill or otherwise cannot handle their financial affairs, even temporarily, a child or other relative may need to step in and make sure their bills are paid, checks deposited, tax returns filed and other financial matters handled. If their estate plan and beneficiary designations are not up to date, their current desires may not be carried out, additional attorney and administration costs may result. Especially for healthcare matters, it's important that healthcare professionals know who is authorized to make decisions when the parent can't."
Documents To Access
Patti B. Black, CFP, partner at Bridgeworth Wealth Management, noted that children also should be able to put their hands on the following of their parents' documents: 
Social Security numbers and benefits statement
Personal papers like birth certificate, marriage certificate, military discharge papers
Income tax returns
Insurance policies for medical, life, long-term care, auto, home and umbrella
Bank and investment account statements, including IRAs and 401(k)s
Statements for any debts, like mortgage, car loan or personal loan
Employee benefits, including pay stubs and employer-provided life insurance
Beneficiary designations on retirement accounts and life insurance policies
Real estate deeds, car titles
Black said to ask the following of your parents: 
"Where is your safe deposit box and who has access to it?"
"Where do you keep a list of usernames and passwords for online accounts? Or, if a password manager like LastPass or Dashlane is used, what is its master password?"
"When can we meet again to see what information has changed? Six months? One year?"  
This Is About Them, Not You 
"This time, remember: This is a talk for your parents' benefit; it's not a talk about you," said Pam Krueger, founder and CEO of Wealthramp. "Put yourself in their shoes and fully respect that they may not want to open [up] fully during your first exploratory conversation. This isn't one conversation; it's the beginning of a whole new era in communicating with your parents about their money. Your only job is to help them in whatever way is most beneficial to them."
More From GOBankingRates