How Year-End Money Advice Has Changed With COVID-19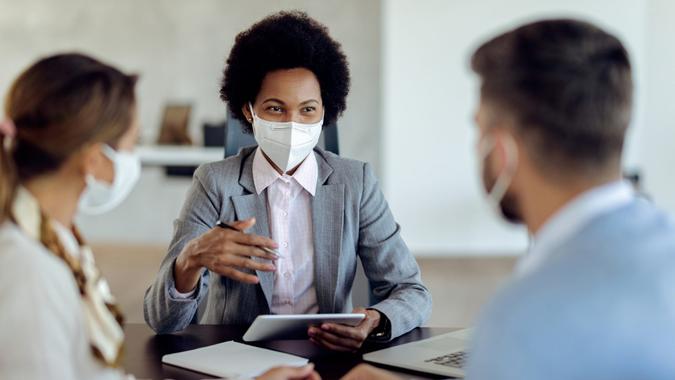 Drazen Zigic / Getty Images/iStockphoto
The winter holidays bring the often-dreaded but all-important end-of-year financial planning that no one wants to do but has to anyway. Taking inventory of the year that just passed and strategizing for the one that's coming up the pipe has never been easy — and the pandemic has turned the entire process on its head.
Save More Money: Unplug These Appliances That Hike Up Your Electricity Bill
For Your Shopping: 21 Items That Are Always Cheaper at Costco
From savings and estates to taxes and investing, every aspect of December financial planning has changed since 2019 — and so has the money advice that financial pros hand out to their clients, families and friends.
To find out how COVID-19 has altered the guidance that people get from the pros they trust, GOBankingRates asked the experts themselves.
More For You: 12 COVID-Proof Money Tips From Financial Planners
Financial Planning Became Financial Disaster Planning
A lot of pre-2020 EOY financial planning compartmentalized things such as health insurance and emergency funds as separate discussions. The virus forced financial planners to unify all of the elements under one master plan.
Matthew Roberts, chief operating officer at My Choice, now asks his clients to look at money as just one piece of a much larger puzzle.
"Before, it was just about building an emergency fund," Roberts said. "However, I now advise my clients, especially families, to have a financial disaster plan to prepare financially for tough times like the pandemic. A financial disaster plan helps families quickly recover financially once a disaster hits. The plan includes a review of the client's insurance policies, from health and life insurance to home and other property insurances, quarantine planning and assessments of whether or not their emergency funds will suffice for upcoming months."
Cut These Out: 35 Useless Expenses You Need To Slash From Your Budget Now
Financial Pros Realized They Needed To Rethink Their Perspectives
Olivia Tan, a Florida-based personal finance coach and the co-founder of CocoFax, also endorses the financial disaster plan concept. That's because the pandemic forced her to make a philosophical shift toward applying a business-planning mindset to personal finance.
"As a financial planner, I've been rethinking my typical money advice," she said. "In corporate America, the collective experiences of natural disasters, terrorist attacks, office shootings and cyberattacks are all incorporated into a contingent business continuity plan known as a 'business disaster recovery plan,' or variant thereof.
"These plans lay out protocols and procedures that are initiated in the occurrence of a 'disaster event' in order to minimize downtime and damage to current business operations while simultaneously maximizing the corporation's ability to recover and restart operations in an expeditious manner.
"Just as businesses need to have such plans in place in the world we live in today, it is my sincere belief that a financial disaster plan, with associated protocols, needs to be in place for individual households."
See: Tips To Keep Your Finances in Order Without Sacrificing What You Want
A Plan Without a Will Became No Plan at All
The unfortunate realities of the virus made a whole lot of financial advisors place a higher premium on planning for the inevitable.
"The pandemic has given greater urgency to the need for all capable adult Americans to have a medical and financial power of attorney and a will, as individuals in the wealth accumulation stage are more at risk for dire health complications given the pandemic," said Mary Kate D'Souza, co-founder and chief legal officer of estate planning platform Gentreo. "So savvy financial advisors are now more proactive in ensuring that their clients are completely protected in case an emergency happens. The end of the year or the beginning of the new year as their clients are preparing their taxes is a good opportunity to review changes in assets, beneficiary statements and any estate planning documents to see if revisions are needed based on changed life circumstances."
COVID-19 Windfalls Became Part of December Planning
For Jeff Tsai, co-founder of JAVLIN Invest, end-of-year planning now includes scouring for COVID-19-related money that his clients wouldn't have had during normal times and planning to spread it out in investments over the next year.
That, of course, includes "government stimulus money that resulted from COVID," Tsai said. But he also reminds his clients that the pandemic produced indirect windfalls that are ripe for harvesting, too.
"People who have refinanced loans since interest rates have plummeted also should look to see if they have any excess cash floating in their savings accounts right now," said Tsai, who recommended using dollar-cost averaging to invest any found savings consistently throughout 2022 instead of dumping it all into the market at once.
Helpful: 37 Life Hacks That Will Save You Money
If They Didn't Before, the Self-Employed Sure Need EOY Tax Help Now
Whether they're full-time freelancers or side hustlers working gigs for gravy, the pandemic brought a whole lot of new tax considerations for the self-employed. Financial planners have to stress this fact while helping their clients decide whether to spring for professional tax help.
With all of the recent changes, after all, it's easy for independent contractors to make mistakes and leave money on the IRS' table. George Birrell of Taxhub, for example, cites a little-known benefit that lets businesses deduct 100% of their restaurant meals.
"This legislation, enacted as part of the pandemic relief, is part of the government's effort to save the restaurant industry," Birrell said. "Historically, deductions for meals at restaurants have been limited to 50%."
It's exactly that kind of minutiae that financial pros need to make their clients aware of come December now that the virus has forever changed end-of-year financial planning.
More From GOBankingRates