If You Live In One of These Cities, Rush Hour Is Costing You More Than $1,300 a Year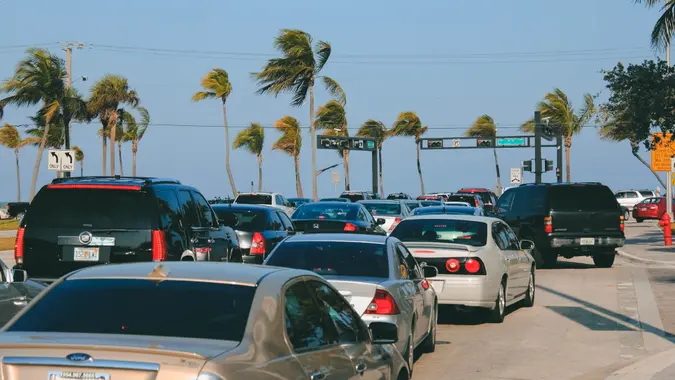 Serenethos / Getty Images
No one enjoys sitting in traffic. We waste hours of our lives moving slowly or even stopped completely. Recently, Virginia experienced one of the worst traffic jams in memory, with some drivers stranded for 27 hours.
Of course, a 27-hour traffic jam is an anomaly; but, in America's most congested cities, we lose dozens of hours every year to rush hour. You might think of that as a necessary expense, and perhaps it isn't a big deal. But when you start to see the real numbers, it becomes clear that it is a bigger issue than many of us realize.
It's not all bad news, though: TomTom reports that traffic decreased in 387 cities in 2020 and increased in just 13 cities. The pandemic had many people working remotely, either temporarily or permanently. And given the impact of rush hour on our wallets, our productivity and the planet, perhaps we should no longer view gridlocks as something we must simply accept.
Let's take a look at some of America's most congested cities and how much rush hour is costing people.
Los Angeles
In Los Angeles, America's most congested city, an average of 101 hours are lost each year due to rush hour. Budget Direct estimates the cost of that time lost to be $1,816 per year. That money could instead be spent on a nice vacation, to pay off debt or, yes, to make a down payment on a new car.
However, as bad as traffic is in Los Angeles, it looks much better when you look at things globally. TomTom rates it as the 85th-most congested city in the world, with 156 days having low traffic in 2020. Numerous cities in Europe, Asia and South America fare significantly worse.
TomTom also shows marked improvement in congestion during Los Angeles' morning and evening rushes, with a respective 29% and 30% decrease in congestion from 2019 to 2020.
New York
America's largest city by population also has the most expansive public transit system, but that doesn't stop New Yorkers from crowding onto the streets and interstates that run through the city. While the overall impact isn't quite as bad as it is for Los Angeles, about 96 hours are lost due to rush hour every year. That's 102nd worst in the world and four days of lost time. Budget Direct estimates the total cost per person to be $1,626.
COVID-19 appears to have significantly reduced the total time lost in New York as well, however. In 2019, rush hour wasted 46 more hours than it did in 2020 in New York. In 2020, the city was 21% less congested in the morning and 22% less congested in the evening than it was in 2019.
San Francisco
San Francisco has the 17th-most residents in the United States, but the city manages to be the fourth-most congested in the country. San Francisco has grown rapidly over the past few decades, and the city hasn't been able to handle the increase in traffic as well as some probably would prefer. People lose 82 hours in rush hour, which is 169th-worst in the world. The estimated cost of rush hour in San Francisco is $1,499 per year.
As with most cities, traffic subsided in 2020 compared to 2019. In fact, time lost in rush hour was down approximately 65 hours in 2020, perhaps highlighting the ease of Silicon Valley workers to transition to remote work. The city was 28% less congested in the morning and 29% less congested in the evening.
Honolulu
If it's surprising to see San Francisco ranked so high considering its number of residents, Honolulu is even more surprising. The country's 57th-most populous city is the ninth-most congested, and residents lost the same number of hours (82) as San Francisco in 2020. That translates to an additional 10 minutes per 30-minute trip in the morning and 11 minutes in the evening. The cost was also similar, with residents losing an estimated $1,466 due to congestion.
However, Honolulu's traffic was down quite a bit in 2020, with residents spending 53 fewer hours driving. The city was 23% less congested in the morning and 25% less congested in the evening than it was in 2019.
Miami
Miami is estimated to be the 141st-most congested city in the world, which is worse than No. 222 Honolulu. However, the cost is estimated to be slightly lower, at $1,439. The total number of hours lost every year is 87.
Compared to 2019, though, Miami residents spent 46 hours fewer in rush hour in 2020. The city is less congested in the morning and evening, though with more modest drops of 20% and 21%, respectively.
Seattle
Another West Coast city, Seattle is not immune to rush hour struggles. Residents there lost 75 hours due to rush hour in 2020. The resulting cost was about $1,308 per person. The morning commute was an extra eight minutes and the evening commute was an extra 11 minutes.
However, like San Francisco, Seattle was much less congested in 2020. Residents spent 63 hours fewer — about 45% less time — in rush hour traffic in 2020.
More From GOBankingRates