Inflation Is Hitting Retirees Harder Than Younger Generations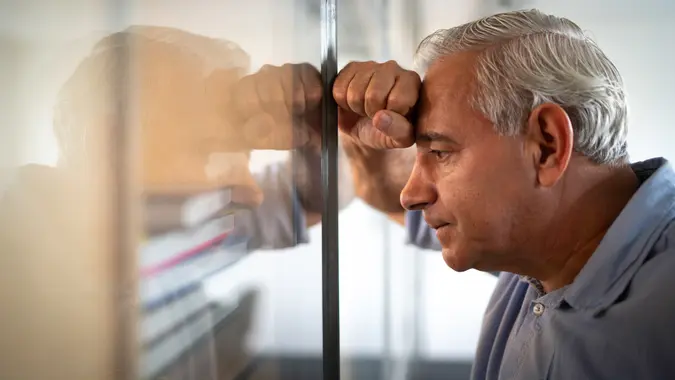 FG Trade / Getty Images
Inflation hit everyone hard this year. The Bureau of Labor statistics just released its report for November, showing a 7.1% increase in costs from last year. While this report shows a slowdown of inflation in that some costs have decreased, like that of gasoline and electricity, experts are still expecting to see more price increases and potentially a recession in 2023.
In an effort to see how Americans feel about the economy going into the new year, GOBankingRates surveyed 1,028 Americans aged 18 and older about their finances. Here's what that survey found.
Majority of Retirees Are Concerned About Inflation
About 33% of Americans say inflation is their top stressor going into the new year. When broken down by age, that percentage rises for baby boomers. Nearly half of people 65 and older (45%) say inflation is their top stressor for next year. On the other hand, the younger generations have a more varied response, with the majority of them split between debt, living paycheck-to-paycheck and inflation being their top stressors.
After feeling the effects of inflation for over a year now, people are hoping to see the rapid price increases slow. When asked what they would most like to have happen in 2023, 38% of Americans said they most wanted inflation to ease substantially.
Why Retirees?
The oldest generation is the most concerned about inflation, and it's not hard to see why. Most people over the age of 65 are living on fixed incomes. In retirement, people generally rely on a combination of personal savings, retirement accounts and social security benefits. But there's only so much you can spend before that money runs out. This is where inflation comes into play.
Earlier this year, Forbes reported that "with prices rising at a record rate, many retirees or people planning to retire soon may be increasingly worried about what sort of lifestyle they can afford."
Brian Walsh, senior manager of financial planning at SoFi, is also quoted in the article explaining how inflation and higher costs can introduce considerable risk to a retirement plan.
"First," Walsh said, "expenses may rise at a faster rate than their fixed income. This creates the need to either reduce spending or withdraw more money from investments."
In addition, he said the federal government's response to inflation has been to raise interest rates, which not only impacts the value of existing investments but also can create volatility in the stock market. This can disproportionately affect retirees as they are actively withdrawing from their investment accounts.
Luckily, those benefiting from Social Security will get a boost to their benefits in the new year with up to an 8.7% increase to benefits thanks to the cost-of-living adjustment (COLA).
Solutions
Return to Work: Seniors return to work for a variety of reasons, including needing to pad their retirement funds. There are also a number of side gigs specifically suited to people over 50.
Spend Smarter: It's hard for people to change how much they spend. Instead, retirees should change what they spend their money on. Planning ahead for shopping trips, clipping coupons and taking advantage of any/all available discounts will greatly help with the inflated expenses.
Add Inflation into Your Retirement Plan: For those who haven't retired yet, it's important to take the time to calculate just how much money you'll need when you do. Generally, inflation averages about 3% a year, meaning inflation is an integral part of the plan.
More From GOBankingRates