Is There a Minimum Salary for Happiness?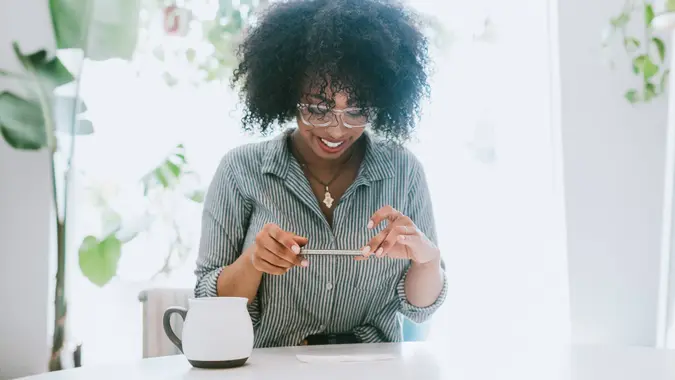 RyanJLane / Getty Images
Whoever coined the phrase "money can't buy happiness" probably never lived in poverty. Even so, there's no shortage of stories about rich people who are absolutely miserable.
So where is the salary sweet spot that offers enough wealth to rise above the grind of low-income life without triggering the unhappiness and isolation that seems to burden so many high earners?
That depends — but the magic number you had gotten used to has been revised.
See the minimum salary to be happy in every state.
Money Buys Happiness, but Only Up to $75,000 — Right?
Dr. Daniel Kahneman published the most famous study on the intersection of income and happiness in 2010. The Princeton professor's research concluded that emotional well-being improved with increased income, but only up to about $75,000. At that point, happiness plateaus and more money does not bring greater life satisfaction.
Take Our Poll: How Much Salary Would Buy You Happiness?
That was the gold standard for a decade — and the average American was eager to believe it.
After all, with the median household income hovering close to $75,000, Dr. Kahneman's research assured the masses that they were close to earning all they needed. Big salaries weren't all they were cracked up to be and the rich no longer needed to be envied.
Then, Dr. Kahneman changed his tune.
On Second Thought, $75,000 Buys $75,000 Worth of Happiness — and More Buys More
Thirteen years later, in 2023, Kahneman revisited the subject with fellow psychologist Dr. Matt Killingsworth. The pair's new research threw cold water on the median wage earner's sense of comfort.
The new study concluded that "experienced well-being rises with income, even above $75,000." In fact, the study "found a linear relationship between average experienced happiness and income, which extended well beyond $200,000."
This time, the pair was not able to identify an income-related cap on increased happiness. More money meant more contentment.
You Can't Put a Price on Happiness, but It's Definitely Above the Poverty Line
The Department of Health and Human Services states, "Across the lifespan, residents of impoverished communities are at increased risk for mental illness, chronic disease, higher mortality and lower life expectancy."
Then there are the unquantifiable consequences of poverty, such as stress, humiliation and missed experiences.
"Poverty limits one's ability to meet basic expectations," said David Leonhardt, president of THGM Writers who wrote about the topic in his book "Climb Your Stairway to Heaven: The 9 Habits of Maximum Happiness." "It forces people to jump through hoops just to get things done and fills people with anxiety. Money improves one's happiness to the extent that it alleviates poverty."
He gave the example of someone who has to take unreliable public transportation to an inconvenient work location.
"An increase in salary gives that person the ability to buy a tiny car," Leonhardt said. "Now, they know they can easily get to work. Their happiness level has just increased immensely. Suppose that two years later they win a Mercedes. Now they have an expensive, fancy car to get to work. Once the euphoria of winning is over, they are no better off emotionally than before they won the car. They still can get to work just as easily as before. They still have to fill it with gas. They still have to arrange for parking. There is no life improvement from the extra fanciness."
The current federal poverty line is $14,580 for individuals, plus $5,140 per household member. So the sweet spot must be somewhere between that and a Mercedes.
The 'More Money, More Problems' Dynamic
Chelsea Fagan, CEO of The Financial Diet (TFD), discussed her decision to cap her own salary at $90,000, in a LinkedIn post.
Her reasons went beyond pure altruism and dated back to lessons she learned while working for the ultra-wealthy when she was young:
Lifestyle inflation: In Fagan's experience, rich people live on a hamster wheel of consumer posturing. They must always work more and earn more to maintain the ever-rising bar of "normal."
Poor work-life balance: Fagan cited TFD research showing that the rich work longer hours at high-stress jobs and spend less time with their loved ones.
Emotional draining: Fagan's research and experience show that the rich tend to be more isolated and less empathetic and have fewer meaningful personal connections.
Also, when you have your share plus a whole lot more, people with less will want some — or at least you think they will.
"As wealth and income increase, it can be difficult to say 'no' to kids, family members and the community when you are asked for money," said Michael Liersch, Ph.D. in behavioral science and head of advice and planning for Wells Fargo Wealth and Investment Management. "That may cause a variety of behaviors, including isolating oneself so you don't have to say 'no,' which may lower life satisfaction as you have more money to give."
Ideal Salary Will Be Different for Everyone, but $105,000 Is a Good Bet
So, if the poverty threshold of $14,580 is not enough to make even the most optimistic people happy and the ultra-rich often lose all meaningful connections to a world to which they can no longer relate, but the long-accepted happy medium of $75,000 is an outdated premise, where's the sweet spot?
"Research tells us that there's a crossover point where more money stops making you happier, and in fact can start making you less happy," said Liersch, who cites a major study of 1.7 million people worldwide titled "Happiness, income satiation and turning points around the world."
"That average amount in North America is $105,000 in annual income."
More From GOBankingRates