How To Kick the Bad Money Habits That Cost You the Most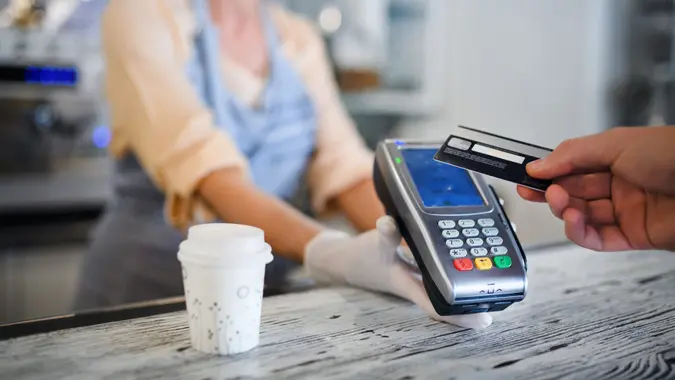 Halfpoint / Getty Images/iStockphoto
If your money habits aren't the best right now, first things first, don't beat yourself up — we learn how to handle money from a lot of different sources, starting with our families and extending to our culture. The new year is also an excellent time to start new, healthier habits. What matters is that you do take your finances seriously and stop engaging in bad, or just unconscious, habits that may subtly, or even dramatically, whittle away your cash. Money problems don't just affect the present moment — they shape your future, as one day you may want to buy a home, send kids to college and you will have to fund your retirement, as well.
Read More: How To Stick To Healthy Financial Habits All Year Long
In this article, we'll look at ways ranging from small, daily habits you can curb to more significant habits you should stop or change to improve your financial outlook.
Stop Buying Daily Coffee
Start small with changing your money habits by cutting out an expense that isn't going to radically change your life but will save you money along the way. A common waste of money is buying your coffee from a coffee shop instead of making it at home. If you purchase a grande daily latte from Starbucks, for example, that's $3.65 per drink, over $25 per week and more than $100 a month!
Budgeting 101: How To Create a Budget You Can Live With
Don't Throw Away Leftovers
You make a big meal, you eat as much as you can and then you let the leftovers languish in the fridge. No big deal, right? Well, if you're like the average American, these wasted leftovers can add up to as much as $1,500 per year. Imagine if you put that $1,500 into a retirement account or an emergency fund, that would soon add up to significant savings. Small changes can make a big financial difference.
Avoid Paying Overdraft Fees
Many checking accounts offer overdraft protection so that if you bounce a check, they cover it until you can make it up. While it's normal to pay an overdraft fee once in a while if you're between paychecks, over time, these fees stack up. The average overdraft fee in 2020 was $32.11, according to a MoneyRates.com survey. Breaking this habit can also lead to other better habits such as budgeting so that you never find yourself in the red and keeping a "padding" of money in your account.
Find Out: 50 Ways To Live the Big Life on a Small Budget
Don't Carry a Credit Balance
According to MoneyTalks News, carrying a credit balance is essentially like leaking money. The reason is that most credit cards charge a sizable amount of interest, and you never get that money back. Solid budgeting can help you learn to live without regular credit card purchases, and/or make it easy to create a repayment plan that is relatively quick, to avoid paying long-term interest.
Stop Paying for Subscriptions You Don't Use
In a digital world, many of us pay for apps that we intend to use, from fitness trackers and meditation apps to entertainment channels and organizational tools, that we may never or rarely use. Joanna Stern writes in the Wall Street Journal about wasting $15 every month on a fax app she used twice. That $15 added up to $600 by the time she realized she was still paying for it.
Get More Advice: How I'm Sticking to a Budget and Spending Less During COVID-19
Never Spend Without a Budget
If you're spending without a budget, you really might not have any idea where your money is going and might be missing simple opportunities to cut back and save money right away. A budget provides you guidelines and expectations for your money and forces you to keep track of what's going out and what's coming in. When you make a budget, you're less likely to overspend and can work savings, emergency fund and retirement more easily into your financial goals.
Don't Put Off an Emergency Fund
It might seem strange to put money aside that you essentially hope you'll never have to use, otherwise known as an emergency fund, and yet not having one often gets people into trouble. One thing you can pretty much count on in life is unexpected expenses that will arise. These may be as simple as a small bill out of the blue, as sudden as a big repair, or as overwhelming as a job layoff. Finding yourself in these situations with no financial buffer is problematic and can set you back in the future, too.
More From GOBankingRates