What Living Through a Pandemic Has Taught Us About Money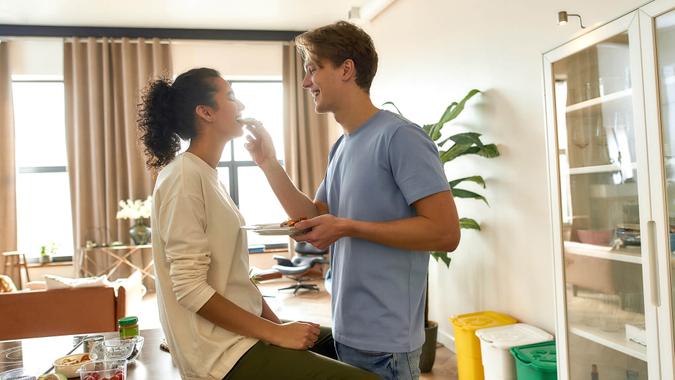 LanaStock / Getty Images/iStockphoto
According to the Pew Research Center, about half of non-retired adults say the economic consequences of COVID-19 will make it harder for them to achieve their financial goals. Forty-four percent of these adults expect it to take three years for their finances to recover; while 10% don't expect to recover at all.
Read: COVID's Financial Impact After 1 Year: See All Our Coverage
The pandemic has likely been harder to swallow for adults who also experienced hardship during the 2008 recession. At the least, it's been a rude wake-up call that these so-called "once-in-a-lifetime" events can actually happen at any time — and there's little you can do to prevent them. You can, however, take steps to prepare.
Take a look at these five money lessons that some of us learned the hard way.
Find Out More: A Fourth Stimulus Check Might Be on the Way
Health Is Wealth
It's easy to put your health on the back-burner when you've never had problems before. But protecting your health — especially in the U.S. — is something you need to think about and plan for before something goes wrong.
The first step is ensuring you have health insurance. This could be as simple as enrolling in the insurance offered by your employer. But it's a lot harder if you're self-employed, unemployed or unable to afford the monthly premiums. However, state programs such as Medicaid exist to help mitigate these issues, and it's something you should look into if you find yourself in this position.
If you already have health insurance and you have some expendable income, consider investing it into a health savings account. Like a retirement account, an HSA is tax-advantaged, and your employer may even match contributions. The funds are there for you to use in the case of unexpected medical expenses because health insurance often doesn't cover the entirety of medical bills.
Exclusive: Nearly Half of All Americans Missed Rent or Mortgage Payments Due To COVID-19, New Study Reveals
It's OK To Accept Help
It's a point of pride among many Americans that they're able to fully support themselves financially. Especially for people who've "pulled themselves up by the bootstraps" — accepting what they may consider a handout is out of the question, or shameful. But social programs exist for a reason and are especially needed in times of national emergency like this one. Income loss may be out of your control, but it shouldn't result in the loss of your home or ability to feed yourself.
Plan For the Worst-Case Scenario
Planning for the worst-case scenario doesn't mean you expect it to happen. It just means you'll have something to fall back on if it does. Some steps you can take for this include:
Keeping your resume updated in case of job loss
Setting up a second income stream
Building an emergency fund
Check Out: The (Minimum) Emergency Savings Needed in Every State
Live Within Your Means (and Avoid Debt If Possible)
Generally speaking, living within your means is ensuring that your expenses don't exceed your income. But setting yourself up for success is taking this concept a step further. Make rules for yourself. For example, don't buy something on a credit card if you don't have the funds to pay it off now. Create a budget that includes both essential and nonessential purchases (because cutting out the latter is just unrealistic). And most importantly, factor in nonessential "spending" that will help you in the long run — like turning on automatic savings and forgetting about it.
Budgeting Guide: How To Create a Budget You Can Live With
Invest For the Long Term
In March 2020, the stock market plummeted, signaling a recession that not many people had seen coming. While it was different from the real estate crash in 2008, many Americans' investment portfolios sustained a big hit and caused widespread panic among investors. In turn, this resulted in panic-selling of investments so as not to lose even more. The problem? The stock market recovered, and is hitting record highs just a year after that big drop. If those same people had held onto their investments, they would be richer today for it.
Bear markets only last for so long. If you're putting serious money into the stock market, you should be ready to weather a storm or two, and you definitely shouldn't abandon ship.
More From GOBankingRates
Last updated: March 18, 2021